Computer Science
Team Leader - Mr N. Berkin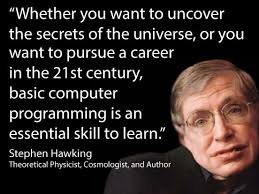 Students in KS3 develop a range of computer science and ICT skills. They begin by learning to manipulate code in programs like Scratch and Code Combat where they are introduced to computing concepts like "iteration" and continue to develop a basic understanding of the Python programming language. They also have a wide range of opportunities to develop their ICT skills using Microsoft Office programs and a variety of Animation and Graphics applications. Web development also features and a simple understand of HTML and CSS is also developed. This is a foundation that can be carried forward into GCSE and beyond. A breakdown of each year can be found below.
Key Stage 3
Year 7
Term 1 – Introduction to using the school network and staying safe online.
Term 2 – Binary arithmetic, logic and the history of computer science.
Term 3 – Spreadsheet modelling.
Term 4 – Algorithm and sequencing, using Flowol.
Term 5 – Scratch programming.
Term 6 – Animations
Year 8
Term 1 – Introduction to Python programming using Code Combat.
Term 2 – Digital publishing.
Term 3 – Spreadsheets and VBA programming.
Term 4 – Research project into future technologies.
Term 5 – HTML and web development.
Term 6 – Action script and Flash
Year 9
Term 1 – Python Programming.
Term 2 – HTML5 animations.
Term 3 – CSS/PHP Web development.
Term 4 – Problem solving and sequencing efficient algorithms.
Term 5 & 6 – Independent project.
Year 10 & 11
In KS4 the Team currently offers the OCR GCSE Computer Science course. Here students learn about hardware and software of a computer system, including the development of simple software and programming techniques. This course is delivered at a suitable pace for each class. Full details of the specification and units of content can be found on here:
Year 12 & 13
At KS5 the Team follows the linear OCR A Level Computer Science course, where advanced problem solving skills and programming are taught along with a deep understanding of hardware and software. Full details of the specification and units of content can be found on the here:
Extracurricular
The Team offer the use of the facilities for ICT students at lunchtime and also after school. There are a number of clubs including programming in Python and also general ICT clubs. We have excellent computer resources in the Team area and these are used in a range of courses from key Stage 3 to A Level. All teaching resources from programs to PowerPoint presentations are available to students on the school network. These can also be accessed outside school. The software we use throughout is of industry standard whether used for web page design or developing interactive presentations. There are excellent digital display facilities and good resources for quality scanning and printing. Our current programming platforms include Python 3 and the .net languages at later stages.
Please contact the school if you would like to find out more about the curriculum.
Computer Science Team
Mr N. Berkin (Curriculum Team Leader)
Mr A. Peck (Director of Information Services)
Mr J. Lehman