GCSE Results 2017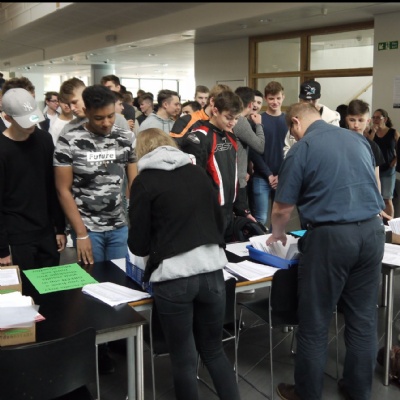 NSB is once again celebrating an outstanding set of GCSE grades which improve even further on last year's excellent performance and which have also held up successfully against the tide of national change sweeping through the examination system, especially within English and Maths.
Headmaster, Richard Bernard stated, 'I am absolutely delighted for all the students and staff that they have been rewarded with such a fantastic set of grades which maintain the upward trajectory of GCSE outcomes at the school in recent years. Last year we were placed in the top five percentile in the country for a variety of GCSE performance measures and this year our results are even better. With academic outcomes well above national expectations, national and international excellence in school representative Sport and the Arts as well as a thriving extra-curricular and residential programme the educational package at NSB is truly stand-out provision for our students.'
'The percentage of students gaining an A*-C equivalent (new grade 4 and above) in both English and Maths GCSEs has risen from 85% to 89% with the Maths grade 4 and above at 95% of the cohort and Maths Grade 7 and above (A – A*rate) at 48% of total entries. 29 of our students gained the prestigious Grade 9 award in Maths and 21 in English meaning that 14% of our entries in Maths and 10% of our entries in English were awarded the top Grade 9 against a national average, reported in the media, to be around 2 or 3%. The percentage of all entries gaining A*-A, A*-B and A*-C have each risen significantly from last year and are way above national averages for boys and girls and boys only. Progress and attainment levels are strong across the curriculum with the percentage of students gaining the rigorous EBacc qualification increasing from 44% last year to 64% this year. The school expects to achieve a highly positive Progress 8 score, both for the whole cohort and as a separate measure for students who receive Pupil Premium funding support, whose results as a group were exceptional. English and Maths progress levels are also anticipated to be very good.'
An incredible 157 students achieved at least 1 A*/A grade or more (up from 129 last year), 76 students achieved a minimum of 5 A*/ A grades (up from 60 students last year) and 18 students (up from 15 last year) managed to achieve an A* or A grade in nine or more GCSE subjects. One boy, Edward Smith, achieved a phenomenal grade 9 in English Literature, English Language and Maths, A** in Further Maths and A* in all of his other 6 subjects. Three other stand out students were Meshach Tang who achieved three grade 9s, A** in Further Maths, A* in 7 subjects and a grade A in one subject, Cameron Reeves who also achieved three straight 9 grades and A*/A grades in all of his other subjects and Danish Rohan who averaged over 3 and a half grades per entry above his national expected target grade.
Deirdre Kennedy, the Director of Sixth Form said: "What is really important is that so many boys seeking a place in our Sixth Form will have got the grades needed to begin their A Level courses and their excellent grades will put them in a strong position when applying to the best universities in two years time! I am confident that they and our external students will together adapt well to the rigorous requirements of Sixth Form study, particularly in light of the more challenging linear A Levels which have recently been introduced."
Jon Elder, the Head of Year, was effusive in his praise of the Year 11 boys. "This year group have not only done tremendously well academically, but have also been a fantastic group of boys to work with. They have been superb role models for the younger students in the school, maintaining a disciplined approach to their studies whilst throwing themselves into the extra-curricular life of the school. The cohort includes international sportsmen and superb artists, musicians and actors who have been justly rewarded for their efforts. We have every confidence that these students will go on to great success in their future lives and careers."
Outstanding individual performers are:
11 A* / 9 grades and 1 A grade: Meshach Tang
10 A* / 9 grades and 1 A grade: Kumaran Rajaratnam
10 A*/ 9 grades: Edward Smith
9 A* / 8/9 grades and 1 A grade: Matthew Redmond
7 A* / 9 grades and 4 A grades: Daniel Kingsbury
7A* / 9 grades and 3 A grades: Cameron Reeves
6 A* / 8-9 grades and 4 A grades: Christopher Riches
5 A*/ 9 grades and 5 A grades: Matthew Aldridge
9 A*/A grades: Erik Turi / Jordan Harrison / William Baker / Jakub Niekrasz
Josh Dhir / Bradley Wilson / Eric Joseph / Owais Sanaullah / Thinh Dinh / Ben Austin
Highest Grade Average – Edward Smith
Best Progress score (KS2-KS4) –Danish Rohan