Sporting Success Update 2017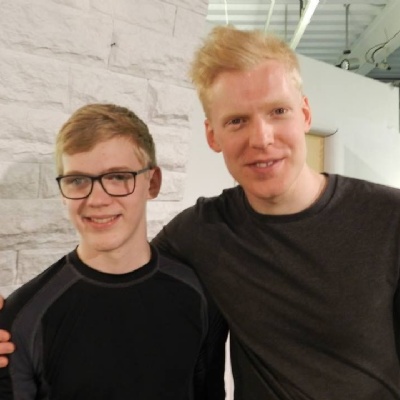 Joshua Fuller Y9 NSB Student - More Sporting Success!
Joshua Fuller is a visually impaired student in Year 9 he also has nystagmus and albinism - he needs all his teaching resources work modified to font size 24 to be able to see it. He is also a talented skier and has been training since he was three!
Josh is a visually impaired slalom racer on the indoor circuit but currently as there are no specific races available for him to enter he is competing on the able-bodied race circuit and doing well. Please see past article: Click Here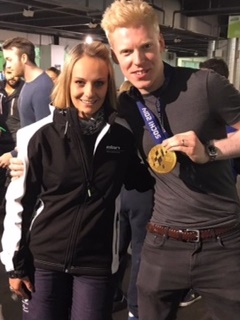 "Josh Fuller in Year 9 has been talented spotted by Great Britain's Head Coach for the Parasnowsport team for his potential in skiing and is now on the GB Pathways training programme for slalom. Skiing at a high level is extremely demanding at the best of times but due to visual impairment Josh is reliant on reacting to a guide communicating through a headset in order to traverse the slopes, which makes his achievements all the more impressive, especially on the most difficult black, triple diamond runs which Josh can negotiate with relative ease." 2016 R. Bernard Headteacher
Josh has gone from strength to strength and has recently competed against able-bodied students with some respectable finishes, always middle to top of his groups, including a Bronze medal in the ski club's own winter race series.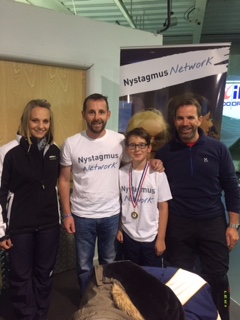 Through his work with the Nystagmus Network charity Josh recently participated in a session at Milton Keynes with forty people, along with their families, to sledge and ski. Charlotte Evans MBE - British Skier and a sight guide Paralympian was in attendance with Kelly Gallagher (visually impaired Paralympic skier)'s current guide Gary Smith. Dr Oscar Duke also came to ski, have fun and meet us all. Like Joshua, Oscar has albinism and is a qualified A&E doctor and GP. He has recently been seen on UK TV series '24 Hours in A&E' and a hard-hitting BBC documentary 'Born Too White' filmed in Africa to highlight the plight of those with albinism in the country.
The day was a very positive and inspirational experience and hopefully will encourage many others to follow in Josh's footsteps.
As for the future... Josh and his father have been invited to be the keynote speakers at this year's Nystagmus Network annual conference attended by around 200 people!

NSB is always proud of its students' achievements and those who go above and beyond - where this is clearly the case. Josh is an inspiration to all!
To see how Josh has been busy inspiring others to get involved with the sport please: Click Here