Tribute to David Chew (NSB 1997 - 2021)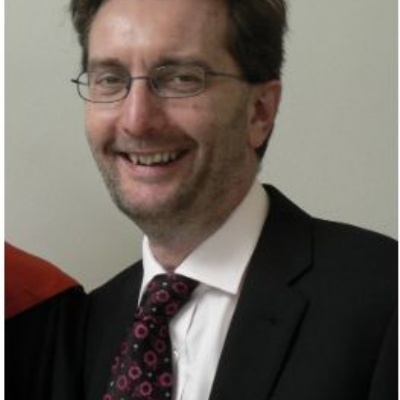 David was a wonderful English teacher and outstanding member of Senior Staff who was always incredibly kind and inspirational to all who came into contact with him. David positively touched and helped shape the lives of thousands of NSB students and was deeply admired and respected by his colleagues. Our thoughts go out to his family at this very sad time.
Two tributes from the school (written by close colleague - Helen Topping Shaw and former Headteacher - Sir Michael Griffiths) are below.
David Chew from Helen Topping-Shaw
Former English teacher and Assistant Headteacher, David Chew has sadly passed away, aged 62.
He will be fondly remembered by many at Northampton School for Boys who worked alongside him up to his retirement in 2020.
A natural educator, David was a tour de force in the classroom. He came to the school as Head of English and held a wide range of roles including, significantly, Pastoral Lead for Key Stage 4. After stepping back from his Senior Leadership role, in his final years he stayed on to teach English Language to Year 13, where he taught the coursework element of the A Level, as well as the Shakespeare element of the English Literature A Level. His deft ability to convey the complexities of linguistics and literature was unsurpassed. He was a student-friendly teacher, who offered ways into learning which opened up texts and contexts: villainous Iago came to life through the music of The Killers; rewiring and lighting up a bag rack transported a class into Dr Frankenstein's laboratory.
David understood the realities of teaching. He understood the importance of aspiration and inspiration. Embracing nuance, not the limitations of diametrically-opposed ideas, he often quoted the opening lines of TS Eliot's "The Hollow Men":
Between the idea
And the reality
Between the motion
And the act
Falls the Shadow
On the corridors, in the classroom, around School, he noticed and praised the students around him – a Mr Chew handshake for immaculate uniform was valued – but he understood individuality and was not averse to breaking away from the rulebook now and again, beautifully illustrated the year he volunteered to be gunged whilst decked out in a denim jacket (then banned at NSB) as a Charity Week fundraiser. Perhaps his days in a school band ("sort of punk, but I liked writing lyrics" he once told me) or as the Ents Officer at Hull University (he once fell out with Bob Geldof) allowed his rebellious streak space to breathe. His commitment to the whole community was unwavering. Always calm, quiet, and positive, he line-managed at one time or other, nearly all areas of the School.
My happiest memories of David will be our lunchtime conversations – mostly about books, naturally, but also theatre, music, places to eat in London (he liked Le Garrick just off Leicester Square), holidays around Europe (laterally in his post-retirement RV) but also his amazing stories. How he had lived life from day one in Blackburn, born just in time for Friday's "Crackerjack" at "five to five"! His heart soared and was broken many times by his beloved Rovers football team – and turning to their motto, By Skill and Hard Work gives us a perfect summation of the man, teacher, colleague, and friend so many of us knew.
He taught me to move quickly on from regret. His biggest one? Tongue in cheek he said it was not getting tickets to see Blondie when he was a poor student but splashing his limited cash instead on the "up and coming" band Crispy Ambulance. One of his rare mistakes. David quietly illuminated talents in students and staff they knew they had but kept hidden. And he had a magnificent ability to generate momentum – for change, for technology, for dedicated staff training, for disengaged boys in a cover lesson, for nervous students in their final lesson before their public examinations. A crumpled, yellow post-it note I have in my office consists of 4 letters: WWDD. What Would David Do? It's a nod to a shared love: The West Wing, and reflects my total respect for his decision-making process. If David thought it was possible, we all did. His reservations – always delivered with a pithy aplomb – spoke volumes.
The Clash, The Jam, Blondie and, for old times sake, The Boomtown Rats, will be played for David in my house this week. As they bang out, I will see him dancing at the Christmas English Team do… I will see him walking around the Cripps building on his way to or from his office… I will see him teaching from his heart and soul so that that boy, otherwise switched off from the world, looked up and joined in.
Our heartfelt sympathies and condolences go out to his family, wife Vicky and children, Jonathan and Rosie, at this time.
David Chew from former Headteacher - Sir Michael Griffiths
Was quite simply the finest classroom teacher of any subject that I came across in my 30 years of observing teachers as a Senior Leadership Team member, Headmaster or Ofsted Inspector.
David was an intellectual, but one who could distil complex text, argument or debate into language that we all could understand. His knowledge and love for the body of English text: poetry, plays, novels and non-fiction was boundless. He always had at least five books 'on the go' at a time. When I marvelled at this, he simply likened it to those who manage to keep plots and characters from a range of TV soaps in their heads without confusion.
In the classroom, David was always a model professional. He always encouraged youngsters. An answer was never 'wrong', but a 'great idea we might come back to'. Lessons bounded along but never left anyone behind. His demeanour and talent demanded respect, but David was unfailingly polite and courteous to his students. He was a firm believer in the doctrine that respect is earned by showing respect to all as individuals – no matter what their talents … or failings!
David had been appointed by Sir Bruce Liddington as Head of the English Team and made an immediate impact. His colleagues became fiercely loyal to him. When I returned to NSB as Head in 2001, David had been made a 'temporary' member of the Senior Leadership Team. Knowing of his talents from my previous role as Deputy Head and his line manager, I immediately made the position permanent. Perhaps my best decision.
I remember interviewing for his successor as leader of the English Team. I asked him to play 'devil's advocate'. Whatever a candidate said they believed in, David was to take up the contrary position. What was their favourite period? Drama or novel? Setting or mixed ability? Language or Literature at Advanced level? We needed someone who would be a robust leader since no less than four (or was it five?) of the English team had been a head of department in their time! We needed someone who would argue their point passionately – and persuasively! David played the role brilliantly. And so Helen Topping-Shaw was appointed.
David was a vital part of the Senior Team that was so instrumental in driving the school to ever greater heights. We were a team of very different characters with different strengths. We complemented each other well. Everyone brought their own distinctive talents to create a dynamic and progressive team. David was equally at home discussing matters of the curriculum and issues of student welfare. When there was a difficult decision to be made, I so often sought the counsel of David. He was wise beyond his years. He always spoke good sense. And his focus was always what was best for the students. He became an outstanding Director of Student Welfare.
But we also talked much about our interests and families. We disagreed on some things: his bizarre love for all things Blackburn Rovers was equalled only by mine for Wolverhampton Wanderers. It was an escape for us – and our families. We agreed, however, that managing 1,500 young people at NSB was so much more straightforward than dealing with the trials and tribulations of two youngsters of one's own!
David was a great teacher and colleague. Towards the end of his career, he decided he wanted to spend more of his time with his first educational love – the classroom. What a joy for him – and his students. NSB and its students were important to him, but nothing compared with his love for and devotion to his family. At this incredibly difficult time, all our hearts and thoughts go out to Vicki, Jonathan and Rosie for whom this must be an almost unbearable loss.
The only comfort that David's family can have is to be safe in the certain knowledge that there are literally thousands and thousands of young people in this county and beyond who are the better for having been taught by or inspired by or counselled by David Chew. A remarkable teacher. A remarkable colleague. A remarkable man.
Rest in peace, David.
Sir Michael Griffiths