STELLAR PERFORMANCES AT NATIONAL JUNIOR INDOOR ROWING CHAMPIONSHIPS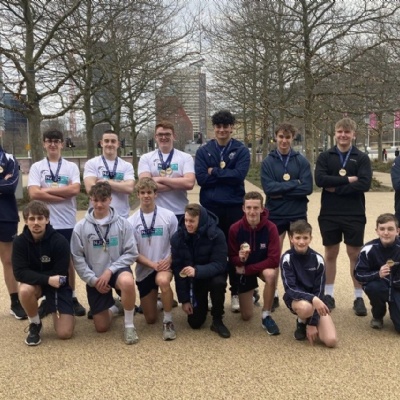 After a gap of two years due to COVID restrictions, The National Junior Indoor Rowing Championship was back as a live event again. However, it was now a dual centre event, with competitors rowing in London and Leeds on Friday 3rd March, to allow as many schools/clubs to take part as possible. The London venue was the Copper Box Arena while the Leeds event was hosted at the John Charles Centre for Sport. To be a National Champion, meant it was the best distance/time recorded at either centre, so there was an element of jeopardy, in that performances at Leeds were an unknown, until results were declared.
A team of fifteen rowers was selected, and an early start of 6.30a.m was the first challenge to be faced! The journey to London is always eventful, with delays on the M1 motorway almost a given, so registration at 8.30a.m is a tight deadline to meet. Expert driving by Mr Wilcock ensured we arrived and registered well before the first event.
The Year 13 rowers were first to compete, and Ben Evans led the team off in the 2000m. Confidence was high that Ben would do well, and he led from start to finish to post a time of 6:45.4s. A gold medal in the first event was a terrific way to start.
Next to compete were the two Year 7 rowers, Max Roper, and Fraser McKenzie, in a field of 246 competitors, over a time of two minutes. Max had posted some good distances in training and Fraser was set a target of 500m which he had never achieved before. Max was in with a good chance of finishing on the podium, and once again he led from start to finish to record a personal best performance of 580m to secure gold. Fraser hit his target of 500m exactly and was placed 16th in London and 31st overall.
The Year 8 event consisted of 363 competitors, rowing for three minutes, with Michael Graham and Ben Chown both capable of good performances. Ben won his heat with a personal best distance of 854m and had to wait to see where he placed overall. Michael was capable of 900m+, which in previous years would be more than enough to win. To see him put so much effort in and be in a state of near collapse at the end showed that he did not want to be beaten. A huge personal best of 939m was recorded, and a new British Junior Record. Ben eventually placed sixth overall, an exceptional performance.
Three rowers were selected for the four-minute, Year 9 event out of 352 entrants, and two of them were making their first appearance at a National Championships. Zane Cory-Kitson set a personal best of 1146m to finish in sixth position overall, an outstanding performance for his first championship. Oliver Vasconcellos-Blanch and Harry Benson both rowed well to secure pb's of 1123m and 1072m respectively, finishing 15th and 47th overall.
The relay events were next on the programme with a team entered in both the senior boat race (Yr 10 – 13) and junior sprint (Yr 7 – 9) races.
The senior boat race relay consisted of eight rowers trying to set the furthest distance in a time of 16min 19sec, the record time for the Oxford/Cambridge Boat Race. The NSB team set off with a different race strategy and changeover routine from previous years, but would it work with only limited time to practice? The race started at a frantic pace and NSB were well up with the leaders. Gradually the team pegged back the pace setters to take the lead, but some inefficient exchanges meant that it remained close. As the race passed the halfway mark NSB were beginning to stretch out the lead as the changeovers began to improve. At the finish NSB recorded a massive distance of 5514m, a full 116m ahead of the second placed team.
Next to compete was the team of four in the sprint relay, raced over 2112m, in a field of 119 teams. After the first 500m NSB was placed fourth, but as the race settled down the team were placed first at the 1000m mark. Things were looking good, but a couple of poor changeovers dropped the team down to second at 1500m and third at 2000m. A big push at the end meant that the team had secured a well-deserved silver medal, recording a time of 6:52.4s, losing to the eventual winners by 5.9seconds.
The afternoon session was back to the individual events, which was a tough act, after all the Yr10 and 11 rowers had competed in the relays.
In the Yr10 event, three rowers competed over the five-minute timed race. A podium finish was within reach and good performances from all three could lead to top twenty finishes out of 242 competitors. George Tonga'uiha had an eventful start to his race as he pushed so hard that he slipped off his seat after his first stroke. Once back in the race George then proceeded to exert his strength and power to lead at each minute check mark to post a distance 1540m, a massive personal best. Cameron McKenzie and Mario Vasconcellos-Blanch both rowed a well-paced race to finish only three metres apart, recording personal bests of 1398m and 1395m to secure 18th and 19th place overall.
The final event of the day for NSB was the Yr11, six-minute timed event, with William Hunter setting out with a heavily strapped ankle after a sporting injury the previous weekend. After the first minute, William was well placed, but as the race progressed other rowers were proving a little stronger. Going into the final minute William found something extra to push himself to 1723m, a massive personal best, and 13th place overall. A top performance from William.
At the end of the day NSB had medalled in six of the nine events open to boys, with a magnificent haul of five gold and one silver medal. This made Northampton School for Boys the most successful team across the two venues for gold medals won, with Hartpury College, a GB Rowing Team 'Start' Programme and Gloucester Rowing Club joint initiative in second place with four golds.
A magnificent day which exceeded all expectations. Well done to everyone.