NSB presents Shakespeare in Love: a review by Ben Davies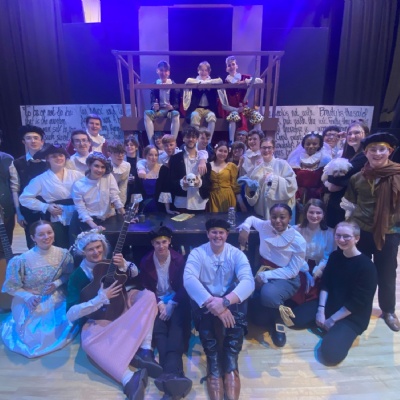 "Shall I compare thee…" — William Shakespeare's attempt to write a sonnet opens the NSB's production of Norman and Stoppard's 'Shakespeare in Love', the play that concludes NSB's 2022 calendar. The prompting by the chorus and the unassuming Christopher Marlowe for Shakespeare to complete this famous line immediately frames the tongue-in-cheek style which pervades this romantic comedy, detailing the fictional pursuits of William Shakespeare (played by Abdul Benhayoun) and his love affair with the socialite Viola De Lesseps, all within the tense sphere of Elizabethan theatre
Benhayoun effortlessly executes the charismatic yet enigmatic role of the protagonist Will Shakespeare; seamlessly embodying the restlessness of an innovative playwright whilst also aptly depicting Will's fascination with Viola. Required to deliver a multi-faceted performance that fluctuates between sentimental and comedic tones, Benhayoun rises to the challenge, tasked for example with transitioning from a playwright enchanted with romance to a hilarious female disguise amidst a scene with Lord Wessex.
Nestled within Will's frantic ventures is the guiding figure of Christopher Marlowe (played by Tana Ericks). An enigmatic figure, Marlowe is both portrayed as an acclaimed rival playwright and a figment of Will's imagination, reappearing as a ghost in the final scene to support Will's composition of the play "Twelfth Night". Ericks efficaciously acts this mature role not only by advancing the narrative in conceiving Will's creative ideas for him off-the-cuff, but also by developing an amusingly intimate relationship with Benhayoun, brimming with humorous retorts. The comedic chemistry between Benhayoun and Ericks is most affecting during the parodied balcony scene, where both actors engage in berserk, spontaneous debates concerning Will's romantic confession to Viola.
Similarly, Benhayoun shares a chemistry with his co-star Zoe Holloway, who plays Will's passionate lover, Viola De Lesseps. Vicariously, the aristocratic Viola enables herself to follow her aspiration to act by disguising herself as an elusive young man, Thomas Kent. It is through Viola/Kent's voice that we receive the lyrical beauty of Shakespeare's most familiar sonnets and monologues, specifically the echoing words "What light is light, if Silvia be not seen?" from "The Two Gentleman of Verona". Holloway's stirring delivery of these powerful lines transcend the frenzied action around her; the vicious brawls in rehearsal freeze allowing Shakespeare's profound poetic verse to resonate.
Interactions between the accompanying music ensemble and the cast also bring to life the vivacity of Elizabethan theatre and complement potentially saccharine scenes with injections of comedic relief. Noteworthy examples include Will's exasperation at the frequent interruptions that the chorus of singers impose, spoiling his attempt at a sincere and impassioned conversation with Thomas Kent during the boat scene, and the zeal added by the chamber group to Burbage's (played by Morley Nightingale) galvanising speech in the tavern.
Witty high-brow allusions to the broader context of Renaissance English theatre cut through the body of the dialogue throughout the course of the play. Amongst the striking satirical references to other renowned works of the era are Will's displeasure at the overwhelming use of Marlowe's famous Faustus monologue "Is this the face that launched a thousand ships?", and the juvenile representation of a young John Webster, lurking in almost every scene. Played by Meryem Ercan, Webster's sadistic nature and overt amusement with the graphic and gory sections of 'Romeo and Juliet' offers a humorous contrast to otherwise overly-poignant scenes.
Similarly, credit is due to the characters Philip Henslowe and Ned Alleyn (played by Charlie Packman and Charlie Townsend respectively). The juxtaposing qualities of a cunning, corrupt theatre owner and a vociferous, conceited actor are wed in Packman and Townsend's performances through their conviction and ability to engage the audience with their idiosyncratic characters. Equally, eye-catching performances by Findlay Normanton, Ruva Kumpane and Chloe Walding capture the essence of their courtly parts of Lord Wessex, Queen Elizabeth, and Hugh Fennyman.
Indeed, the entire cast produced an unforgettable and unique version of this critically-acclaimed play, blending their natural and evocative performances with an amusing and jocular tone, effortlessly engaging with their audiences, the well-paced and tightly-organised crowd scenes a credit to fluid direction of Ms Hasan.
"Shall I compare thee to an … excellent performance?" – most certainly I shall.
Review by Ben Davies, Year 13