The Spencer Perceval Debate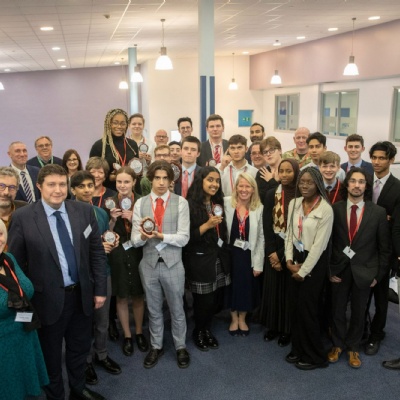 When I emailed staff to inform them that 4 students would be missing classes as they were taking part in The Spencer Perceval Debate, I described the event as "exhilarating yet a bit of a white-knuckle ride." Having been to the event, I still stand by this summary, but I'd perhaps add that it is an extreme white-knuckle ride, so much so that I snapped the arm off my spectacles with stress during the final preparation session. And I consider myself to be pretty easy-going.
This year's debate took place at Duston School. They were worthy winners last year- we assumed the role as admirable runners up who fought to the death. So, the game was on and four school were on tenterhooks to get started.
A matter of weeks in advance we were give three topics to research:
This House believes that freedom from being offended has priority over freedom of speech.
This House would frack in the UK.
This House believes we should re-join the EU.
Our team (Emerson, Findlay, Sayana and Alejandro) conducted the necessary research and fielded arguments for both sides of the debate. We were ready with our notes, highlighters and nerves.
The teams were divided into zones and the 3 battles ensured. Each speaker has just a mere two minutes to present, develop, further develop and summarise one side of the debate. After one minute, a knock is heard. After 90 seconds, another knock is heard and, after 2 minutes, you are told to finish your sentence.
The first round saw us face a strong Duston side comprising of four very accomplished Year 13 students. We were to argue against the proposition. "This House does not believe that freedom from being offended has priority over freedom of speech." It was a hard ask, but the team fought hard. I'll be honest, the team were nervous. Emerson had to restart as one of the judges arrived late, so it was a nerve-racking start to the event. Nerves were audible in voices and the team seemed a little awkward and lacking in the confidence, a real shame given the research and strength of some of their arguments. These nerves were exacerbated perhaps by the confidence and self-assuredness of Duston who, on their home turf, were used to the setting. But the bar was set high and they knew they had to raise their game.
To round 2. Facing Northampton International Academy, we were in opposition. "This House would not frack in the UK." We knew what to expect this time. We were more confident. We were getting there. It felt like a better round.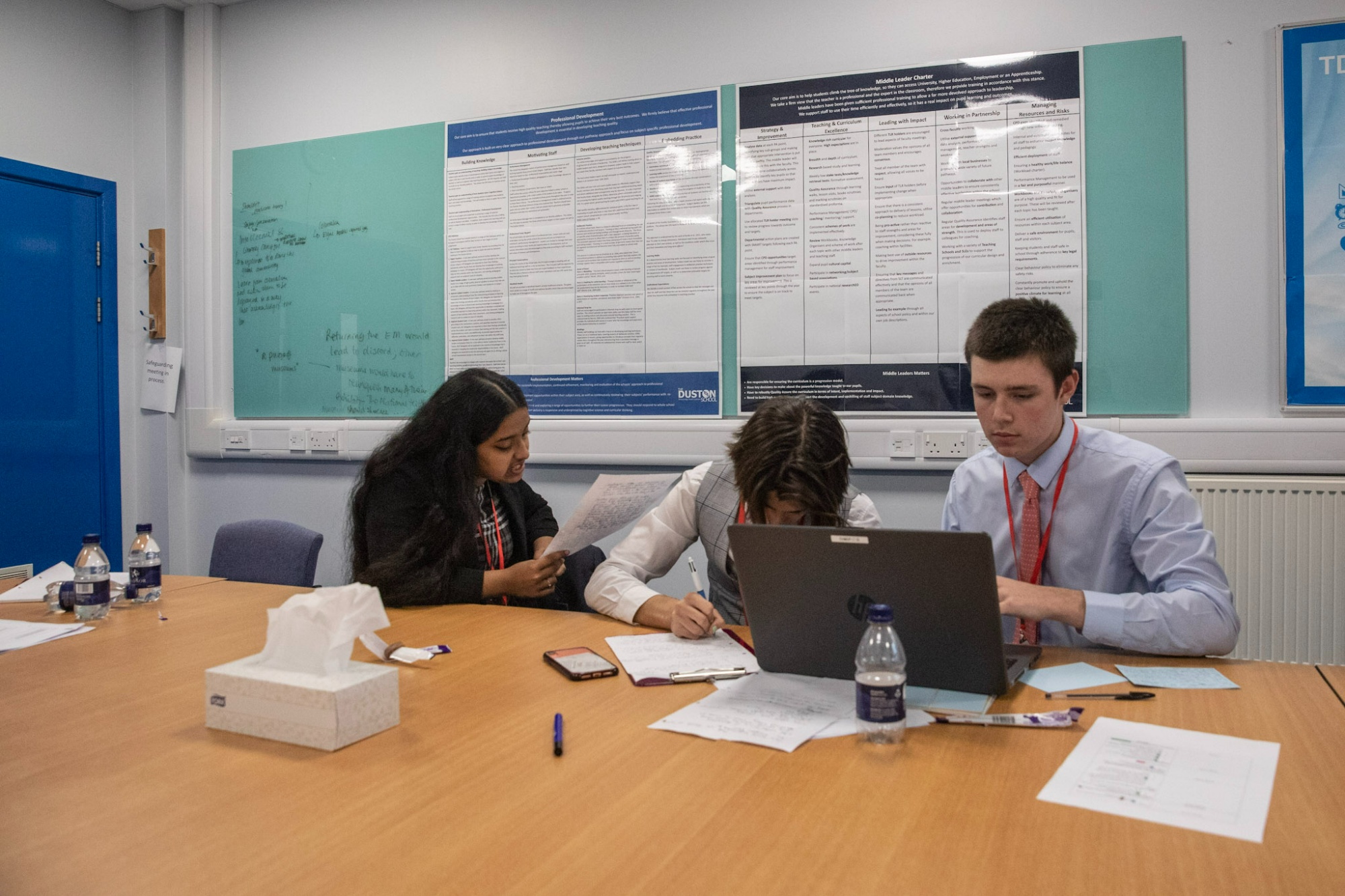 Finally, round 3. Quinton House versus NSB. We were in opposition again. "This House does not believe we should re-join the EU." This was an enjoyable session. All speakers were more comfortable. The opposition had a very skilled third speaker. As Findlay said, "I'd like to debate with him."
So, to lunch. It was lovely to have the time to do just that- have lunch and socialise. How great to see students gradually moving and chatting, debating and laughing with their competitors. I actually asked our students if they knew the other students as they seemed to be getting on so well. In retrospect, the intensity of the situation was definitely a unifying factor.
I couldn't properly relax and enjoy the sweet treats; I knew the decision was pending. It was obvious that Duston were through to the next round. They had outsmarted us in round 1. But the other finalist place was more uncertain. Vomitus waits over and we were through. A second vomitus surge of anxiety hit me as I realised, we had an hour to research, plan and rehearse for the final. Squirrelled away in a room in another part of the school we worked on our proposition "This house believes that museums should NOT return artefacts from other countries." Morally, we all thought they should but then we started to pick apart the question. Our colonial history may have stolen many good and to return artefacts is to almost try to expunge the uncomfortable facts from our history- make amends. Surely great work is for all to see. Further, the preservation of said artefacts is a costly endeavour. Can some nations really afford to do this? Further, some nations are in conflict. Would said artefacts be destroyed anyway? But the question was about museums. Curators are skilled at preserving and displaying artefacts. Are they an elected body who should be given the right and huge responsibility of deciphering often complex political and historical situations? No, and herein lay our argument. In the words of Mary Beard, "What is art? It's everybody's."
It was a tough fought final round. We won. We enjoyed it. We'll be doing it again next year!
Shirley Morrison