Record Medal Haul at BRIC21
The British Rowing Indoor Championships was held as a 'virtual' event this year due to Covid restrictions. The ergs were connected via the internet to the race platform so that competitors across the country could race at the same time. NSB entered competitors in the individual timed events, 500m sprints and team relays, with a sixth form girls' team representing the school for the first time.
The first race was the Year 7 boys, 2 minute timed event. Michael Graham and Ben Chown were entered and hopes were high after both had posted competitive distances in training. The race didn't disappoint, with the lead changing hands several times. In the end Ben prevailed by one metre, recording 563m to Michael's 562m. A fantastic performance by both boys, each setting a new personal best.
Next to compete were Mario Vasconcellos-Blanch and Cameron McKenzie in the Year 9 4 minutes timed event. A target of 1100m was set after training and both competitors gave it their all. Mario finished in 4th place with 1116m and Cameron, 9th with 1075m. Both boys should be pleased with their efforts, with Mario setting a new personal best.
The Year 8 boys, 3 minute timed race was next, with Oliver Vasconcellos-Blanch in with a good chance of a podium finish. After a powerful start, he led at all split times, to win with a distance of 838m, well clear of second place. A great row, and a personal best performance.
The next events were the team relays. The way the programme was scheduled, and some rowers doubling up in boys, girls and mixed races, the recovery periods were only about 15 minutes between events. A tough ask for the rowers. The sixth form boys' team of Ed Baker, Josh Manz, Ben Evans and Henry Field were first to race. This proved to be one of the 'races of the day'. All the way through, NSB were in a titanic battle with Great Marlow School BC, with never more than three metres between the teams. At the end NSB's pace was 1:30/500m compared to GMSBC's 1:31, giving NSB an average distance covered of 662m per rower in two minutes. To have four rowers compete at this level was, "fantastic... impressive ... unbelievable" in the event commentator's view.
With fifteen minutes recovery, Ed and Ben were back to compete in the sixth form mixed relay with Katie Hindson and Cerys Shrewsbury. As the race started the monitors on the ergs showed NSB in the lead, which they extended throughout the race. However, due to technical difficulties with other teams, four teams did not show up on the screen. The race was completed with NSB winning with an average distance of 593m, but the official results showed GMSBC given the win with 604m, after they could row 'offline' and submit results with photographic evidence. It was a harsh way to lose the gold medal, but all four rowers should be proud of their efforts.
The sixth form girls' relay was the next race, with Katie and Cerys doubling up with only 15 minutes rest, to join Chloe Gillett and Charlotte Leeke. All four rowed well to record an average distance of 503m/2 min, to finish in a well-deserved 5th position.
To finish the day, the 500m sprints were always going to be exciting, with maximum effort given to record the quickest time. The race schedule had the Year 7's, sixth form boys and sixth form girls all competing together. Logistically, this meant that eight rowers were in action at the same time. Where to look was a problem, as the action was fast and furious.
In the Year 7 category Michael Graham was up against Ben Chown again. Could this be as close as the 2 minute event? In a word, yes! However, this time the result was reversed with Michael (1:46.1) pipping Ben (1:47.3) to gold. For each boy to win a gold and silver medal in their first national event bodes well for the future.
The sixth form girls saw Katie, Cerys and Chloe competing. Katie rowed an evenly paced race, with only 1.4 sec between her splits. This placed Katie (1:46.0) in bronze medal position in her first individual event. Cerys (1:54.6) and Chloe (2:06.9) both produced personal best performances, to finish 7th and 10th respectively.
The sixth form boys 500m was eagerly awaited as there was a chance to do something quite unprecedented – to secure all three positions on the podium. No pressure boys! At the first 100m split Ed and Josh were level in the lead, with Ben close behind in third. At successive splits Ed inched ahead of Josh, with Ben still in touch. Going into the final 100m it was all to play for. Ultimately, Ed was just too strong and finished in 1:21.3s, closely followed by Josh in 1:23.3s. Ben was starting to feel the effects of two previous relays but managed to hold on to a share of third place in 1:25.9s. The race commentator said that it was "impressive stuff…. absolutely amazing". A gold, silver, and bronze in the same event is special.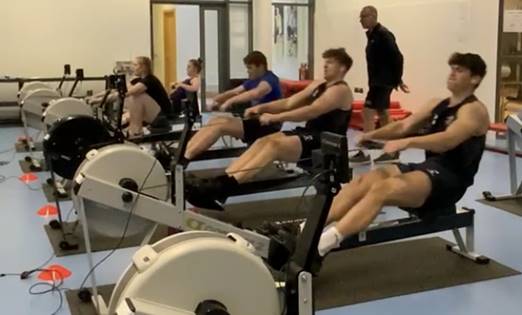 500m sprint (Josh Manz, Ed Baker, Ben Evans, Katie Hindson, Cerys Shrewsbury)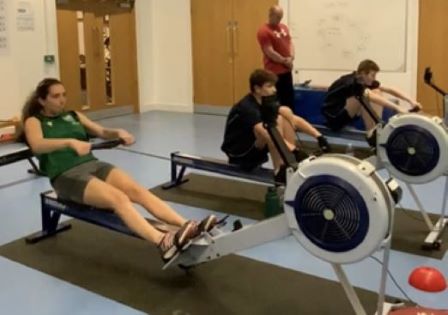 500m sprint (Chloe Gillett,
Ben Chown, Michael Graham)
With one final race to go, Oliver Vasconcellos-Blanch was trying to secure a double gold, after winning the timed event earlier. After a powerful start, there was no let up in each of the 100m splits, setting a pace that could not be matched. Oliver won by a margin of 6 seconds to secure his second title of the day.
To achieve 6 gold, 4 silver and 2 bronze medals was exceptional, and testament to the effort put in by each rower during training and on the day. I would like to personally congratulate all the rowers taking part and representing NSB with distinction and supporting each other so well on the day.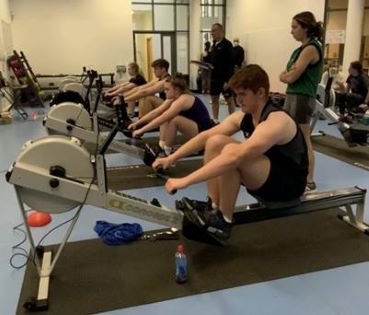 Mixed Relay (Ben Evans, Cerys Shrewsbury, Ed Baker, Katie Hindson)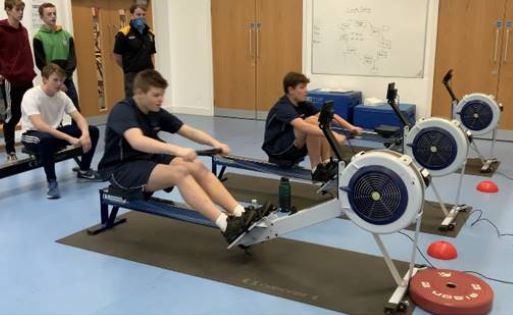 Year 7 - 2 minutes (Michael Graham,
Ben Chown)
The next national event is the National Junior Indoor Rowing Championships on March 4th, 2022. After a well-deserved break, it is hoped that more success can be achieved in the spring.
Mr R. White
PE Team