The Inaugural Spencer Perceval Debate 2021
One of the most terrifying but sometimes exhilarating moments in teaching is when you have to relinquish control. You grit your teeth, let go of the reins and let the students go off and try for themselves. Anxiety laden, you watch rather helplessly as students enter the exam hall. No longer can you give them the reassuring 'thumbs up' gesture or the 'You've got this!' look. Such a moment like this was encountered last Friday as a group of our Year 12 students took part in the inaugural Spencer Perceval Debate at Northampton International Academy.
This event would test not only their skills in research, teamwork and debate but also their ability to think quickly under intense pressure; they would only find out the side they had to support minutes before they had to deliver. I found myself using the same lines of encouragement that I often share with my own offspring as they make their way to the dentist chair. The similarity doesn't end there; they are usually fine and it's me that faces the agony.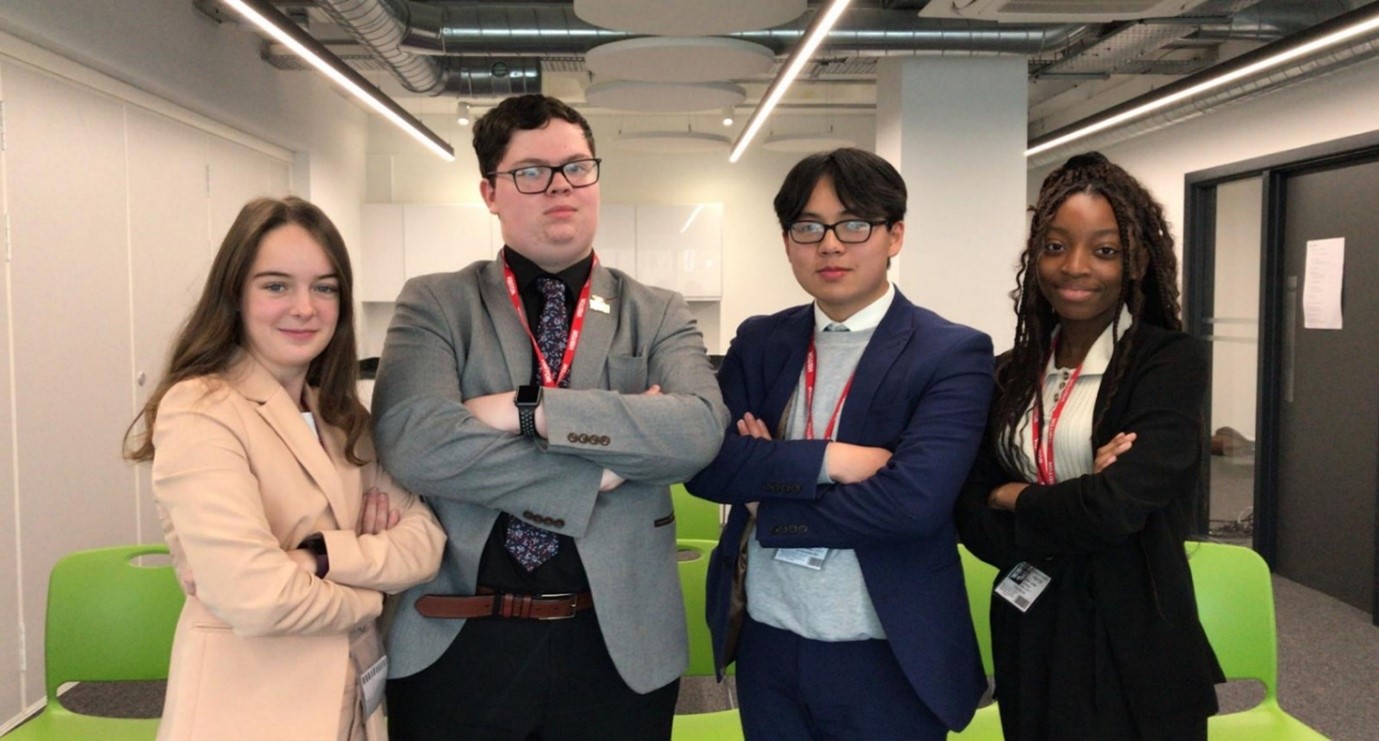 As we found out, Spencer Perceval was an MP for Northampton and became Prime Minister in 1809. Three years later in 1912, he was shot dead. In light of recent events such as the untimely death of MP David Amess, it seems that the lives of politicians are still fraught with danger. Therefore, the right to debate, to represent others and to challenge views seems to be all the more valuable. We were humbled to be taking part in such an event in the lead up to National Democracy week.
Our Year 12 team (Alex Do, Honey Yakubb, Saffy Smith and Matt Timlin) spent some time in the lead up to the debate researching the three topics released before the debate.
Three motions were considered:
This house believes the voting age should be lowered.
This house believes in 'no platforming'.
This house believes that animal testing is indispensable for the advancement of science.
Only minutes before the actual debate were they told of the position to take. 'Terrifying' is indeed the word I'd use to describe it. As a vested spectator, the surge of adrenaline and blood that coursed furiously through my body felt as if, given the opportunity, it would explode across the room at any given point if my ageing skin revealed any sign of weakness. Thankfully, the skin held and the team navigated their way through the first three rounds of rapid competition.
Lunch was a welcomed breather but the nerves and the pressure were about to multiply tenfold as we waited to find out if we had made the cut to the final. If successful, a completely new topic would be released with a mere 45 minutes of preparation before the final round.
So, with our bellies full, the verdict was released; we were through the final. Hurray! The next topic: the abolition of the monarchy and our side was to argue in favour of such a motion. What followed was a rather gruelling 45 minutes of research and creativity. The crux of their argument was not the rather obvious cost of our Head of State but the fact that it is an outdated tradition which does not serve the nation well and indeed exposes those who reign to a rather arduous and thankless task.
I'm not going to prolong the agony; we did not win but we performed with gusto, determination and good humour. The judges said we were 'polished'. Matt Timlin's rebuttal in the final round added a touch of brilliance and humour at a time of high stress. As the opposition noted the fact that our monarch spends 15 minutes each week with the Prime Minister, Matt rather candidly noted that he spends as long deciding what to wear in the morning. A point made all the more humorous by its truthful nature.
Whilst losing never tastes sweet and disappointment is an obvious and honest motion, I cannot help but feel an immense sense of pride. We took part in something genuinely great and our students tried so hard, were social, open, approachable and confident in their own skins. They mingled with the other students with courtesy and ease. It was so reminiscent of a time when social distancing, mask wearing and continuous fear seemed like an alien concept. This was a big bit of normal and, for that, I am incredibly grateful.
S. Morrison