NSB success at National Indoor Rowing Championships 2021
This year's NJIRC was held virtually for the first time due to Covid-19 restrictions. The event was held over three days (13th – 15th May), to allow as many competitors to enter as possible. Altogether there were 125 teams entered with 3805 results submitted from 2257 male and 1548 female participants.
At NSB, covid restrictions and lockdowns meant that several weeks of work had been missed and levels of fitness had been impacted. All training and competition had to be completed in 'year bubbles' during early and late lunchtimes to satisfy covid restrictions. The students were committed to training to improve their fitness and performance using a variety of training methods such as timed rows, intervals, and sprint work on the ergs to put themselves in the best shape possible.
In total NSB entered 20 competitors across the Year 7 to Year 12 age groups, with teams also competing in the Junior and Senior Relays. It was hoped that some top ten finishes would be achieved, with a couple of possible podium successes. What transpired surpassed all expectations!
In Year 7, the 2 minutes timed event, Oliver Vasconcellos-Blanch and William Higgins competed, and a target of 500m was set. Oliver had achieved this in training, but William had always been just short. On the day both boys set big personal best performances. Oliver posted 533m to finish in an amazing 4th position, while William pushed himself hard to achieve 512m to record 16th place. Overall, there were 727 competitors in this event, which shows how well both boys performed.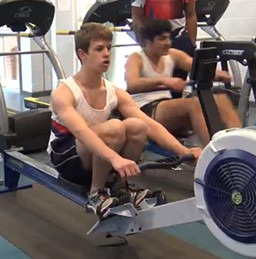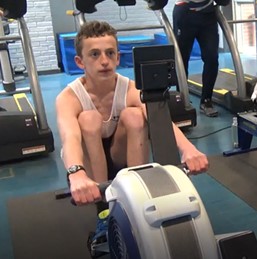 Year 8 potentially could provide a first podium finish. Five rowers were entered, with George Tonga'uiha, the defending champion from last year, a strong contender. All five boys had individual targets to aim for, and all returned personal best performances in competition. George did not disappoint, setting a massive 907m in three minutes to win the gold medal for a second year. Cameron McKenzie set 810m to finish a well-deserved 7th. Mario Vasconcellos-Blanch placed 13th with 791m, Jasper Smith was 32nd with 763m, after only one training session, while Oliver Dunnett improved the most to record 701m, breaking the 700m barrier for the first time to finish a creditable 146th. In total there were 616 participants in this age group.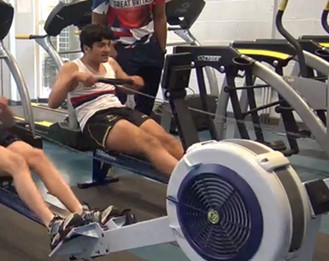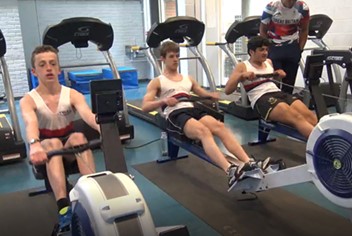 The Year 9 category had 468 competitors taking part with NSB entering four rowers. To get all four competitors inside the top twenty was a fantastic achievement. Hugo Dun finished 11th with 1108m in four minutes, William Hunter was 13th posting 1107m, Ethan Round 17th with 1088m and Eden Wiles 19th recording 1072m. This close grouping would prove useful in the relay, but more of that later.
Year 10 competitors rowed over 5 minutes and in total there were 231 taking part in this age group. Toby Scully was set a target of 1400m and came agonisingly close with 1391m to finish in 14th place. Freddie Maruzza came 25th with 1345m and Charlie Rappaport finished 54th with 1279m. All three boys set personal best performances.
Four Year 11 rowers were entered, with an ambitious target of 1700m set. Ben Evans powered his way to 1773m, which smashed his previous best performance, to finish a magnificent 2nd to win the silver medal. Henry Field exceeded the target to post 1703m and finish just off the podium in 5th place. Closely following was Lewis Glennon who set 1697m for 6th place, while Isaac Round finished just outside the top ten in 11th with 1645m. 76 entrants competed in this age group.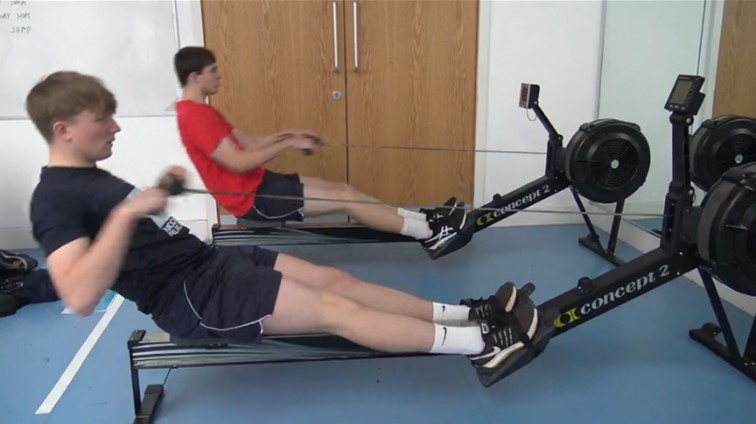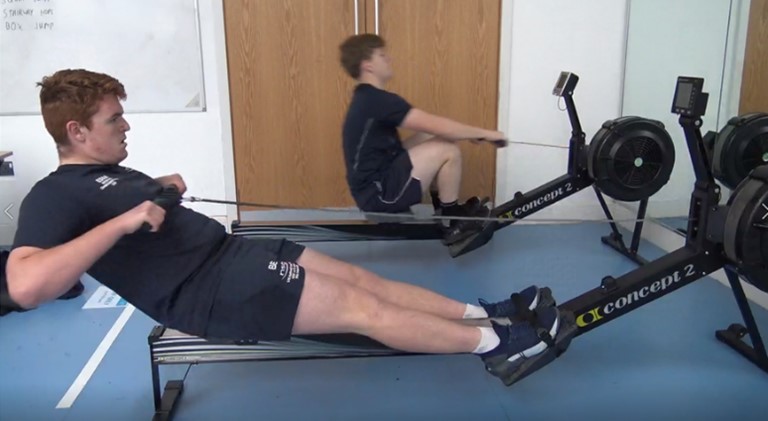 The final individual age group entered was the Year 12, 2000m event. Ed Baker and Josh Manz were both challenged to set personal best performances and achieve membership of the 'Sub 7 Club' for rowers completing 2k in under seven minutes. Both were up for the challenge and had trained really-well going into the event where 51 competitors had entered. Ed set off with intentions of keeping to a pace of about 1:40/500m, while Josh was happy with 1:46/ 500m. To maintain these figures meant the boys had to dig deep and row into the red for much of the time. Ed posted a magnificent time of 6:29.6s to finish 1st and win the gold medal. Josh was in unknown territory and took nearly ten seconds off his previous best to finish a brilliant 7th with 6:50.4 s. Both rowers were distressed at the end but after recovering were really pleased with their efforts.
The relay races were compiled from the average 500m split times for four rowers in the Junior (Year 7 – 9) and Senior (Year 10 – 13) age groups. Therefore, the individual performances were crucial to the team positions. The junior competition was a nail-biting affair with NSB, Mossbourne Rowing Academy and The Gorse Boat Club vying for top position. In the end NSB achieved 2nd place with an average of 1:46.9s/500m, missing out on the gold by 0.5s. The four rowers from NSB were George Tonga'uiha, Hugo Dun, William Hunter and Ethan Round.
The senior competition was equally close with NSB leading up to the final hour of competition over the three days. Ed Baker, Josh Manz, Ben Evans, and Henry Field set an average split time of 1:41.7s/500m to miss the gold by 1.2s to Exeter Rowing Club. The positive aspect to this is that Exeter's team was made up of one Yr13 and three Yr12 rowers, while the NSB's team contained two Yr12 and two Yr11 rowers. Perhaps next year will be NSB's year?
Overall, the performances surpassed expectation with 17 out of 20 rowers setting a personal best performance. To achieve two gold and one silver in the individual events was superb and to back it up with two silver medals in the team events was outstanding. To put the icing on the cake NSB finished top of the medal table for boys, with two gold and three silver medals.
I must congratulate all the boys for committing to training in their lunchtimes, and at home if they could. I know it was not easy, and you were pushed to your limits at times, but to achieve performances and results of this calibre is an outstanding testimony to your motivation and ability. Well done.
Roll on next year!
NJIRC21 RESULTS
Year 7 – 2 minutes

Oliver Vasconcellos-Blanch

533m

4th

(727 participants)

William Higgins

512m

16th

Year 8 – 3 minutes

George Tonga'uiha

907m

1st - GOLD

(616)

Cameron McKenzie

810m

7th

Mario Vasconcellos-Blanch

791m

13th

Jasper Smith

763m

32nd

Oliver Dunnett

701m

146th

Year 9 – 4 minutes

Hugo Dun

1108m

11th

(468)

William Hunter

1107m

13th

Ethan Round

1088m

17th

Eden Wiles

1072m

19th

Year 10 – 5 minutes

Toby Scully

1391m

14th

(231)

Freddie Maruzza

1345m

25th

Charlie Rappaport

1279m

54th

Year 11 – 6 minutes

Ben Evans

1773m

2nd - SILVER

(76)

Henry Field

1703m

5th

Lewis Glennon

1697m

6th

Isaac Round

1645m

11th

Year 12 – 2000m

Edward Baker

6:29.6s

1st - GOLD

(51)

Josh Manz

6:50.4s

7th

Junior Relay

(28 teams)

George Tonga'uiha, Hugo Dun, William Hunter, Ethan Round

Average split: 1:46.9/500m

2nd - SILVER

Senior Relay

(24 teams)

Edward Baker, Josh Manz, Ben Evans, Henry Field

Average split: 1:41.7/500m

2nd - SILVER