Agnes Anne Goodman MBE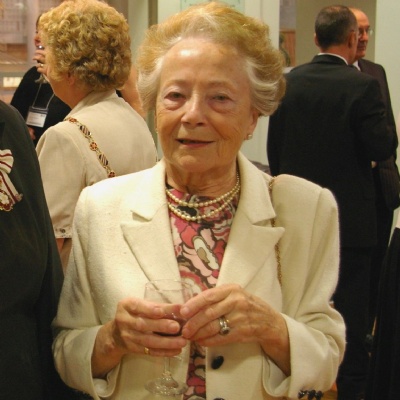 "Though she be but little, she be fierce!" - Shakespeare
It was with great sadness that so many people in the county heard of the death of Anne Goodman. I first got to know Anne when I was interviewed for Deputy Headship in 1993. She oft repeated the story (completely fabricated I am sure!) of the 'odd socks' I wore! Anne remained a governor for many years and was a superb support to me personally and professionally.
I know nothing of Anne's background but must assume that anyone born in 1927 will have been scarred having spent their entire teenage years witnessing the pain and suffering and poverty of the second world war. Post-war she will have known the hardship of mass unemployment, food rationing and all that entailed. And I imagine that seeing all the returning heroes and the hardships they endured will have planted in Anne's mind the notion of service and selflessness.
Anne spent her adult life in the service of others. She became a Conservative county councillor and chaired the Social Services committee. She was actively involved in 'good causes' too many to mention, from St Andrew's Hospital to Age Concern, from The Princess Royal Trust for Carers to the Northamptonshire Festival opera. She set up the Northamptonshire Young Carers and was their chairman and ultimately President. This was a cause that showed Anne at her very best. She became aware that many young people struggled at school because of the enormous responsibilities they faced at home looking after siblings and – often – parents who were unable to care for themselves.
Such children often struggled with punctuality and attendance at school and found it difficult to complete homework because of the huge pressures they felt – and the enormous weight of responsibility that had been thrust upon their young shoulders. Anne was determined that such youngsters needed the same care and support and love that they themselves so freely gave to their families. Many young people are hugely grateful to Anne for the range of support she has promoted and provided.
But what of the Anne I knew at NSB?
Shakespeare must have been thinking of Anne when he wrote of Hermia in A Midsummer Night's Dream that "Though she be but little, she is fierce"! But – like Hermia – Anne remained kind and gentle to those around her. Though diminutive of stature, she was a giant in terms of what she achieved.
When I joined the ranks of NSB, every single student and most teachers were male. But there was a significant group of very strong and determined women at the heart of the governing body. Alongside Anne were Yvonne Edwards MBE and Morcea Walker MBE amongst others. Although she had many roles, there were certain things that were constants when thinking of Anne Goodman:
She was always immaculately dressed
She was always present and punctual
She was unfailingly polite and beautifully spoken
She always looked for solutions, not problems
She always ALWAYS had a delicious twinkle in her eye that disarmed her most implacable opponents!
Anne was quite simply the 'go to person' if something needed to be done. I remember many conversations - both in school and when invited to her house overlooking Abington Park – when we would discuss a seemingly intractable problem I was having with a child or family or the county council or a politician…. Anne would fix me with that steely yet warm look, put her hand on my arm, smile, and say "Don't worry, my dear. Give me a couple of days. I'll sort it!" She would then pour another cup of tea from a bone china teapot into china tea cups – and sort it she did!
Anne had the most amazing diary of contacts – many of whom were extremely influential people in their own right. She knew who to ask, and how to ask, if she wanted something done. She knew how to open doors that were seemingly locked and barred! And she was 'fierce' in her own incredibly gentle way. She would not accept 'No' for an answer. She knew there was always a solution.
Anne was a proud Northamptonian. She was delighted to be appointed Deputy Lieutentant for the County in 1997 – a role that required her to be a representative of the Queen in our county. She was passionate about helping individuals who struggled to find a voice when dealing with large corporations. She believed that people who have advantages in life have a DUTY to help and support those for whom life has become something of a challenge.
I hope that many of the young people who have benefited from an education at Northampton School for Boys will similarly appreciate the advantages they have been given and – as they grow into adulthood – adopt the mantra by which Anne Goodman lived her long life: that selfless service to your fellow man is the greatest gift you can give, and is itself a great reward.
We will all miss you, your smile, your kindness and your vivacity. Rest in Peace, Anne.
Sir Michael Griffiths
Former Headmaster Northampton School for Boys