USA Sports Tour 2017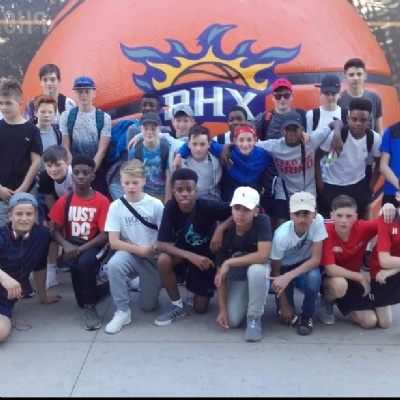 At last the day had arrived, 15 months of waiting was finally over. The squad, consisting of 28 sports players, met in the car park on the 31st March at 8.00am.
All 28 boys (and George's mum) settled on the coach ready for the biggest adventure of our lives. Who knew sitting down for 10 hours on a plane could be so tiring! At Phoenix airport we were greeted by 14 excited American families. My family even had a banner welcoming us! The squad (with added families) met at Barro's Pizza House where we had our first of many American meals. Then back to our new homes for the next week, and they certainly didn't disappoint.

After going out for breakfast (a first for me) my family took me and my partner Klei to Go-Karting. Later in the day, the boys from our host families had an important semi-final football game, but despite extra English support, unfortunately they lost. This was the first time we were able to compare the American style of football to the game we know, the styles are similar but the Americans seem to play direct through the middle to the striker more quickly. After the match, most of the football team with their families in tow, went for a fun evening at a trampoline park, followed by a meal at a Mexican restaurant. A bright and early start on Sunday began with a football team (plus American hosts) session of paintballing, which brought out the competitive spirit of the boys - paintballing hurts! Then we all got together with the basketball team to share our amazing experiences whilst travelling downtown to watch the Phoenix Suns narrowly lose an NBA match to the Houston Rockets, 123-116. This was quite an experience.
On Monday, the American hosts began a normal week of work and school. The whole NSB touring group met early and we hiked up Pinnacle Peak, a local nature trail with views across Scottsdale and Cave Creek. We managed to catch a glimpse of a King Snake, which was quite cool. In the afternoon we spent time at Crackerjacks, a local adventure park, on go-karts, bumper boats, playing crazy golf and volleyball. In the evening the football team played our first game against the Desert Foothills Soccer Club U13's, we played well and won 9-0.

Next day, we went to Sedona which is a 90 minute drive North of Phoenix, an area referred to as the mini-Grand Canyon. We walked Bell Rock and then went to Slide Rock. Slide Rock is a gorge with a river running through it. The river has a deep plunge pool which we could jump into from a ledge, it was scary and freezing. Slide Rock also has some smooth rocks with water running over them which forms a white-water slide, hence the name Slide Rock. This was even COLDER! After a quick visit to a mall, we proceeded back into Phoenix to play our second football game, this time against the DFSC U12 team. We won this game 10-0 with some great goals from distance and a never before seen screamer from Archie Shaw.

On our last full day in Phoenix, we spent the morning bouncing at a local trampoline park called Jump City. This had basketball rings, a dodgeball arena and a bucking bronco. The visit however will be better remembered for Mr Burton 'misplacing' the van keys, causing a frantic search of the area. We then went to a shopping outlet to eat, before travelling north to Cave Creek for our final games. The football played against a team made up of players from DFSC U14, bolstered by some U13 and U15 players. This was a good game of football and we played well against good opposition but lost 4-2.

The football and basketball teams played their matches at the same time, so we never got to see each other play. Mr Burton reports that the basketball played three games against various teams from Desert Foothills Basketball Club. In game one NSB led for most of the first quarter but couldn't hold on, losing a very competitive game. Both games two and three were fairly one-sided but the team learned a lot from playing in America. The stand-out performers over the week were Sean Rawlings and Ashley Kitchen.

On Thursday it was an early rise and time to say goodbye to our American host families who had looked after us so well! We set off on an 8-hour journey to Los Angeles, including a 2-hour stop for food and a stretch of legs at Desert Hills Outlets Palm Springs. We arrived in LA in time to watch the sunset over the Pacific from the famous Santa Monica Pier.

After our first night in the new hostel, we all woke up wondering what excitement LA had in store for us. First day, we walked along the boardwalk from Santa Monica to Venice Beach, where we spent the day playing basketball, beach football and swimming in the ocean with a seal that came right up to the shore! In the evening we watched some amazing street shows on Santa Monica Third Street Promenade and went for a team meal at a sports bar.

On our penultimate day, we went to Universal Studios. We went on many rides and also saw the sets used in real films while on the studio tour. It was an amazing experience!

Sadly, our adventure had to end, so we spent the last morning at the pier, before making our way to the airport and setting off on the return flight, time spent sleeping and playing FIFA, shortening the flight for all of us. Around 20 hours after we set off from LA, we pulled into the NSB bus stop and saw our families again. All of us on the trip certainly won't be forgetting it anytime soon.

Thank you to Mr Wilcock, Mr Burton, Mr Langdon, and Mr Pietropaoli for an unforgettable adventure.


Archie Shaw 8P