County Athletics Championships 2019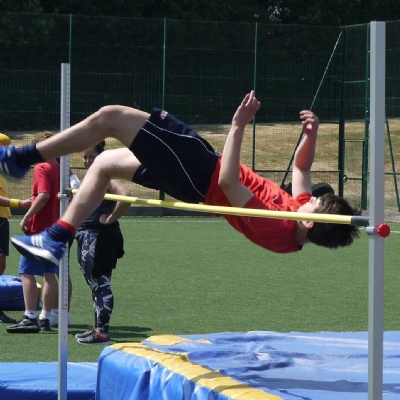 Whilst most were in the warm and dry on Saturday 8th June, several NSB students and staff 'braved' the wet, windy and cold conditions at the County Athletics Championships in Corby. Nineteen NSB boys turned out in a variety of events to run, throw and jump against the best athletes in Northamptonshire in some high level competition. Twenty-seven were selected but due to injury many had to pull out.
The most impressive results from NSB students are as follows:
1st Place and therefore County Champion:
Chris Dyrmishi in the Intermediate Boys (Y10 and 11) Shot
Josh Tutt Junior Boys (Y8 and 9) Shot
Will Campion Junior Boys Javelin
Chris Dyrmishi Inter Boys Discus
Josh Tutt Junior Boys Discus
2nd place:
Fergus Scott Inter Boys 1500m
Jude Kelly Inter Boys 800m
Ollie Savage Junior Boys 200m
Ed Baker Inter Boys Shot
Martel Wolfenden Junior Boys Triple Jump
Ollie Savage Junior Boys Long Jump
Joe Howe Inter Boys High Jump
3rd place:
Noah Bennett Inter Boys 1500m
Joel Aldridge Junior Boys Long Jump
Ross McLean Inter Boys Javelin
Just missing out on podium places:
Hayden Winsor Inter Boys 100m
Ben Wilcock Inter Boys 200m
George Kennedy Inter Boys Triple Jump
Ben Evans Junior Boys Discus
So, five NSB County Champions (including two double champions), ten others on the podium, and many Personal Best performances certainly lifted the mood and made the cold and rain eminently bearable.
Please pass on your congratulations to all of those on the list; they have most definitely earned it.
Mr J. Taplin
PE Team