NSB U15 Rugby National Cup Round 3 Triumph 2018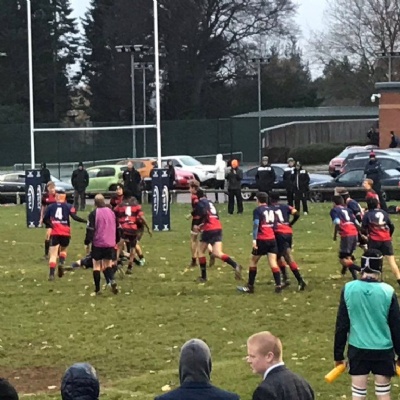 NSB Under 15 unbeaten run continues with great Round 3 National Cup win over Oakham School
An excellent first half performance laid the foundations for a well-deserved win against strong opposition in the National Cup against Oakham School on Tuesday 20th November 2018.
After taking an early lead in the first half the boys had to dig deep after half-time as Oakham came back strongly turning a score line of 24-3 to NSB to 24-17 in a ten minute period. However the team showed great resilience and held firm for the final minutes, kicking a crucial penalty from Olly James to put the game out of reach.
Final Score NSB 27 Oakham 17
The squad are gelling together extremely well this season and their performances are benefitting from this tight bond. Cup wins against Stamford and Oakham after a bye in the first Round have now lined up an exciting last 32 tie against either Loughborough GS or Trent College.
The team stands at 9 wins from 9 matches and are gaining in confidence with every week.
A huge injury toll last season has been put behind them and they are now bristling with excitement and looking forward to every game.
At today's standing they are placed 8th in the English Schools' Under 15 Performance Leagues, which is a great achievement in itself against all the private schools in the country.
Coaches Adam Civil and Simon Hepher make a great team and the boys have responded really well to their efforts.
There is still much to do however with a challenging domestic fixture list to complete alongside dreams of further advancement in the National Cup.
Good luck lads!
Mark Lee
School Development Director
PE Team