Regional Final of the UKMT Senior Team Maths Challenge 2018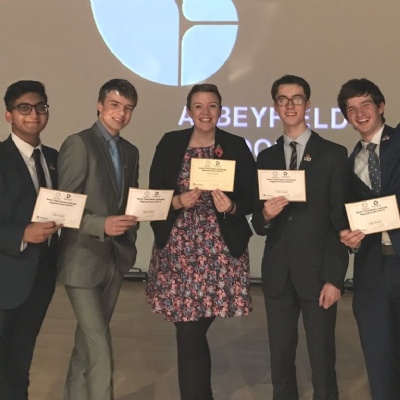 Congratulations to Thomas Lack, Daniel Kingsbury, Devin Thomas and Ivan Petkov, who demonstrated not only exceptional mathematical skills but also great teamwork to win the Regional Final of the UKMT Senior Team Maths Challenge.
Yes you read correctly WE WON!!!!! To come first is beyond impressive!
As we arrived we knew that we would be up against some very tough opposition. There were 20 schools across the region attending and we were told it was going to be a very competitive regional final.
In the first round, teams have 40 minutes to solve a series of 10 questions and must decide on the best strategy – whether to work in pairs, as a group or individually. The boys scored a perfect 60/60. I could have cried with pride as it was announced we were joint first after round 1 with Rugby School (last year's winners!)
The second round is called 'Crossnumber' and is similar to a crossword puzzle but with numerical answers. Teams work in pairs, one with the across clues and the other with the down clues, and must complete the grid using logic and deduction but without communicating directly with the other pair. They scored an epic 65/66. We were still placed joint top.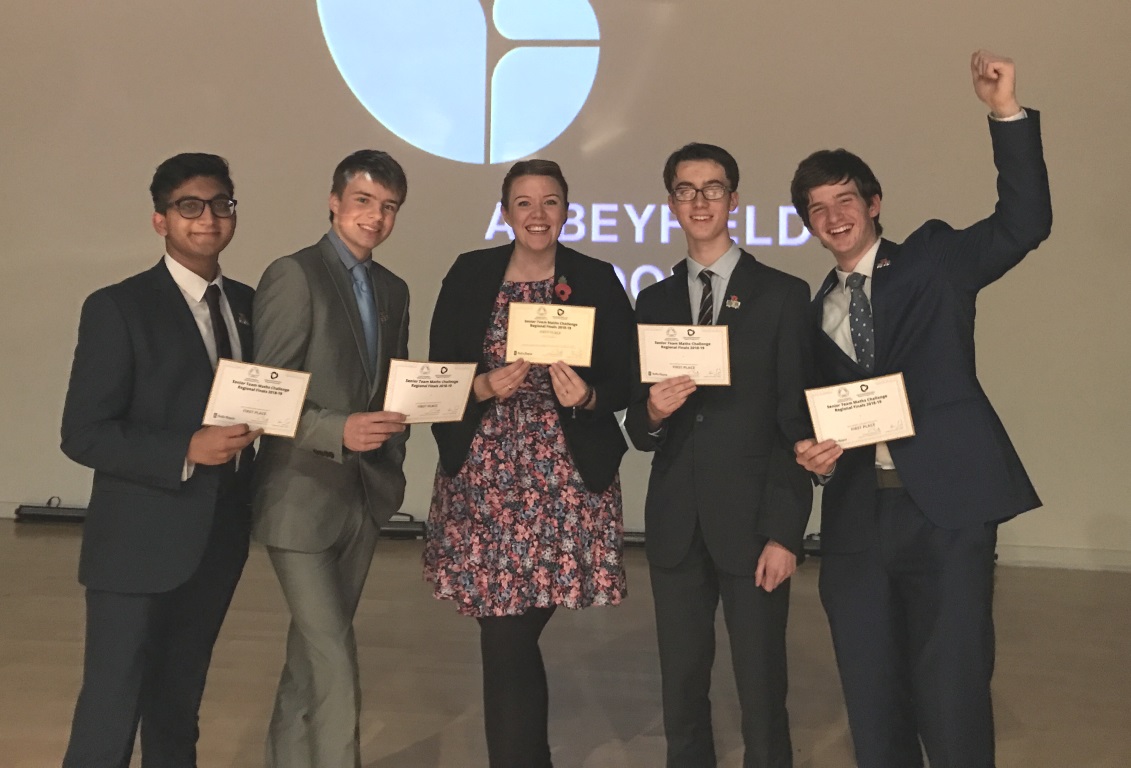 The final round is a 'shuttle' of 4 mini rounds against the clock. Teams are divided into two pairs, one of whom is given Questions 1 and 3, while the other is given Questions 2 and 4. Question 1 can be solved independently of the others, but the answer to each subsequent question is dependent on the previous answer. The first 2 sets were perfect and done within 6 minutes so awarded bonus points too. The last 2 sets of shuttles were hard and most teams struggled to answer the 4 questions within the 8 minutes. I was judging and marking Leicester Grammar School so had to glance across to try and work out how it was going- the boys were unsure at this point. They had lost 12 marks here and we just could not call it as the top 4 schools had less than 4 marks between them going into Round 3!
Results came in…
3rd Place Shenley Brooke End School
2nd Place Rugby School
1st Place Northampton School for Boys
I cannot express the level of excellence required to even place at regionals let alone come first. These boys have worked for a year for this and even set up the school's first Mathematics Society to dedicate a lunch a week to preparing for it.
The team now look forward to competing in the National Finals (a first for us at senior level) at Westminster in February and have already sorted their first finals prep session this Friday lunch.
I am one very proud Further Mathematics Teacher!
Mrs S. Bradley-Brophy