Y12 Bude Residential Information 2018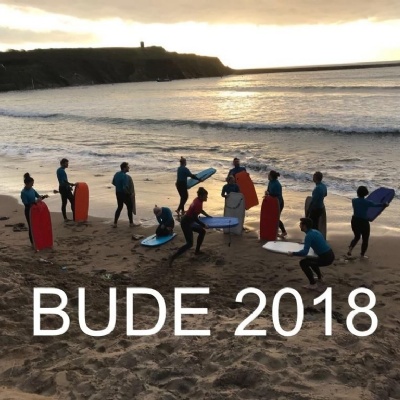 Y12 Residential Trip to Bude 14th – 19th October 2018
Final Departure Details:
Location:
Adventure International
Belle Vue
Bude
Cornwall
EX23 8JP
Telephone: 078707775111
Emergency School Contact:
Mr Kneeshaw – School Hours 01604 230240
Out of school hours: 07968530221
Please only telephone if an emergency or a member of staff needs to be contacted immediately and not to find out the journey times.
Outward Journey: Depart NSB on Sunday 14th October students to be here at 08:30hrs to leave at 09:00hrs.
Arrive at Centre at 15:00hrs (approx.)
Return Journey: Depart from Centre Friday 19th at 10:00hrs.
Arrive back at NSB at 16:30hrs (approx.)
The students will be advised to text you ETA's closer to arrival as it is dependent on the Friday evening traffic.
Activities
Activities for each group vary, but each group will do a range of activities from the
following during the course of the week:
Kayaking, Canadian Canoeing, Walking High Ropes, Caving, Climbing, Body Boarding, Assault Course, Abseiling, Mountain Biking. Each day starts at 7am with a short activity before breakfast. Evening entertainments to include: - Self Assessment, Ability, Teamwork, Leadership Skills, 5-a-side Football, Karaoke and Talent Show.
Only 1 case per student plus a small rucksack type bag to take on board the coach is permitted. If students bring valuable items like iPads, mobile phones etc. then they will be responsible for their safety at all times.
Medication
Students taking any medication should inform relevant members of staff on their coach. If your medical info says you have or have suffered from asthma and you have stated that you use and inhaler, you must have your inhaler with you when on activity. If you do not have it with you, or have left it at home in Northampton, you will not be allowed to take part in the activities. If you have had asthma but no longer use an inhaler this should have be stated on your medical form. If you require an epipen then please make sure you have both with you and that it is in date.
Kit List Guidance
Weather is changeable so pack accordingly
Activity clothing
Swimming costume
PE kit
Towels
Trainers – May need a second pair as some activities they may get them wet or alternatively Aqua shoes (if possible) for inside canoes, kayaks and body boarding.
Track suit/joggers
Waterproof jacket
Warm jumper/hoodies
Evening wear
Up to you – but you're at an activity centre.
What not to bring
Expensive clothing – the activities will ruin them!
Expensive iPads etc.
Large stereos/speakers
Hair tongs/straighteners – they are a fire hazard and will be confiscated – centre rules
Jewellery
You will NOT be allowed to wear ANY jewellery when doing the activities, even if
covered up. Ear rings and other piercings must be removed.
Money
There is limited opportunity for buying anything – vending machines are on the
ground floor and there is a small souvenir shop, but nothing grand so don't forget the
services as an opportunity to buy snacks/food.
Remember – this is an ACTIVITY week. You will get wet, dirty and cold.
Get stuck in, have fun, make new friends and memories.