BAFTA Young Game Designers Final 2018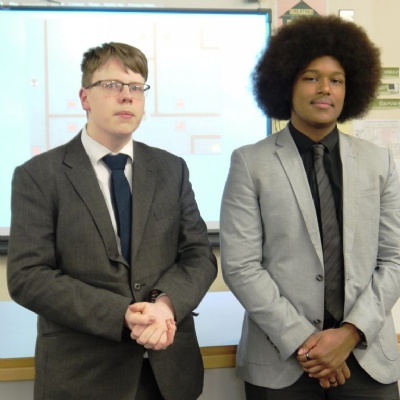 Two Year 12 NSB students have made the final of the BAFTA Young Game Designers. Joe Anderson and Michael Bell will attend a special awards ceremony in London on 17th July 2018.
The pair are vying for the Game Making Award for those who have developed their coding skills and have submitted a prototype game made using freely available software. The finalists worked on their entries in a variety of ways, including individually, within a team at school or their coding club, or even at home with their siblings.
Joe and Michael have been chosen as finalists in the Game Making category for their entry, 'Mouse Trapped'. The sixth formers explained that the game is about a mouse that faces a series of difficult and deadly mazes put in its way by a negligent but not malicious scientist.

The BAFTA Young Game Designers (YGD) competition gives young people the chance to design and create their own game. The annual initiative, which began in 2010, was designed to demonstrate the creativity that goes in to game design, and to give young people, and their teachers, a clearer understanding of the many rewarding careers to be had within the industry. Previous entrants have gone on to attract commercial interest, as well as a nomination at the British Academy Games Awards, BAFTA's flagship ceremony for the games industry. The winners of both strands, in 10-14 and 15-18 age ranges, will receive a host of prizes, including: games, hardware, software licenses, tours of games studios and a mentor from the games industry to help them develop their skills further. A prototype of their game will also be created by a team of developers.
Joe and Michael's game can be played online without the need to download anything but is easier to play using a keyboard and mouse rather than a mobile device: Click Here
"It's a great achievement for two of our students to be considered for the BAFTA YGD competition. Both of them have worked exceptionally hard to plan and produce their game and it's a great honour to be recognised in this way. Their game Mouse Trapped has been a hit with many of the students at the school and I'm certain they will join me in wishing them every success in July." Mr D. Chilver NSB ICT Teacher
Source: Northamptonshire Telegraph 06.06.18
BAFTA Young Game Designers Final: Click Here