The Politics of Dancing, Drama and the Arts 2018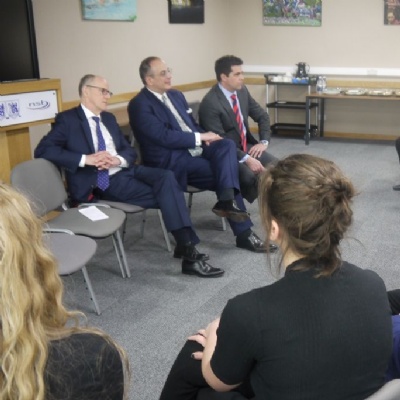 We are immensely proud of our Arts provision at Northampton School for Boys and the associated national and international success we enjoy in this field.
All students experience curriculum time in Music, Dance, Art, Photography and Drama, with GCSE and A level courses attracting strong cohorts each year. Yet, regardless of lesson time and exams, many students also enjoy extra-curricular clubs and peripatetic sessions related to the Arts. The confidence, team work and resilience they gain from these activities certainly contributes to the School's outstanding levels of performance across academic and expressive realms.

We had the pleasure of welcoming The Rt Hon Nick Gibb MP, Minister for School Standards, and Michael Ellis MP, Minister for the Arts, Heritage and Tourism into School last Friday. The main focus of their visit was to highlight the importance of the Arts within schools, a topic which has received significant coverage in the national press due to some schools squeezing creative subjects out of their curriculum. A recent BBC News survey suggests that 8 out of 10 schools in the region have made cuts in this area; Northampton School for Boys is bucking this trend, investing time, money and resources in to this important part of the curriculum.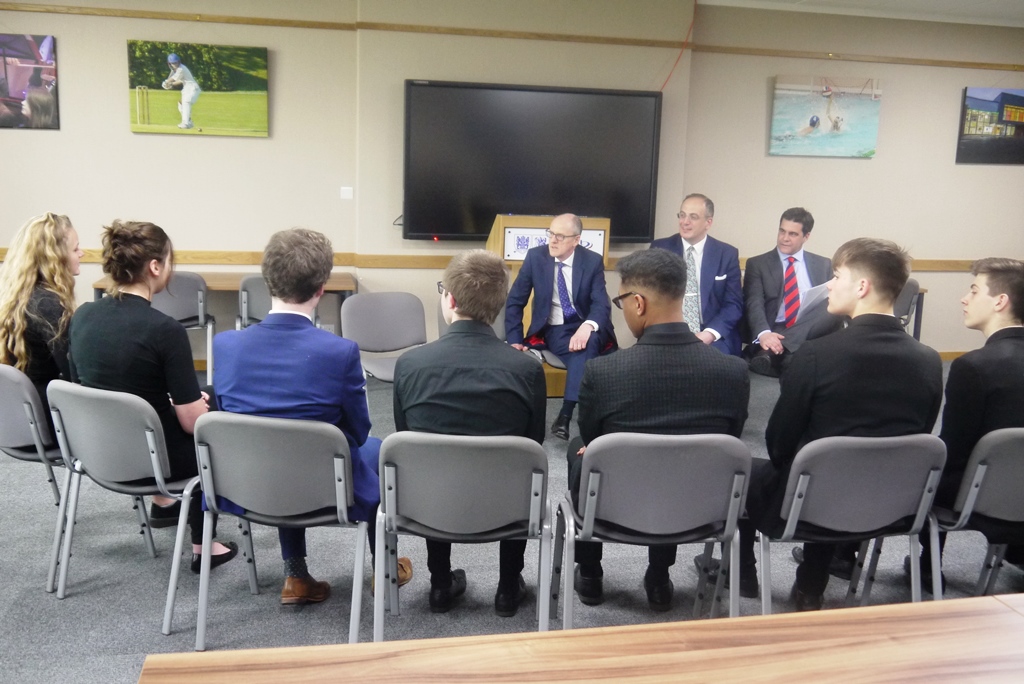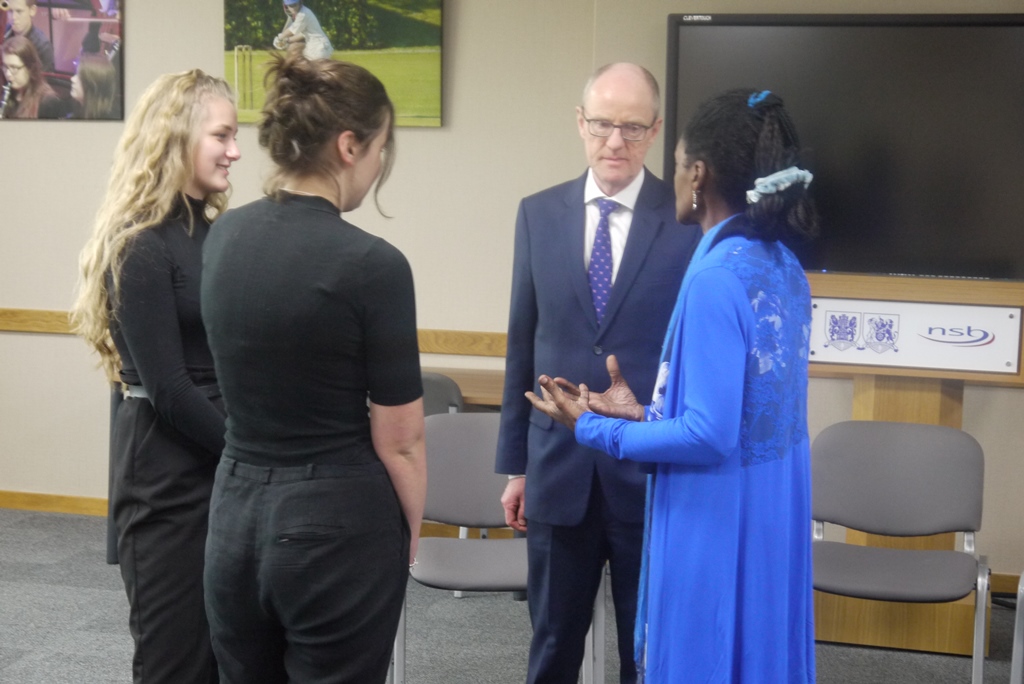 The Ministers were treated to a Showcase from our most talented performers in Dance, Music and Drama on the Cripps Hall Theatre stage. Alongside Big Band, 'Perfect Fifth', an all-girl vocal group, offered a melodic masterclass in close harmony singing with their rendition of "Boogie Woogie Bugle-Boy". N.dance – soon to represent East Midlands at the National Youth Dance Festival (U Dance) – offered an extraordinary street dance routine to complement GCSE dance choreographed paired and solo performances, showcasing the talents of our ever-expanding and highly talented dance troupes. Drama was represented by performances of "One Man, Two Guvnors" "The Boy in the Stripped Pyjamas" and the Spanish play "Blood Wedding" which had previously been performed in the original language at the NSB Languages Festival earlier in the year.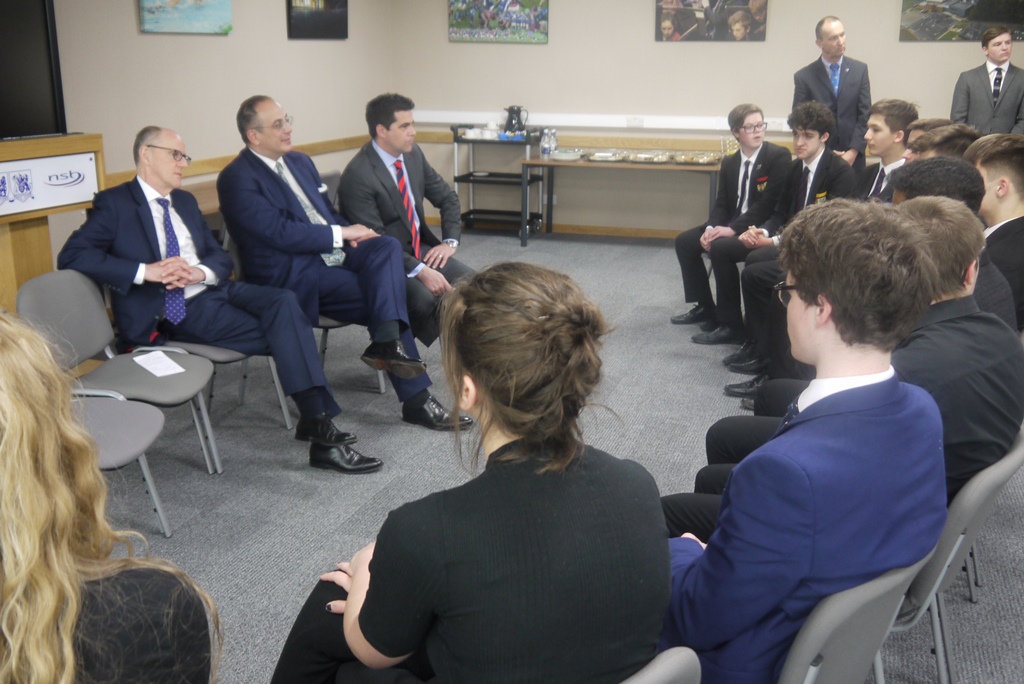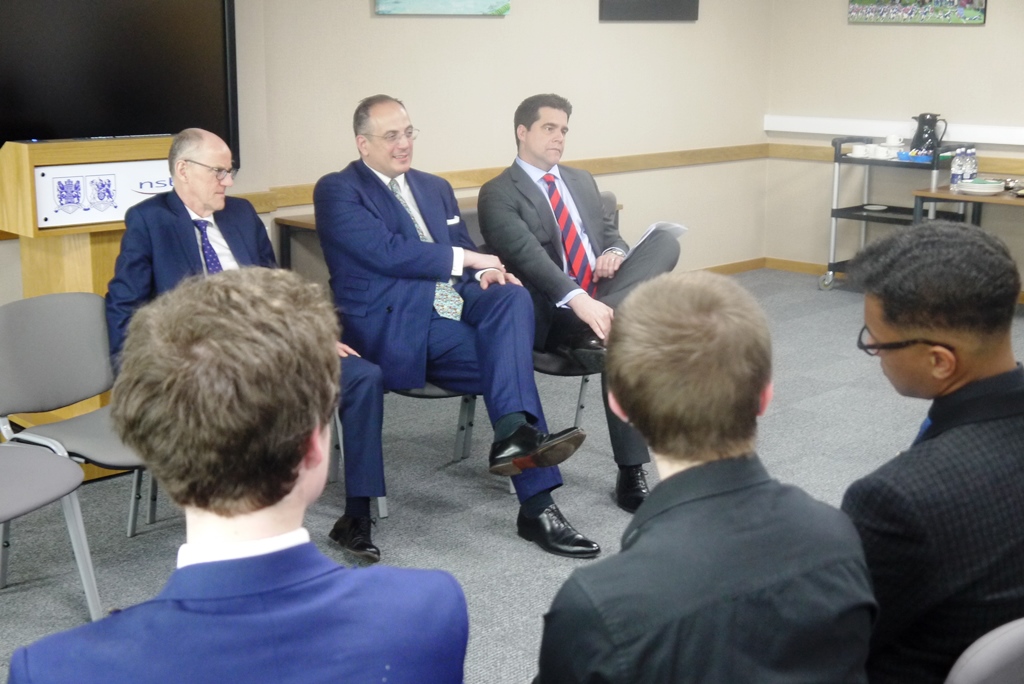 Performers were also able to follow up in a discussion with Mr Gibb and Mr Ellis, where they shared their personal stories and experiences at the School. Year 12 student, Bradley Wilson spoke about his aspiration to be the first black conductor of the London Philharmonic Orchestra. He's been able to begin his journey towards his goal, strengthening his leadership skills as he conducts school ensembles, mentored by the Director of Music, Mr Druker. Year 11 dancer, Charlie Goddard, related some of his performances and the opportunities he has now been able to access, including performing at the European and World Championships, and appearing on the CBBC reality programme: 'The Next Step'. Many of our students spoke eloquently of the plethora of skills they have developed through their association with The Arts.

During the visit, Head Master Richard Bernard spoke to the BBC. He explained that Arts provision at the School is a key part of our outstanding provision and results. He told Look East: "Our combination of a rigorous academic E-bacc curriculum for students of all abilities together with opportunities to study subjects which the students have talent in – plus support from an exceptional extra curriculum programme – creates an environment where the students want to come to school and are incredibly successful. They are proud of the school."

To end their visit, the Ministers took a brief tour, to gain a wider perspective on teaching and learning at NSB, before returning to London.

You can follow the Arts at NSB on Twitter @NSBMusicDep and @NSBExpArts.

H. Topping Shaw