NSB Invited to Royal Commonwealth Society Service 2018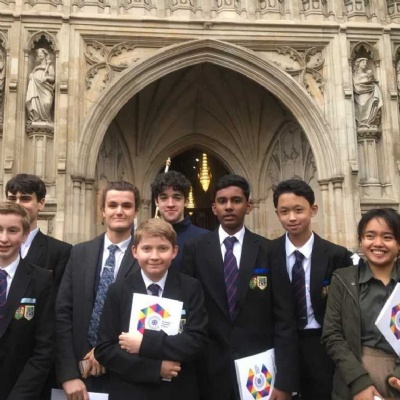 No Common Occurrence...
Earlier in the year, I was sent some information regarding entering a ballot for tickets to attend a Royal Commonwealth Society Service to commemorate the 150 year anniversary of the Commonwealth. Thinking that we had little chance of being selected, I entered anyway only to receive an email in February confirming we had been lucky enough to secure ten tickets. Only 700 people nationally would be allowed to attend.
The Service took place on Monday 12th March 2018 in Westminster Abbey. Two students were selected from Years 8, 9, 10 and 12 to attend the service: James Parsons, William Campion, Andrew Man, Magiban Kogulavarathan, Taylor Bliss, Jacob Benhayoun, Fletcher Shardlow and Sam Quitua.
Travelling from Northampton School for Boys, we were welcomed by the most British thing we could think of: rain! After taking our seats, we awaited the arrival of the Royal family: HRH Prince Henry of Wales and Ms Meghan Markle; their Royal Highnesses The Duke and Duchess of Cambridge; their Royal Highnesses The Prince of Wales and The Duchess of Cornwall; and of course, Her Majesty The Queen. For one of our group, it was his first time in London and what an experience!
Throughout the service we were reminded of what the Commonwealth means, with many speeches focusing on this year's theme: Towards a Common Future.
So, What is the Commonwealth?
Building on 150 years of RCS history
On 26 June 1868, a group of individuals in London established a 'literary and scientific body' dedicated to the greater understanding of what were then British colonies. A year later it was granted a Royal Charter from Queen Victoria, elevating it to the level of other Royal Societies. The Society became increasingly progressive in the early decades of the twentieth century, encouraging a young and diverse membership. It was given its present name, The Royal Commonwealth Society, in 1958.
Source of information: http://thercs.org/about-us/our-history/
Commonwealth Theme 2018: 'Towards a Common Future'
E. De Vito