NSB Indoor Rowing Success 2018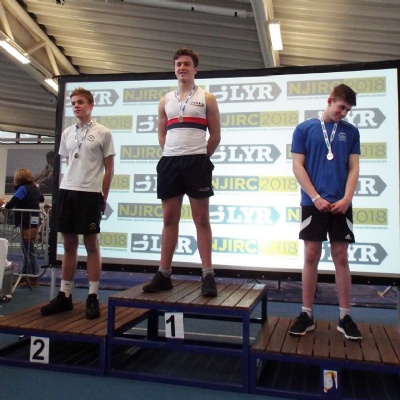 15 indoor rowers set off at 7.00am on Friday 9th March to participate in the National Junior Indoor Rowing Championships at the Lee Valley Athletics Centre, London. These championships are open to individual schools, academy partnerships, school sport partnerships and specialist rowing/boat clubs. With up to 1750 competitors taking part across the age/gender/disability groups, it is the biggest indoor rowing event in the country.
Success at NJIRC can be best judged on personal performances and not just on finishing positions. To row a personal best, or near to it, at national championships is all that can be asked of a competitor. At the outset, hopes were high for some outstanding performances from the squad, and with it could come some top twenty finishes.
First to compete were Tom Tinant and Dom Shaw in the Year 12, 2K timed row. Tom had been training hard and set himself a demanding schedule, while Dom was only completing the distance for a second time competitively. The pace and effort displayed by both was exceptional, as was seen with the amount of distress they were in at the end of their race.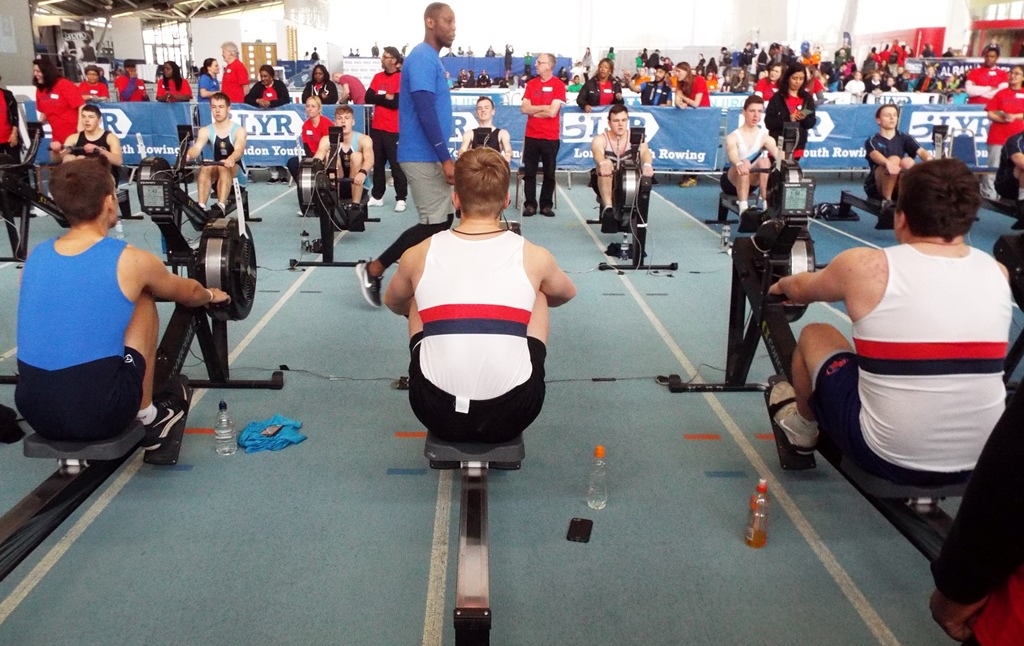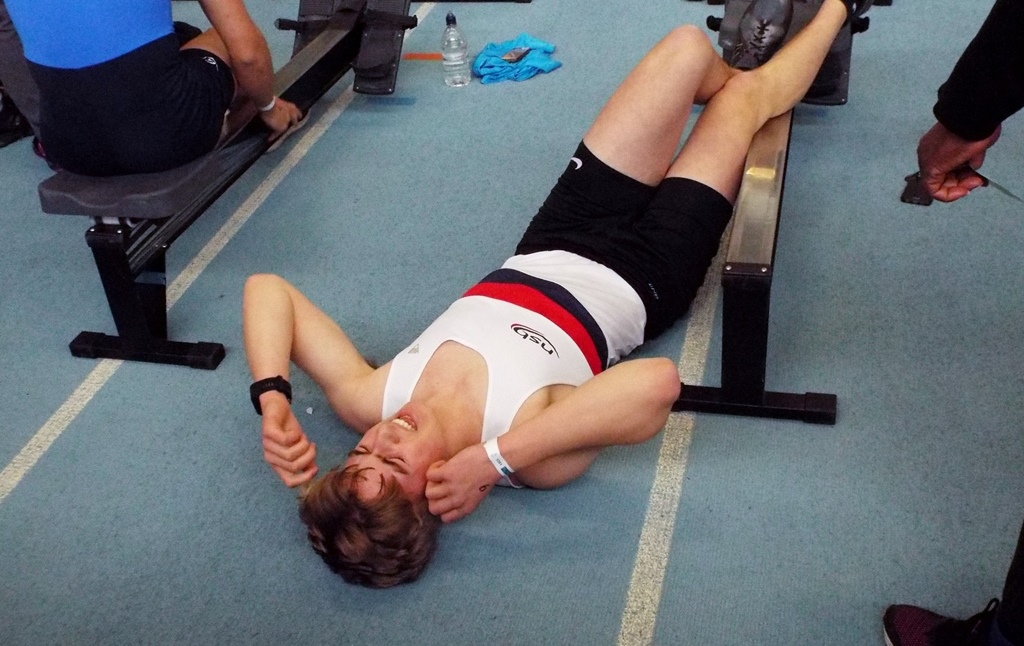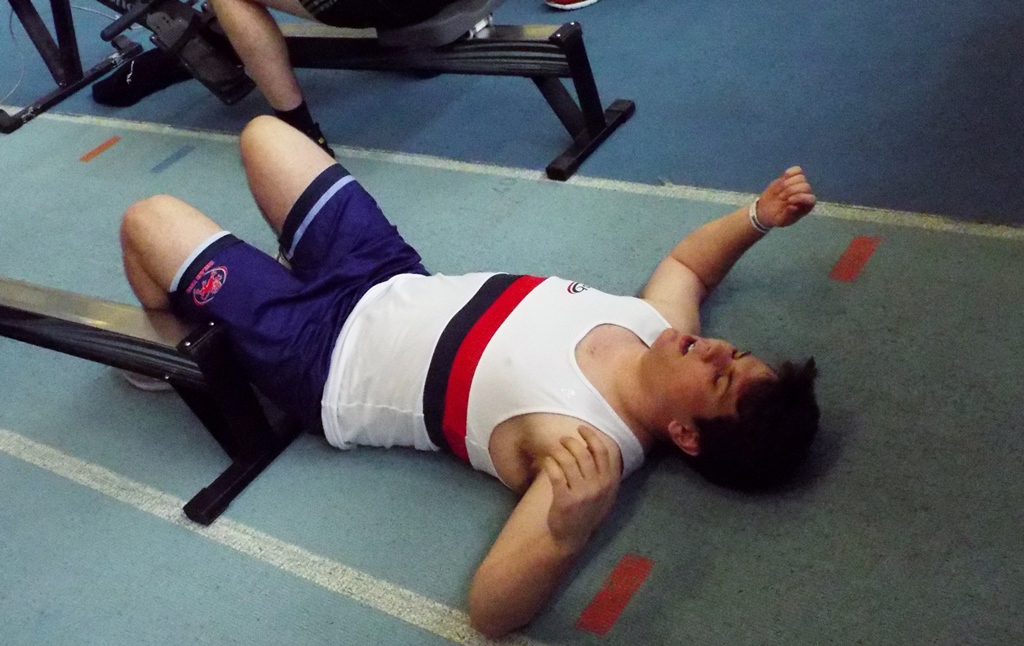 Tom posted a personal best time of 6:50.0 in 5th place and Dom recorded 7:28.9 in 18th position, just outside his pb.
To see a web gallery of images from the event: Please Click Here
Next to compete were the three Year 8 rowers, and a target had been set of 800m in three minutes, which was a big ask. The boys did not disappoint with Josh Tutt and Isaac Round setting new pb's and Louis Judge just missing his previous best. Josh returned 822m, Isaac 813m, a big gain, and Louis 783m. This placed them 9th =, 12th and 31st respectively, out of a start list of 209, a remarkable performance from all three.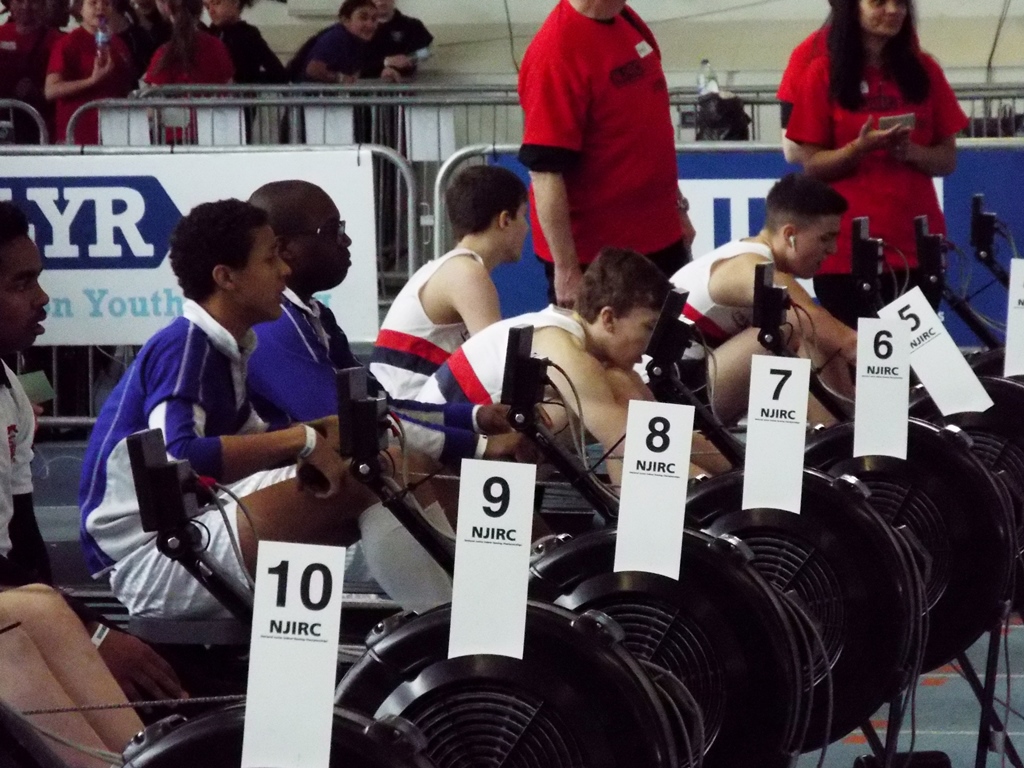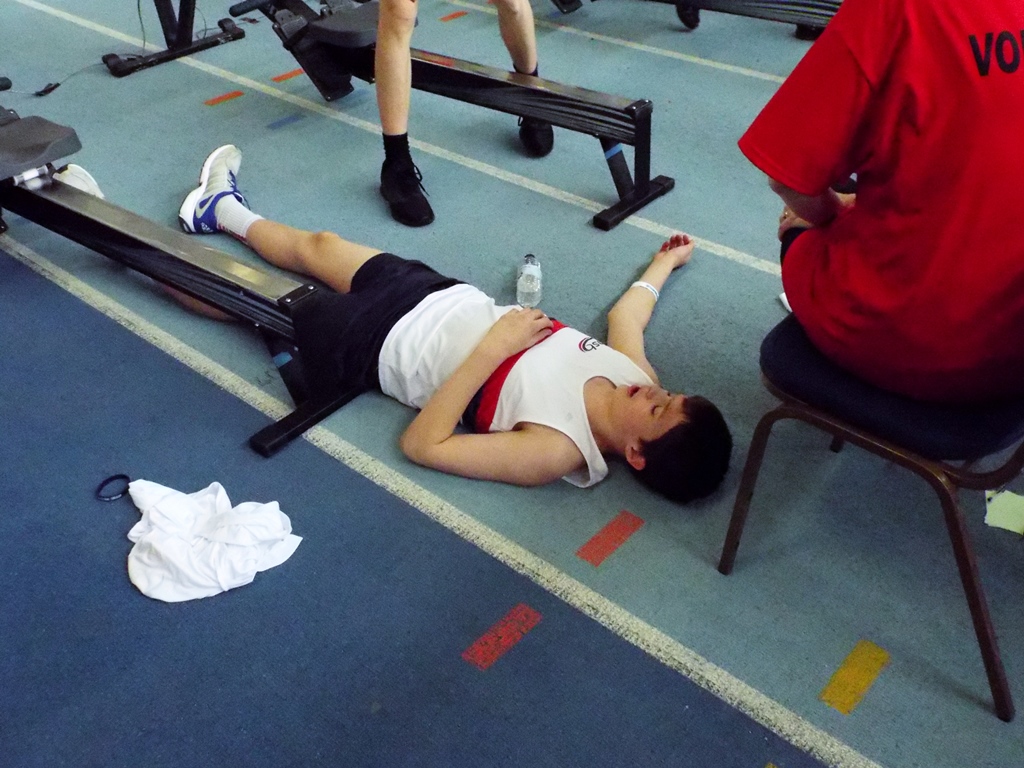 Next on the programme were the senior and junior relay races which make for an exciting and frantic spectacle, with rowers exchanging seats at the end of each leg with the precision of a F1 pit stop!
To see a video report of the event: Please Click Here
The Year 10-13 'Boat Race' relay was raced over a time of 16 min 19 sec, the record time for the Oxford/Cambridge Varsity Boat Race. The NSB team was made up of four Year 10, two Year 11 and two Year 12 rowers, which meant they were up against older and bigger teams. However, this did not deter the boys who set off at a rate that put them in the top group of teams. The exchanges would need to be slick so as not to waste time and this was the case with the team changing every minute to keep the pace high. To record a distance of 5332m and finish in 7th place was outstanding, and to beat last year's performance of 5265m, put it into perspective as how good a row it was.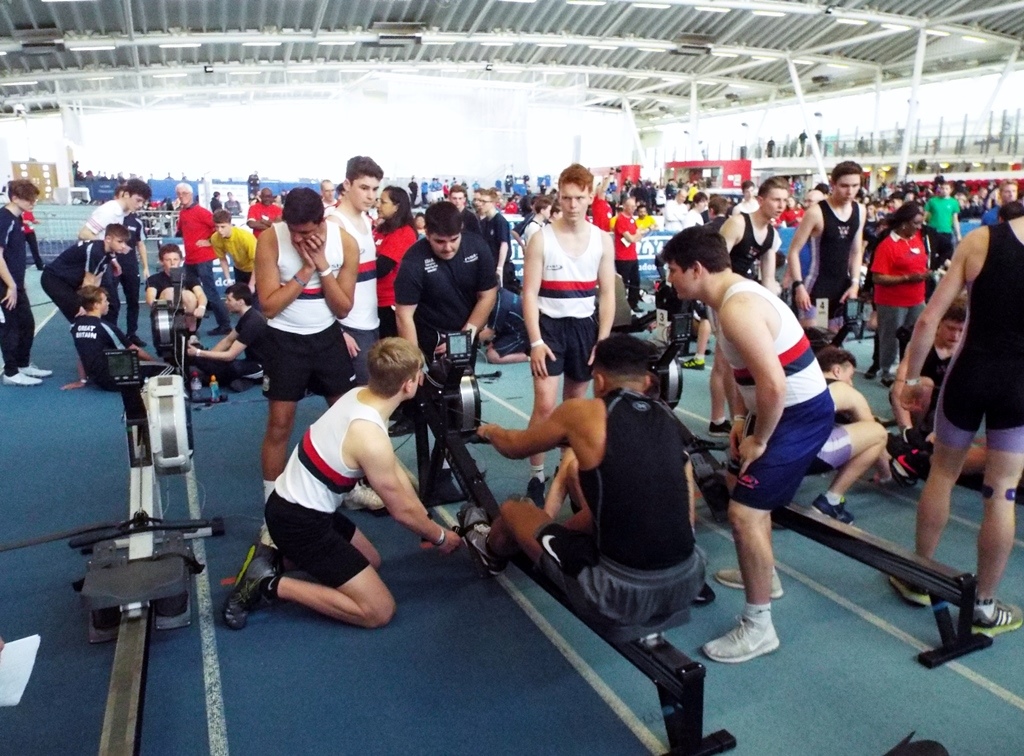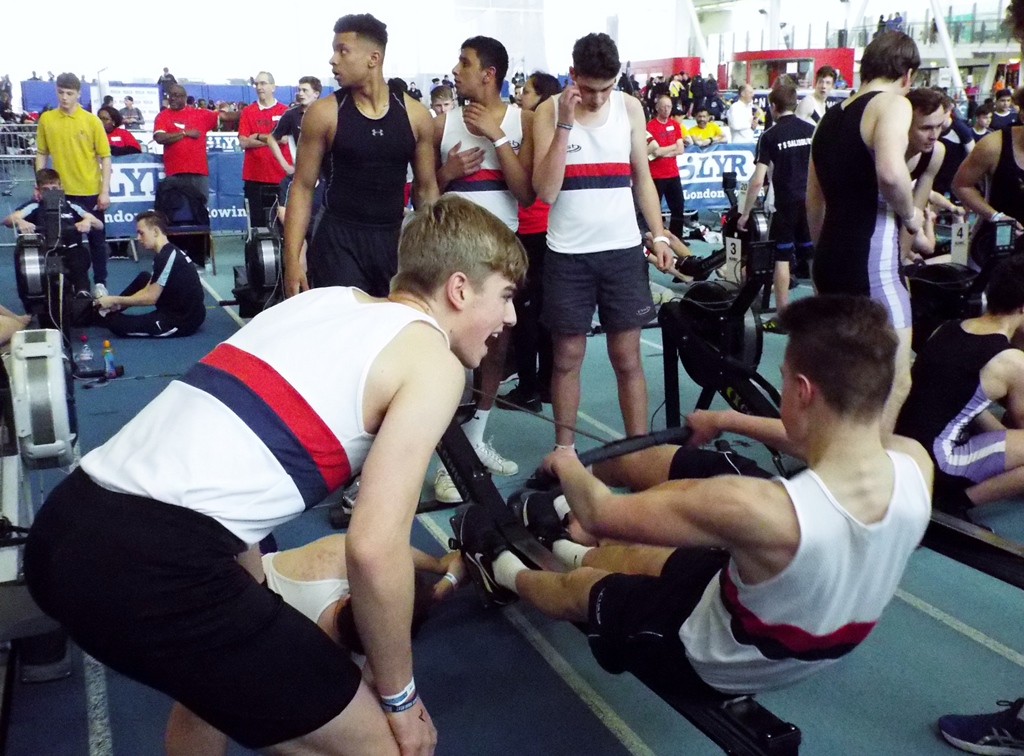 Four Year 9 rowers were the representatives in the Junior Boys 2000m sprint relay and a quick time was possible, if training was anything to go by. Ed Baker led the team off, with changes made after every minute, with Isaac Young, Frankie Sleightholme and George Patten rowing the anchor leg. In a previous heat the lead time of 6:13.9 was set and this was about 16 seconds quicker than the NSB four had ever rowed. Not to be deterred the boys set off and were always up with the pace and only in the final stages began to slip behind. George Patten was last to row and it was just too much to ask and the team had to settle for a well-deserved silver medal in a time of 6:16.5. A great time and a fantastic achievement.
The next individual event was the Year 9, 4 minute timed row. All four boys had competed in the relay, so it would be interesting to see their powers of recovery. George Patten, Ed Baker, Frankie Sleightholme and Isaac Young all had their individual targets and it was great to see all of them achieve new personal best performances. Isaac Young achieved 1016m, Frankie Sleightholme 1096m, Ed Baker 1168m and George Patten 1202m to record positions of 59th =, 13th, 4th and 1st from 163 starters. This meant that George had defended his title from last year and Ed was unlucky to miss bronze by 1 metre. Sport can be cruel.
Isaac Rappaport and James Wootton represented Year 10 in the 5 minute timed row and a target of 1400m had been set. Good pace judgement and plenty of courage saw them achieve distances of 1402m and 1396m respectively to place 15th and 17th = out of a field of 142 competitors. In the Year 11 category James Bushell was the only NSB competitor as Oli Dominique had injured his calf muscle during the relay. James had not done much rowing this year due to his Water Polo commitments but still put in a spirited performance to achieve 1660m in 6 minutes, for 16th position, but it hurt!
The achievement of the boys at a national championship, against specialist rowers and selected teams from academy chains and school sports partnerships was outstanding. Their courage and determination could not be faulted and to win an individual gold and a team silver medal shows the standard that can be achieved. In addition to the medallists the squad also achieved five more top ten finishes and a further six top twenty places.
A final thank you to all of the boys, parents who travelled to support and Mr Wilcock for driving the mini-bus. The journey back turned into a 'magical mystery tour' as every route seemed to have a delay as we trusted the 'satnav' to find us a way back to Northampton. An hour and twenty minute journey ended up taking over three hours. But that is another story!
R. White
PE Team