Northamptonshire Mental Health Awareness Day 2018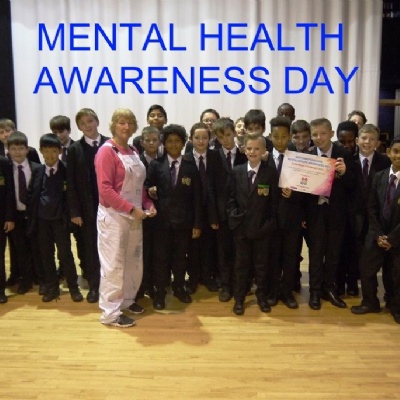 We are taking part in: Northamptonshire Mental Health Awareness Day 9th February 2018
Today Tessa Parkinson from Talk Out Loud (backed by the NHS and NCC) visited the school as part of her challenge and to drop off our resources for the awareness day to both raise awareness and stamp out stigma. The aim is to encourage young people and educational professionals to talk about mental health and to ensure that young people are confident in talking to their families and friends too. The posters and the booklet: Click Here - all start from the premise of its title: All I Ask (How to Help a Worried Mind), and contain messages from young people to parents, carers and professionals. The Talk Out Loud website has further advice and information on a variety of ways to access help, descriptions of mental health conditions and links to celebrity experiences: Click Here
Tessa has been challenged to visit as many schools as possible between the launch, which happened at Northampton Town football game against MK Dons, on the 20th January at Sixfields and the 9th February. Last year she managed 40 and this year she is aiming for more than 70. She was stamped with our official school stamp by one of our students and had a picture with Form 7J and left us postcards, bands, leaflets, posters, booklets and balloons.
On the 9th February schools across the county will launch balloons as close to midday as possible and students will take part in various awareness sessions.
It is important that we all talk about Mental Health (we all have it but sometimes it needs more attention when things are not looking quite so bright) and we need to make it clear that suffering from a mental health issue is nothing to be ashamed of; one of the main reasons for keeping issues hidden is because of the fear of stigma. We should all be talking and listening; asking the right questions and spotting the signs that someone might be having a hard time and demonstrating empathy as well as knowing the right way to help.
Lindsay Greenaway
Assistant Head Equality and Diversity
Please note: At the balloon launch, the balloons will not actually be released as we are concerned that this could cause further unnecessary harm to the environment.