NSB World Languages Festival 2018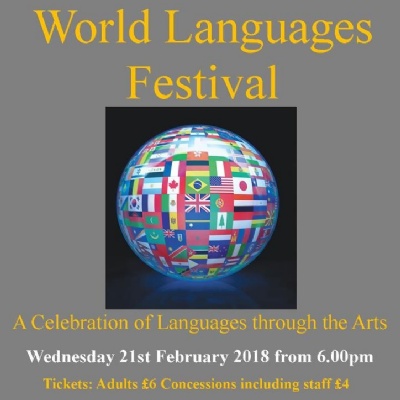 The World Languages Festival: this year for the very first time!
Wed 21st February 6.00pm
We invite you to take part in a celebration of our multicultural and diverse community here at Northampton School for Boys. Aside from the world-class performances in the evening from an array of artists, musicians and actors, there will be food, adult learning information and a chance to find out more about opportunities to develop your understanding of Languages.
We aim to:
Celebrate cultural diversity in our local community,
Establish a network for our EAL parents to collaborate and share information regarding language courses for their children in the county,
Celebrate the diverse range of Languages spoken by our students and their families,
Inform parents of opportunities to be accredited in English and Maths.
We would love to welcome you and your families to this special event.
Drinks and flavours from around the world can be purchased on the evening.
世界语言节: 今年是第一次举行
我们邀请您参加北安普顿男子学校这个多文化和多元化的社区庆祝活动。除了来自艺术家,音乐家和演员阵容的晚间世界级表演,将有食物,成人学习资料和机会找到更多的机会发展你的语言理解。
我们的目标是:
· 庆祝我们当地社区的文化多样性。
· 为我们的英语作为附加语言的家长建立一个网络,与他们合作和分享有关他们孩子语言课程的资料。
· 庆祝我们的学生及其家庭所使用的各种语言。
· 通知家长有机会获得英语和数学认证。
我们非常欢迎您和您的家人来参加这个活动,来观赏我们的学生和来自世界各地的表演者精彩
的表演。
(Translation credit: Family Tang, November 2017)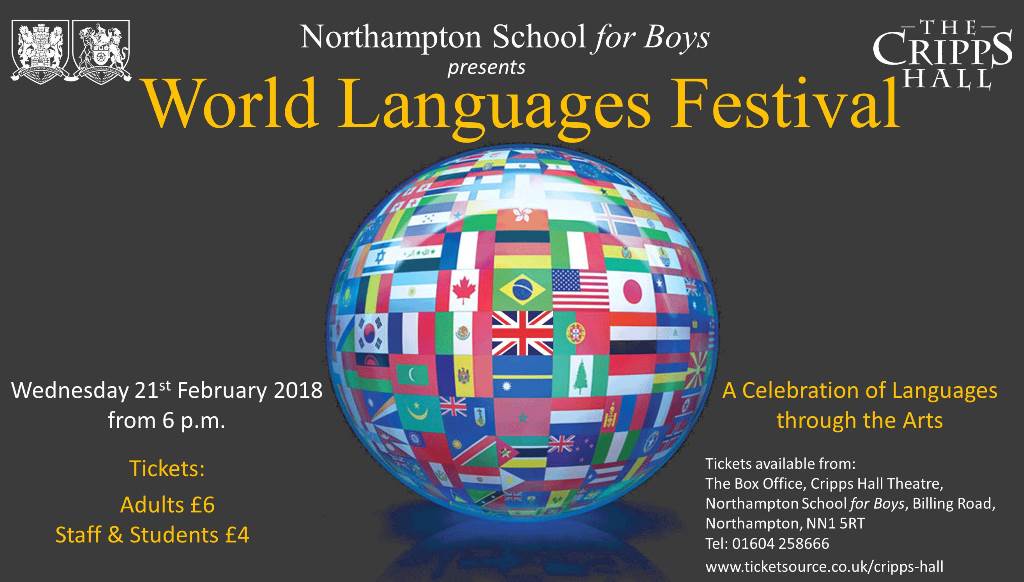 L. Shakir
Languages Team Leader