February Music News 2020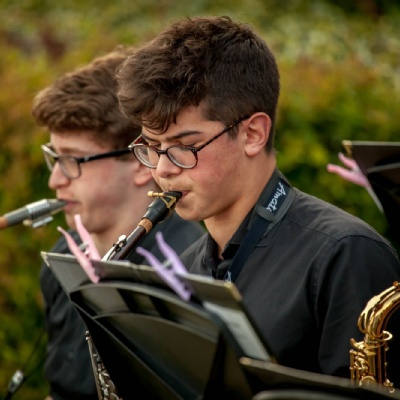 New Year Jazz @ The Cripps Spectacular with The Horne Section
New Year Jazz got off to an amazing start with the wonderful Alex Horne & The Horne Section. To get such an in demand group into school was a bit of a coup! Fingers crossed we can get an even bigger artiste next year!
'Musical Madness' concert
Our next school concert, 'Musical Madness', is on Tuesday 17 March at 7.00 p.m. Friends booking opens on Monday 10th February at 12 p.m. and tickets go on general sale on Monday 24th February. Tickets will be priced at just £3 each! The band list can be found on the Music page of the school website - all the National Festival of Music for Youth bands will be performing (see below for more info on NFMY). There is no particular theme for the raffle this time, as all donations towards prizes will be very gratefully received.

The NSB Musical
The school musical for 2020 is 'The Wizard of Oz' on Wednesday 4th - Friday 6th March, 7.00 p.m. start. Tickets are already on sale priced at Adults £10 and Concessions £7. The Box Office is open 12.00 - 2.00 p.m. Monday - Friday term time only; please phone 01604 258666 (50p booking fee applies) or pop in and buy your tickets in person. During the school day the Box Office can be found at the Main School Reception. You can also buy tickets online at www.ticketsource.co.uk/cripps-hall (booking fees apply)

World Languages Festival
Following on from last year the World Languages Festival will be held again on Thursday 13 February from 5 p.m. This is a celebration of languages through the arts and promises to be an exciting evening. Tickets are on sale priced at £5.

National Festival of Music for Youth
The Regional event takes place here in The Cripps Hall Theatre on Saturday 21st & Sunday 22nd March. This is a free to watch event with a variety of bands playing from 1 - 9.15 p.m. on the Saturday and from 9.15 a.m. - 7.30 p.m. on the Sunday. You can find the performance times for NSB groups on the Music page of the school website.

Theatre Events leaflet
The January - April Theatre Events leaflet is now available to view on the school website.

Music Tour - February 2020
We are very excited that the Jazz Tour to Los Angeles is just a week away and we will be putting updates on our progress and performances on our Twitter feed.

For all up to date information please check the school website or follow us on Twitter: @NSBMusicDep

Kind regards
The Music Team