Music News - 29th January 2019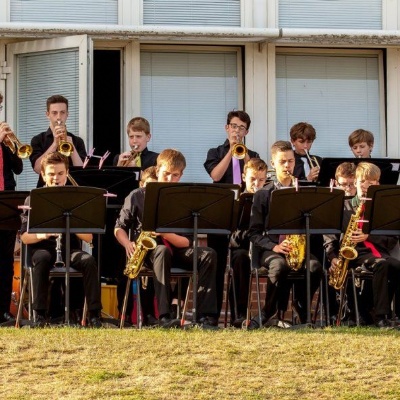 New Year Jazz @ The Cripps Spectacular with BBC Big Band
This was an amazing event - a workshop with band members in the afternoon and an open rehearsal listening to the band whetted our appetite for the evening. BBC Big Band MD, Barry Forgie, said the NSB Big Band was the best school/college Big Band he had heard in years. A tremendous effort from everyone involved. Does anyone have Herbie Hancock's number for next year...? Photos are available to buy from the school website.
Let It Snow!
A reminder that there are also photos from the Christmas concerts on the website for you to order.
'Spring Spectacular' concert
Our next school concert, 'Spring Spectacular', is on Tuesday 19th March at 7.00pm. Friends booking opens on Monday 11th February at 12.00pm and tickets will go on general sale on Monday 25th February priced at just £3 each! The band list will be put on the website - all the National Festival of Music for Youth bands will be performing plus Funktion Band (see below for more info on NFMY). The Friends committee are suggesting that the theme for this concert's raffle hampers will be cooking and gardening as most people seem to like at least one of those activities!
The NSB Musical
The school musical for 2019 is 'The Sound of Music' on Wednesday 6th - Friday 8th March, 7.00pm start. Tickets are already on sale priced at Adults £10 and Concessions £7. The Box Office is open 12.00 - 2.00pm Monday - Friday term time only; please phone 01604 258666 (50p booking fee applies) or pop in and buy your tickets in person. During the school day the Box Office can be found at the Main School Reception. You can also buy tickets online at www.ticketsource.co.uk/cripps-hall (booking fees apply)
World Languages Festival
Following on from last year the World Languages Festival will be held again on Thursday 14th February from 6.00pm. This is a celebration of languages through the arts and promises to be an exciting evening. Tickets are on sale priced at £5.
Friends meeting
Our next Friends gathering is on Tuesday 26th February at 7.00pm in C5 - you will be warmly welcomed by our 2 leading Friends members - Claire Jennings and Kathryn White - please park in the Crescent at the front of school and go through the side gate towards Cripps and enter through the door into C5.
National Festival of Music for Youth
The Regional event takes place here in the Cripps Hall Theatre on Saturday 23rd & Sunday 24th March. This is a free to watch event with a variety of bands playing from 1 - 9.15pm on the Saturday and from 9.15am - 7.30pm on the Sunday. The performance times for NSB groups will be on the school website soon.
Theatre Events leaflet
The January - April Theatre Events leaflet is now available to view on the school website.
Music Tour - February 2020
We are very excited to announce that we will be running another Music Tour - this time to Los Angeles in the February holiday 2020 for Big Band and Jazz Vocal. Initial interest letters have just been sent out!
For up to date information please check the school website or follow us on Twitter @NSBMusicDep