October Music News 2018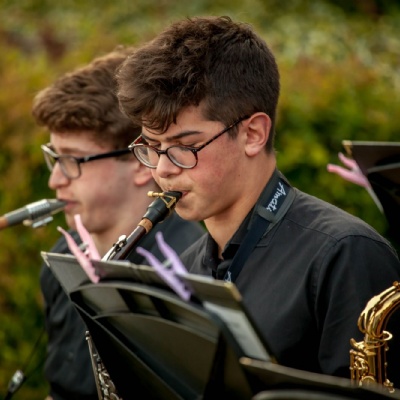 Lights, Camera, Music!
We hope you enjoyed the film music concert - the students and staff all looked fantastic, and it was lovely to see so many of you there!
Photos from this concert are now on the Music page of the school website for you to purchase - they are well worth a look! Print off and complete a form and return it with payment to the Music Office. Photos make wonderful Christmas presents - and you can now have the prints emailed to you if you prefer!
Very many thanks for the raffle prizes that were donated - we have held a few back for the Christmas raffle hampers and these will be on the theme of... Christmas!
We had one unclaimed raffle prize - blue ticket 580 code AC21 GN6Y. Please contact Sarah Hutchings if you are the lucky winner!
Let It Snow!
First day back after the break, Monday 29 October, the tickets for the Christmas concerts go on sale to Friends and then on Monday 5 November tickets go on general sale. Tickets include a cup of mulled wine/orange juice and a mince pie! Please find the band lists on the website for your information. The Box Office is open 12 - 2 p.m. tel: 01604 258666 or buy online at www.ticketsource.co.uk/cripps-hall (booking fees apply).
Meeting
Our next Friends gathering - formerly known as a Friends committee meeting - is on Tuesday 6 November at 7 p.m. in C5 - you will be warmly welcomed by our 2 leading Friends members - Claire Jennings and Kathryn White - please park in the Crescent at the front of school and go through the side gate towards Cripps and enter through the door into C5.
Fish & Chips!
Our annual Fish & Chip Supper Quiz Evening is on Friday 16 November at 6:30 p.m. We still have some tables available so rally your friends and family and join us for a fun evening. The form and menu are on the website - please return the form, with payment and menu choices, by Friday 9 November at the latest.
NCBF
On Sunday 2 December, Symphonic Winds and Big Band will be performing in the National Concert Band Festival in Nottingham - we will advise you of timings as soon as we get them.
New Year Jazz @ The Cripps Spectacular
We are hoping to have a big announcement very soon concerning the special guests performing at the New Year Jazz @ The Cripps Spectacular on Sunday 27 January at 7 p.m. Tickets will be on sale as soon as we have the arrangements in place.
Theatre Events leaflet
The latest Theatre Events leaflet is now on the school website under the Cripps Hall link.