Headmaster's Bulletin 17th March 2023
The school is today celebrating our magnificent U15 Rugby Team who are the Champions of England following a fantastic victory over KCS Wimbledon in the final at Twickenham yesterday. 256 of the leading state and independent rugby playing schools entered the fray in round 1 and in lifting the National Cup, the U15 squad have demonstrated incredible levels of skill, resilience and abundant spirit to win through seven increasingly tough matches. After an evenly fought first half, NSB pulled away from KCS Wimbledon to triumph 38 points to 21 in front of hundreds of NSB supporters whilst also being cheered on by the rest of the school who were watching the live stream in NSB classrooms.
Many congratulations to all the players and also to the coaches, staff and parents who have given so much to support this brilliant NSB team. Special mention to lead coaches Simon Hepher, Adam Civil and Director of Rugby, Phil Beaumont who have drilled and shaped the team to such a high standard all the way through from Y7. The future of NSB Senior Rugby is incredibly bright and for the younger year groups they now have an inspirational bar to aspire to. Captain, Hugh Shields has demonstrated exceptional leadership from the front throughout the season and he can be heard reflecting on yesterday's victory alongside Director of Rugby, Mr Beaumont in an excellent interview as part of the Annabel Amos Breakfast Show on BBC Radio Northampton (3 hours 36 minutes and 30 seconds in) https://www.bbc.co.uk/sounds/play/p0f492rm. A rerun of the game with commentary can also be watched here (1hr 44 minutes and 25 seconds in) - https://www.youtube.com/watch?v=BRc_7A2aVVs, The pictures below help sum up the magnitude of this astonishing achievement!!!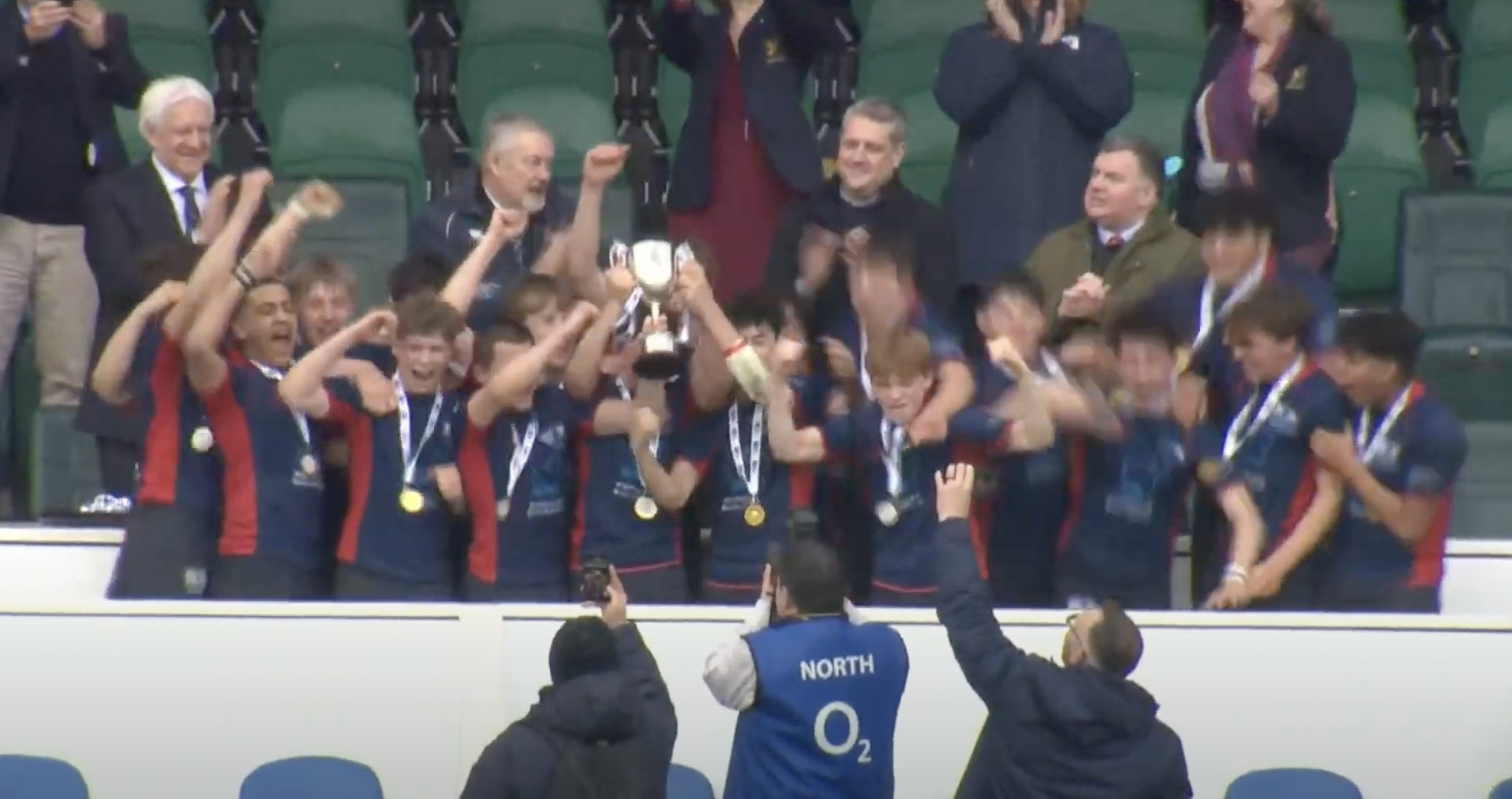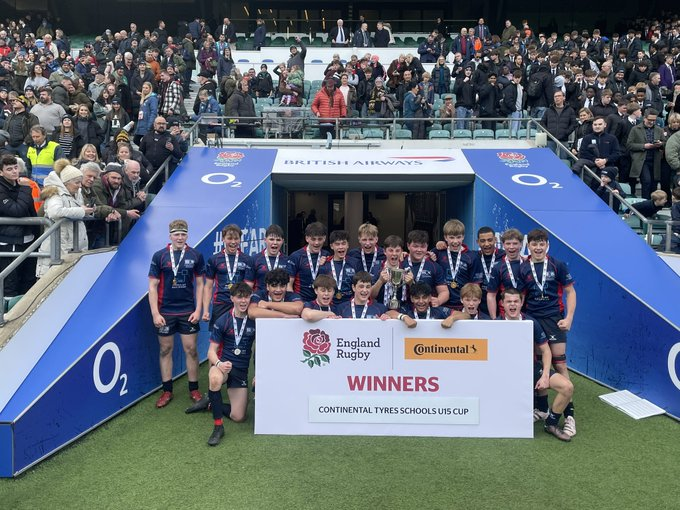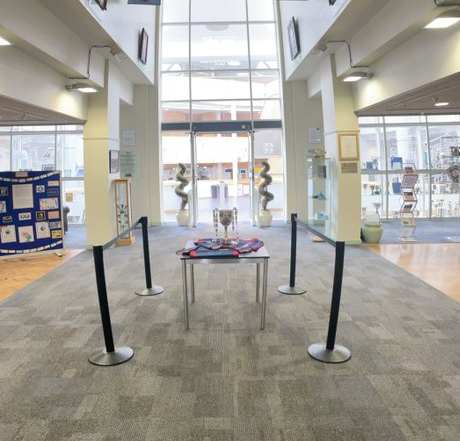 The school's first ever 'Find Your Voice' Oracy competition for the 'Morcea Walker Cup' took place on Monday and it was an overwhelming success. Y9 students have been writing and delivering 2-minute speeches as part of the oracy curriculum they have studied this year and sixteen of the best entries covering a huge breadth of topics were delivered to a large Cripps audience and four on-stage judges, with the judges all having connections to NSB or the wider NSB Trust - Neelam Maher, James Grayson, Carly Wilford and Matt Rodger. Chair of Governors, Peter Bason wrote this report on the evening:
The quality of the delivery and content of the boys' presentations was simply outstanding. It was tough for the judges to pick a winner from so much talent. It was difficult to believe the boys were only in Yr9.
The four judges were superb and enhanced the whole evening with their presence and words of encouragement.
Finally, congratulations to Mrs Hennah for her tireless work in organising this inaugural event and to all the staff who supported the evening so well. Thanks to Mr Stark and the musicians for their lovely music, which added so much to a delightful evening.
Morcea Walker was very proud to present her Cup to a worthy winner in Bodie Hamilton who delivered an inspiring talk on leadership.
Additionally on Monday, 3 of our NSB dance groups competed in the East Midlands Regionals for the Great British Dance Off (GBDO) which is the only National Dance Competition solely for schools. Our Key Stage 3 group - choreographed by Nikki Italiano-Drew placed 3rd. They were only two points behind the team that placed 2nd - a massive achievement for our youngest and least experienced group who danced brilliantly!! Our KS4/5 boys group also placed 3rd, 5 points behind 2nd place - they were incredibly strong as a team and could not have danced better. Our Sixth Form Girls then placed 1st in the KS4/5 category scoring a perfect 300/300 points (never been achieved in the 10-year history of the GBDO comps). They now progress to the National final in June. This dance was choreographed by ex-student Elise Clinton, a dance based on current news events, called 'Ever Safe?' exploring how females feel when they walk alone at night. A huge well done to all involved for such a phenomenal achievement!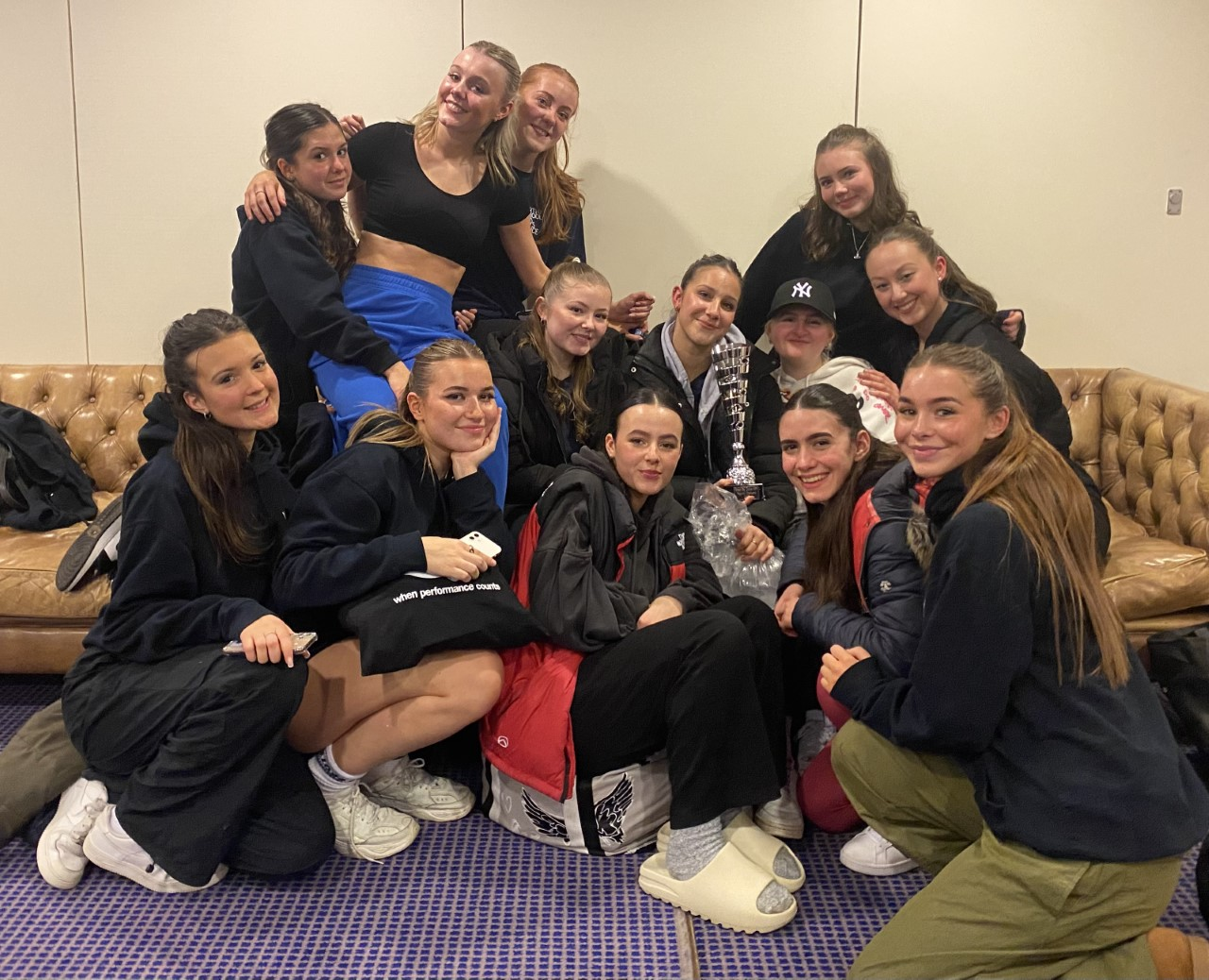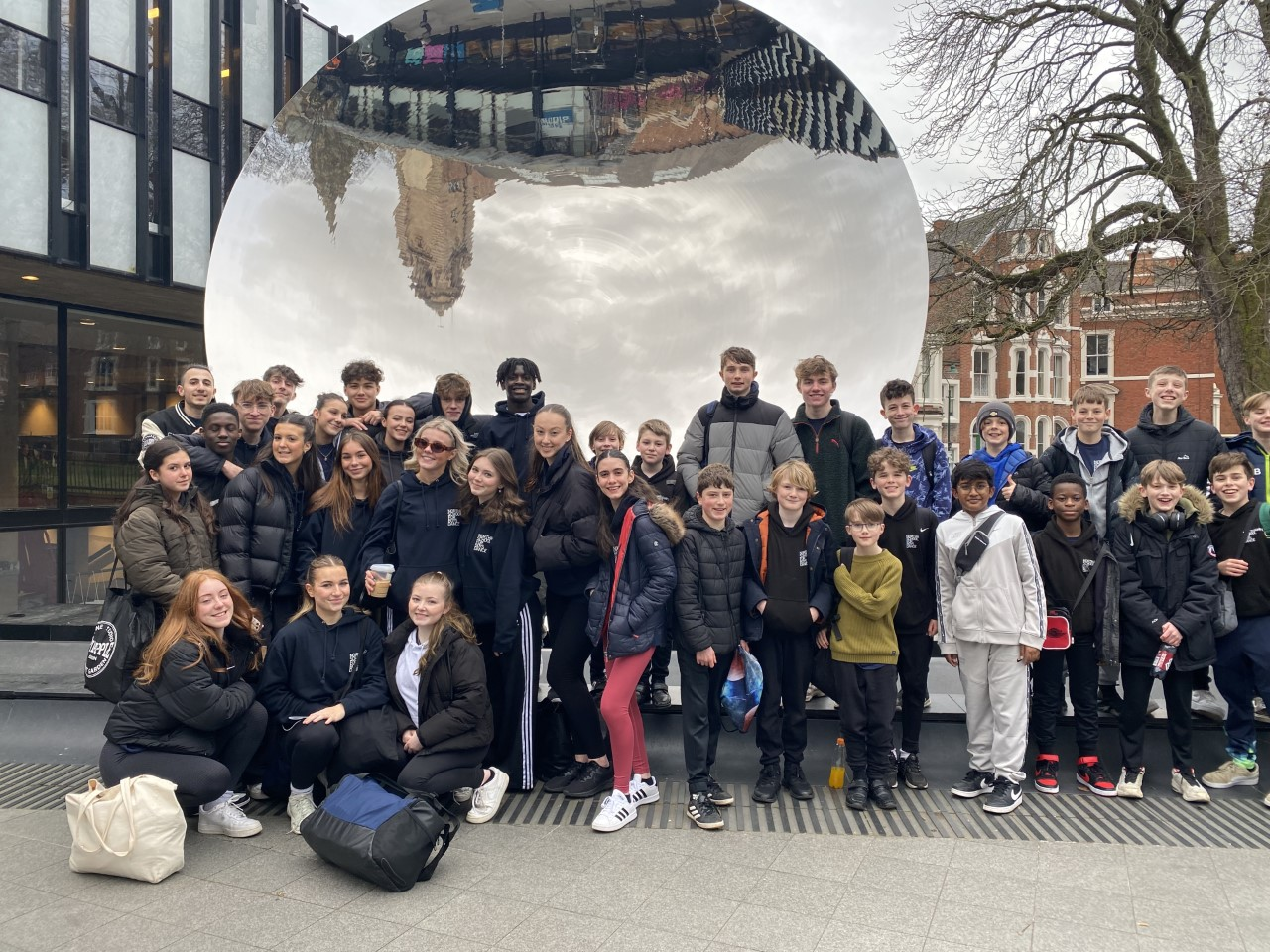 This week the student leadership group had the pleasure of meeting people from some of the charities that the school raised money for in December during Charity Week including The Lowdown, Earth's Lonely Angels and Asset (stem cell donation). The school raised over £10,500 and each charity received £900. The school community also donated over 2,000 items to our tins, toys and toiletries campaign.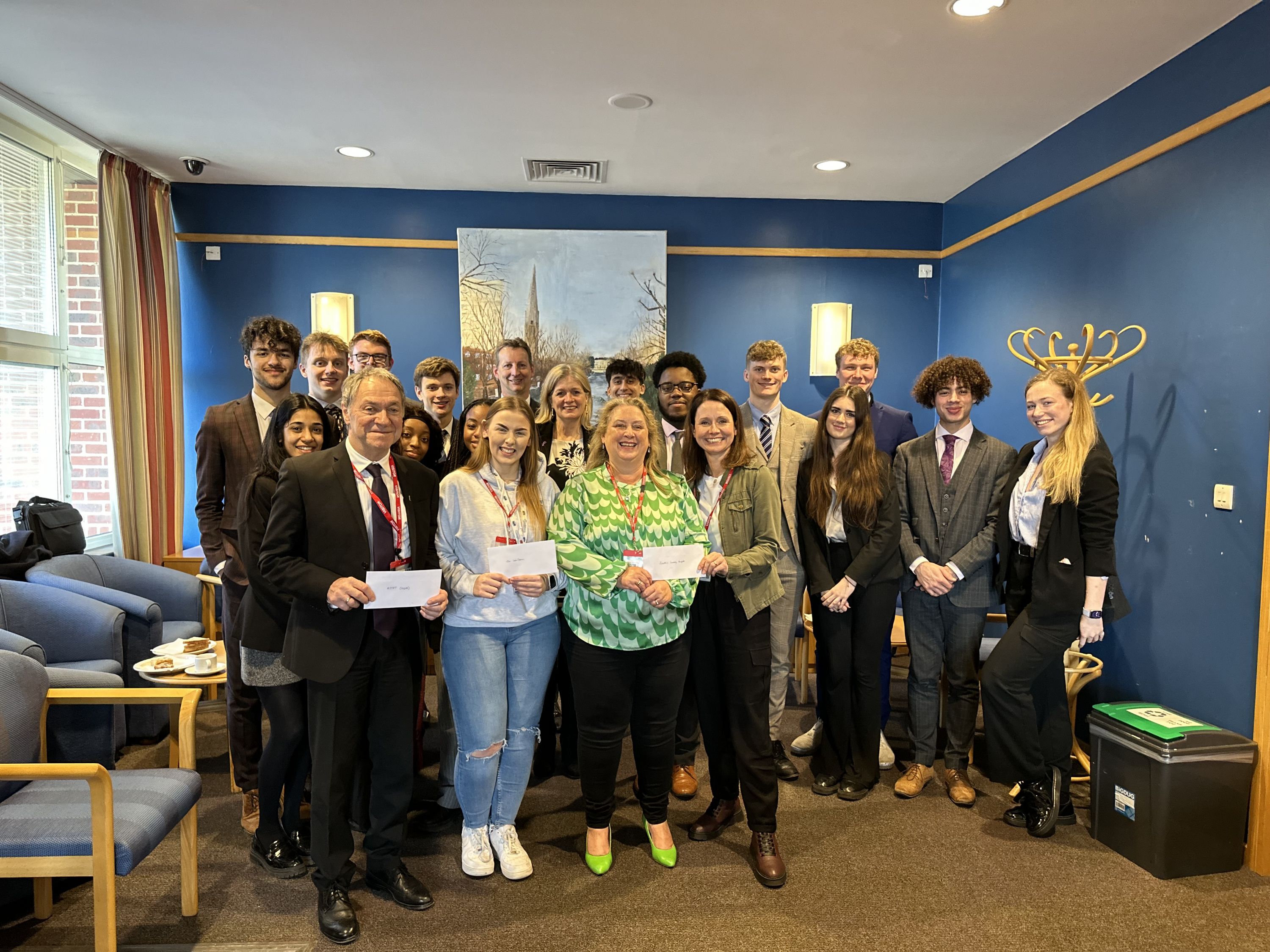 On the theme of engagement with external agencies, students from Ys 7 & 8 came together last Friday to meet with representatives from this year's County Challenge which is set by the Emergency Services in Northamptonshire. Miss Scott, who leads the safety strand of the Personal Development curriculum gave the following report below:
Following the heat of last summer and an increase in behaviour risks linked to the high temperatures, this year's competition was launched with the theme of – Deliberate Fire Setting. Students across Northamptonshire have been tasked with creating a product with a business plan, which may better inform young people about the dangers, risks, and associated criminal sanctions of deliberate fire setting.
All pupils in Ys 7 & 8 were invited, in addition to those who have an interest in a future career with the Emergency Services, those who are more business minded, and those looking proactively to make our local communities safer. Ideas are already flowing, and the teams are beginning to piece together their ideas for the Dragon's Den style competition. We look forward to sharing their ideas and plans with you over the coming weeks!
On Tuesday of this week, many Y12 parents attended a Post 18 Pathways Information Evening and next week we are following up the evening up with an Employment and Opportunities Evening on Tuesday, 21 March 2023 from 5-8pm. The event is open to Ys 11, 12 & 13 students and their parents/carers. We have an amazing 56 confirmed organisations attending so far. Timings for the evening are:
Year 11 5-6pm
Year 12 6-7pm
Year 13 7-8pm
Tickets are booked through Eventbrite here: Book Your Ticket Here
Many congratulations to Y13 student Matthew Wilson who won a Prestigious Cycle National Road Race this month. The race was the first of the Milton Keynes bowl spring series road circuit race with Matthew's six-person team working hard together to set him up for a race winning attack to the front with just over 15 minutes to go. Once at the head of the field, Matthew managed to stay comfortably ahead until he could celebrate at the finish line, with the moment caught on camera below: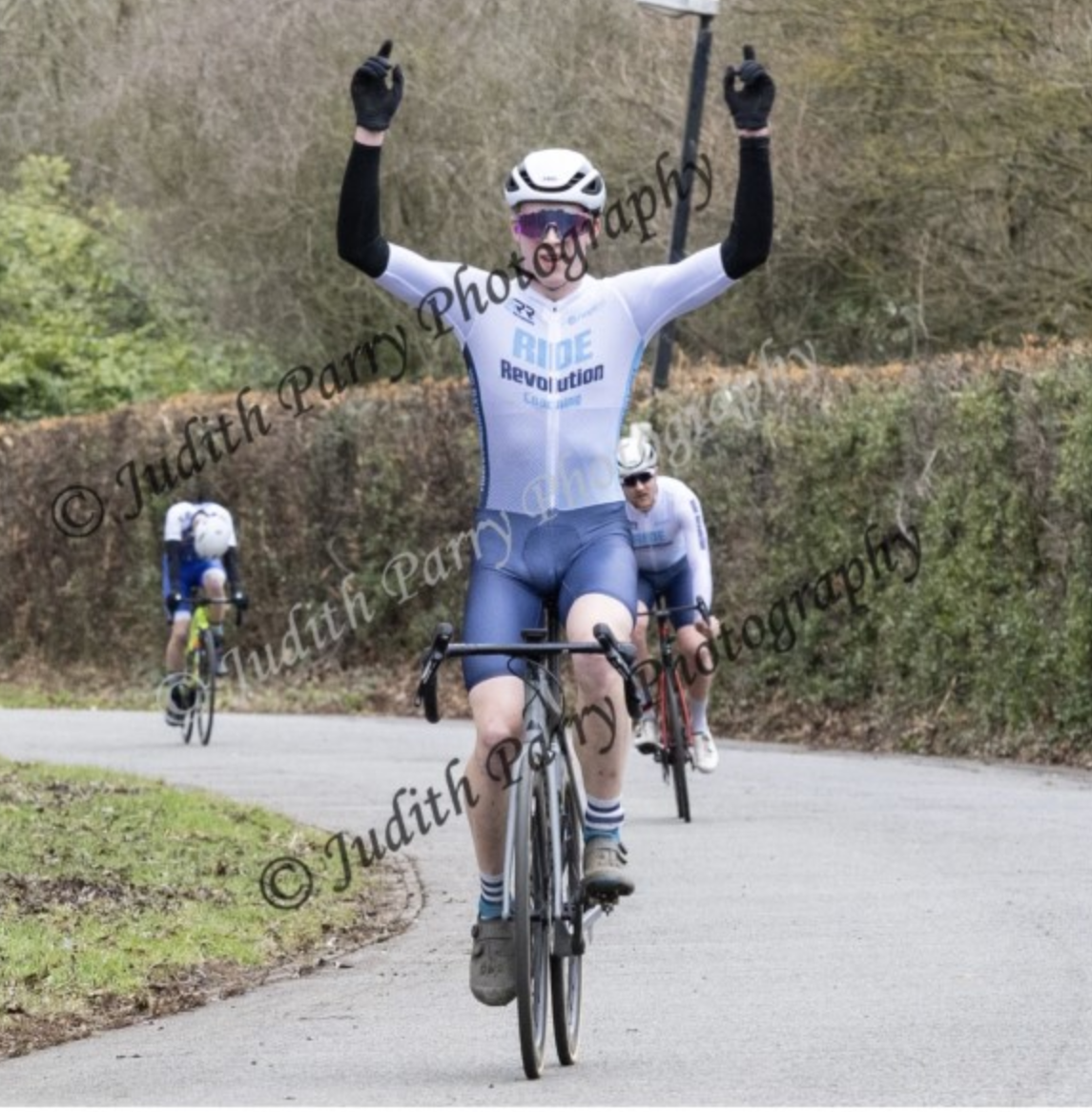 Congratulations also to Jotham Boakye-Michael Y7 who recently participated in the World Mathletics Championship. Jotham managed to achieve an amazing 4th place in the UK and 40th in the world!
Finally, the very best of luck to all of the many super-talented NSB music ensembles who are performing in the 'Music For Youth' Northampton Regional Festival this Saturday and Sunday on home ground in the Cripps Theatre.
Richard Bernard
Headmaster