Headmaster's Bulletin 16th December 2022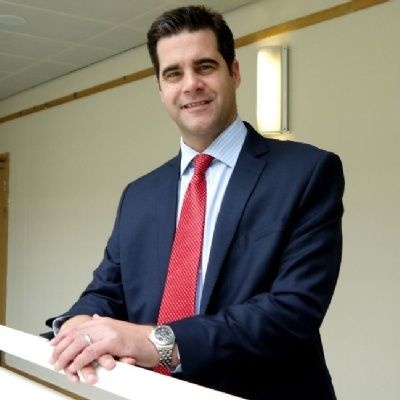 The incredible levels of student academic outcomes achieved at NSB have been recognised nationally by the Sunday Times with a wonderful accolade for the school when the National Paper ranked NSB as the top performing Comprehensive Secondary School in the East Midlands for 2022 – this award has been given based on the standards of 2022 GCSE / A Level results. Please see the beginning of the Sunday Times article below: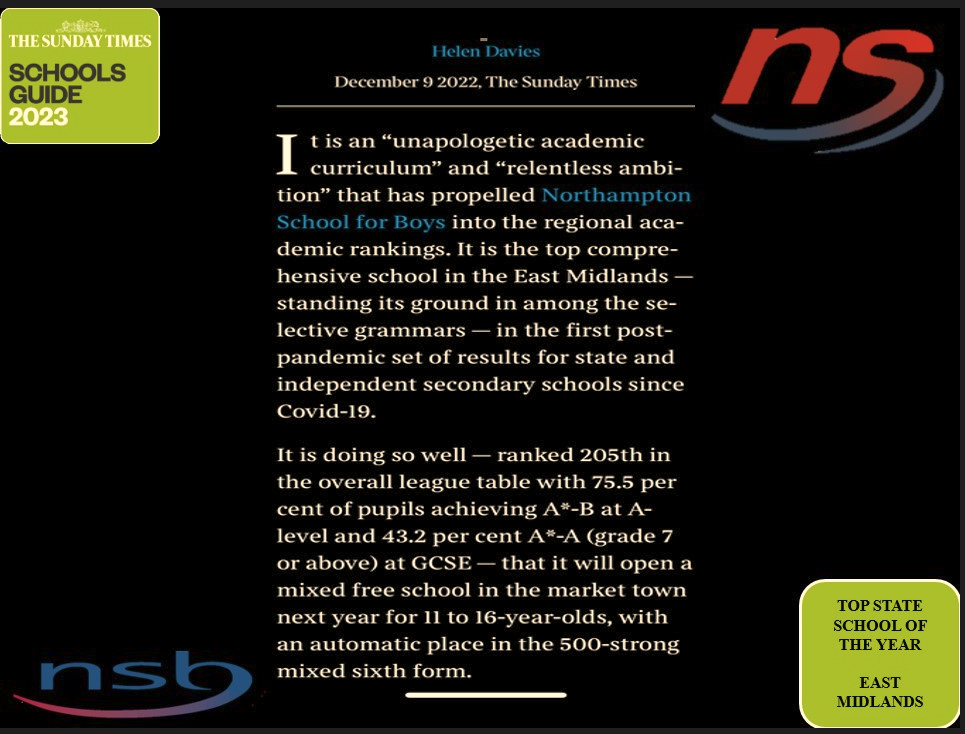 One of the highlights of the school calendar is our Academic Awards Evening and after a hiatus due to the pandemic, we enjoyed a fantastic 2022 Ceremony on Tuesday evening. Many congratulations to all the Prize Winners – to win an academic award in such a high achieving environment is truly impressive and also many thanks to former student Simon Kidney who gave such an inspirational speech as the Guest of Honour. To give a flavour of the calibre of student attainment, the prestigious 'Edward Reynolds, All Rounder of the Year Trophy' went to Year 13 leaver - Joshua Manz who listed the following amongst his achievements last year: A*A*A at A Level, Grade 8 in singing, First XV Vice Captain, Lead in the School Musical, Lead Vocal in the Big Band, Head Boy, House Leader of Brightwell and Joshua now has a professional rugby contract with the Leicester Tigers.
NSB Charity week, led by Mrs Greenaway and the Student Leadership Team, has again been a raging success. Mrs Greenaway reports:
Charity week has been a phenomenal experience - even in a time where many people from all walks are life are struggling with the rising prices we have managed to raise a huge amount of money - on Thursday the total had risen to over £7,500 and is still rising. There is always a sense of community at NSB and that willingness to come together and get involved for the benefit of others was definitely in evidence this week. Form groups were baking and selling cakes, there were pastry stalls, savoury snacks, doughnuts and sweets and students were doing anything from press up challenges to getting their legs waxed!!! There were competitions, sport matches and quizzes and all sorts of forfeits in 'I'm A teacher/House Leader Get Me Out of Here'. There were individuals who undertook jobs at home and donated the money earned and there were lots of challenges in school such as swimming, climbing, running, lifting and running - unfortunately the some of the outdoor events were scuppered a little by the inclement weather. However, Wednesday saw a flurry of Christmas and Winter jumpers and the Mufti day on Thursday brought further colour to the week.
XX Factor brought together over 400 staff and students from Y10 upwards in The Cripps theatre and the calibre of student performing was outstanding - Mr Charadine, in his 7th year, ably and humorously hosting the event and our judges having really difficult decisions to make as only 7 from 14 could go through to the final today. Their choices seemed popular with the very supportive audience - we also had a surprise appearance of this year's staff band; Mrs Bradley-Brophy, Mr Kneeshaw and Mr Stark which brought the house down!
There were also over 2,000 tins, toys and toiletries items donated which have today been dropped off at Eve (Domestic Abuse Charity), The Hope Centre for the Homeless and Re:Store who have Food banks all over Northampton. The latter said it was the biggest delivery they have had this month!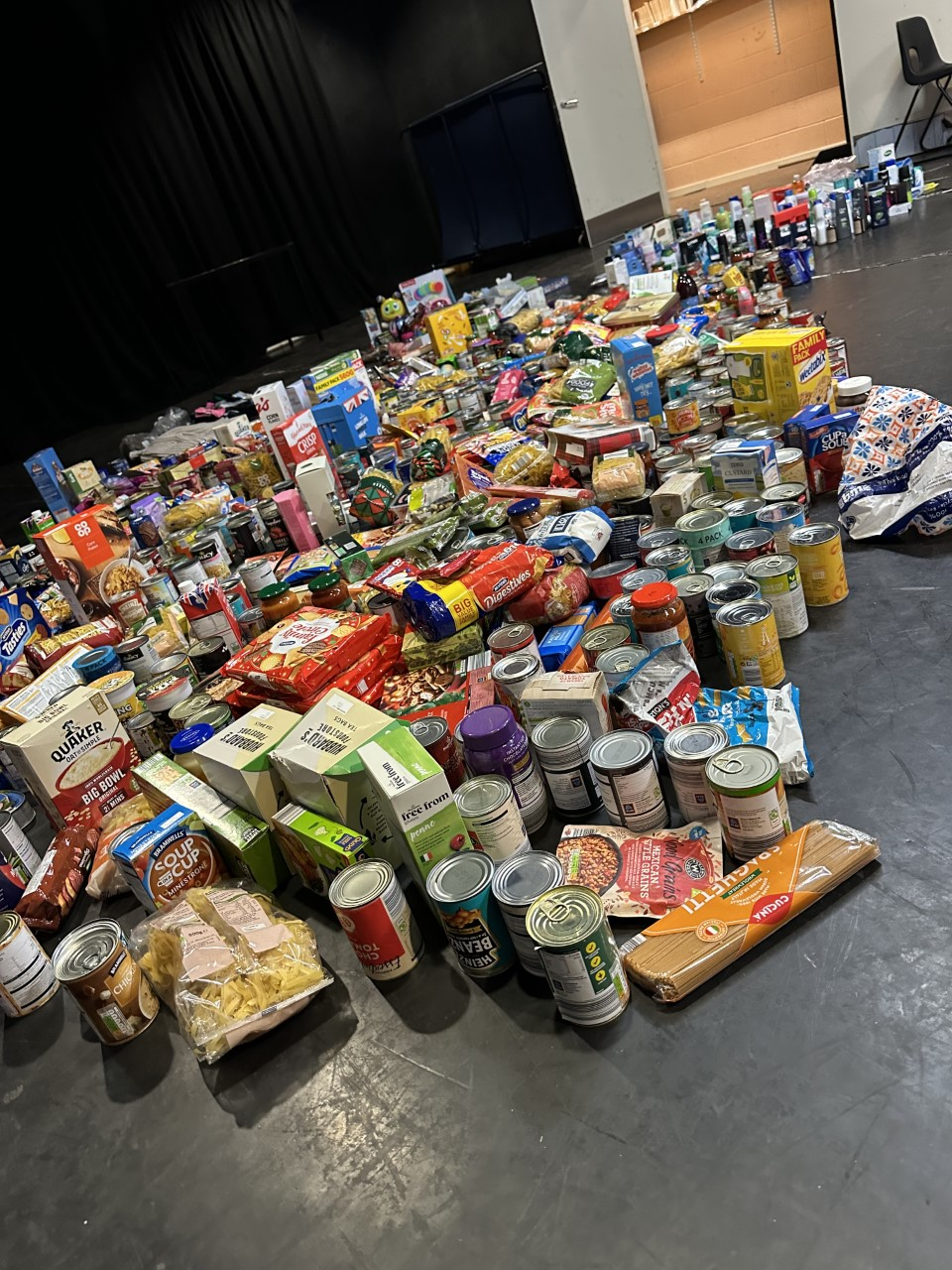 Our raffle will be drawn today; thank you to The Cobblers, The Saints, NCC, Pinnacle Climbing Centre, Beaverbrook, Costa, The Old Crown in Ashton, Studio 16 in Roade, Nonna Lucia and Kartin Works for donating prizes as well as staff, Governors and parents.
Thank you to the Student Leadership Team and the House Directors for their involvement as well as the staff, students and parents who all did their bit to ensure that our charities will be able to continue to do their immensely important work locally and nationally.
Charities supported are as follows: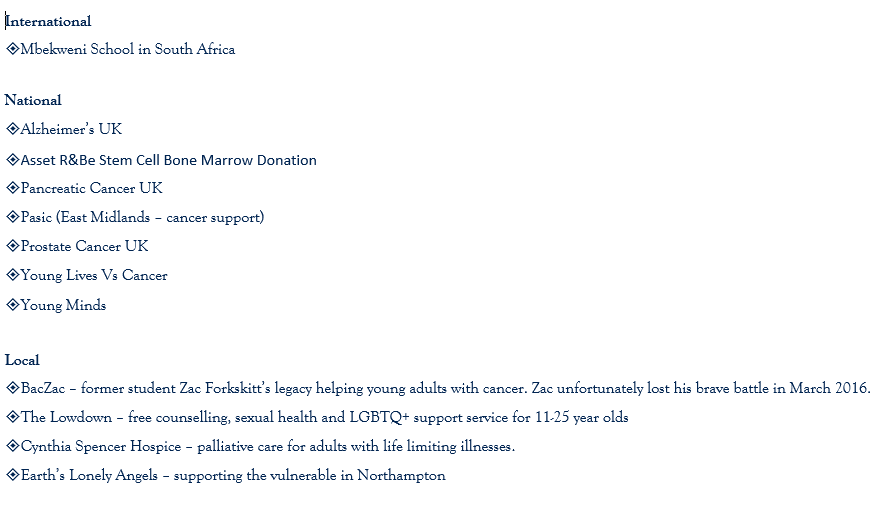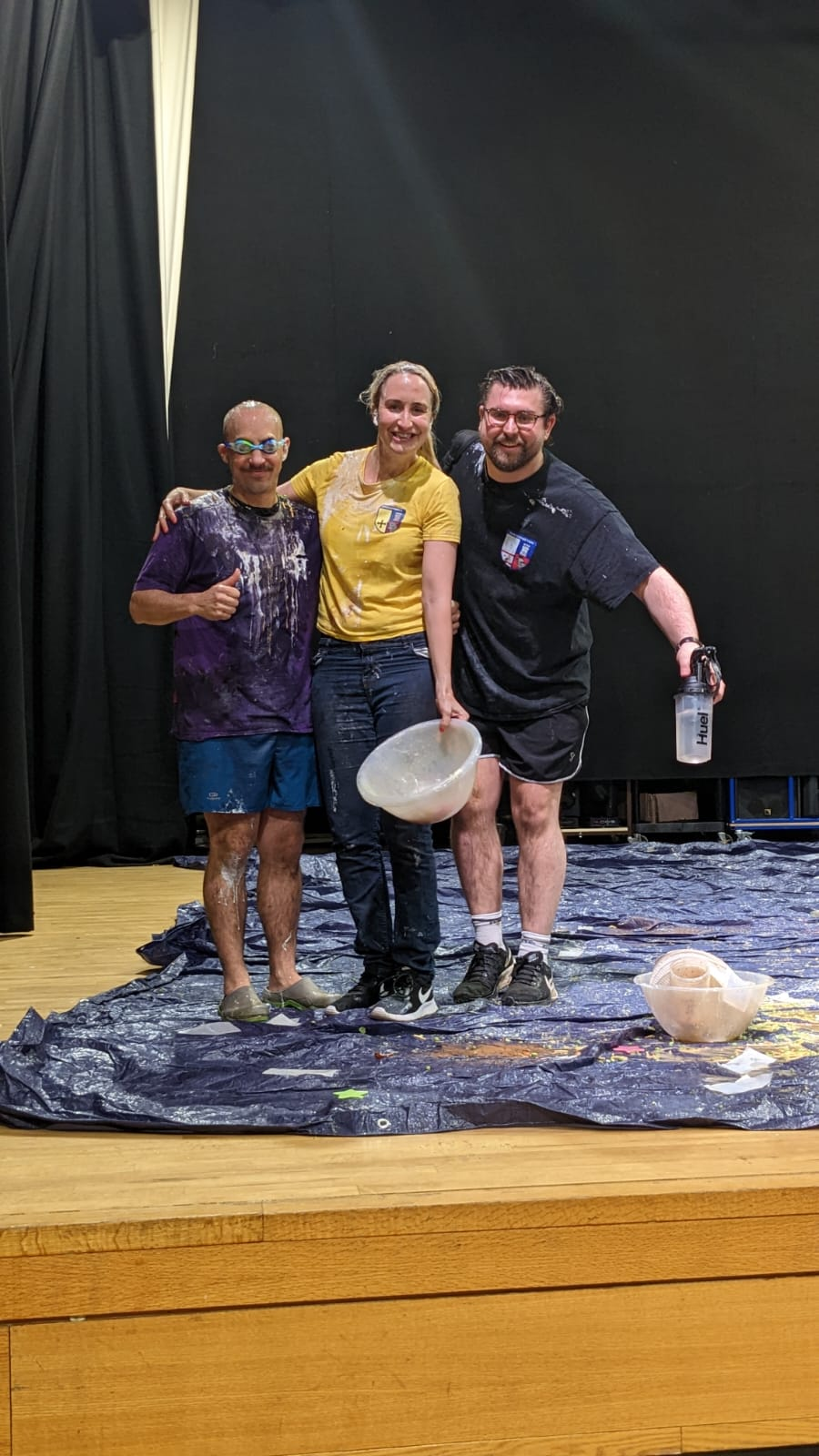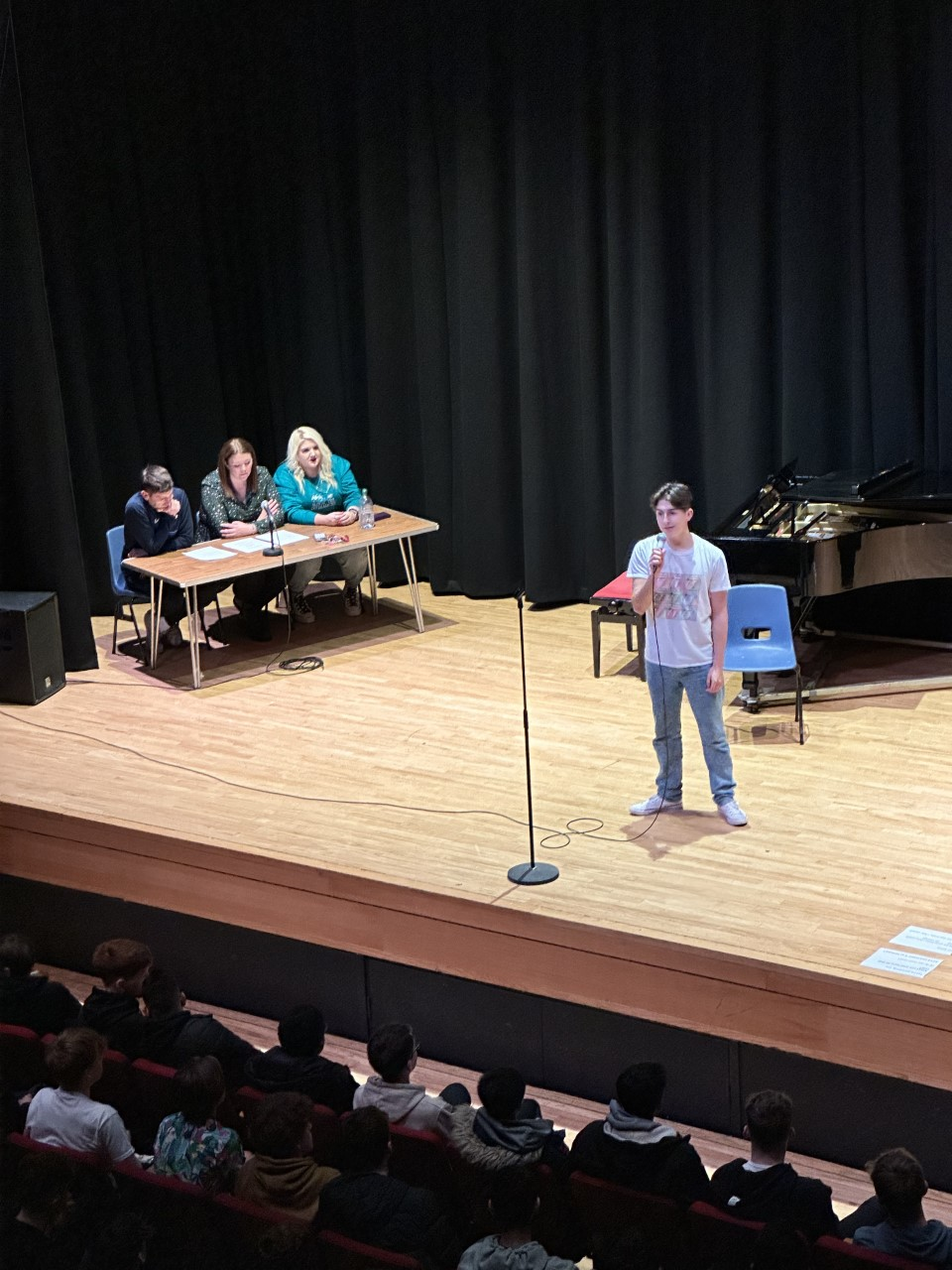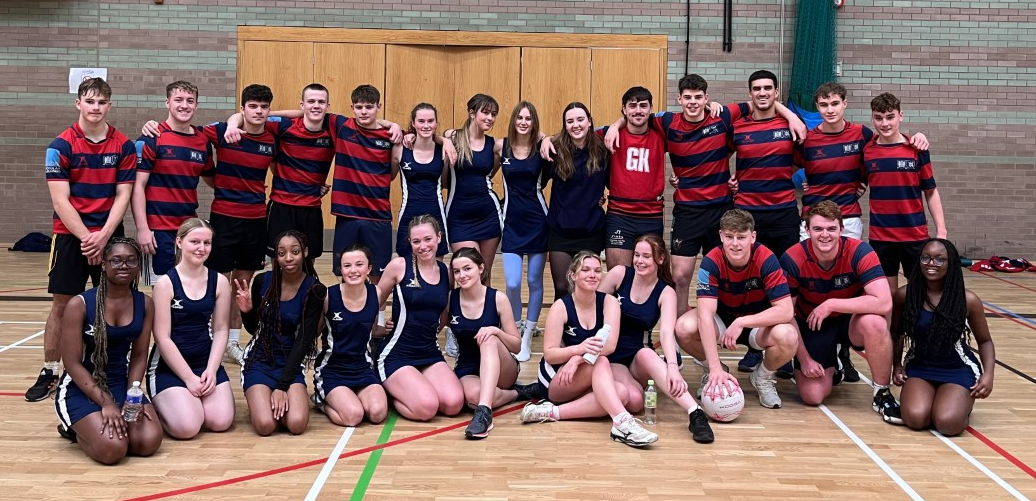 Amidst all the incredible success above, we have also had some remarkable individual student achievement to report this week, including a new World Record Holder! Last week British Rowing replaced the cancelled British Indoor Rowing Championships with a "Festival of Indoor Rowing", with competitors competing in an online league for gold, silver and bronze medals in a range of events over the period 5th - 10th Dec. As boys had trained for the indoor championships, it was decided to enter the Festival to see where they were at in terms of personal best performances and preparation for March's National Junior Championships. Some boys only entered one event; others doubled up while a few competed in three races. Results were excellent with NSB students securing 12 x 1st, 5 x 2nd and 3 x 3rd places. Both Ben Evans (Year 13) and Michael Graham (Year 8) achieved three 1st places with, Michael additionally breaking the World Record for 12 and under 500m, setting a new world best of 1:29.5s. This took 0.6s off the old record that was set in 2017 by a USA rower.
Many congratulations also to Oliver Murphy in Y11 who qualified for the final round of the International Maths Olympiad Challenge (IMOC) and secured such a high score (which fell in the top quintile of scores in the International Final) that he has been awarded the title of 'International Maths Olympiad Challenge Elitist' one of very few UK students to achieve this threshold of international award. NSB is one of just 15 schools who reach the exacting thresholds of standards to be accredited by the IMOC in the UK.
Finally, a reminder to parents and carers that all students receive an end of Term 2 Report today which can be accessed through the secure AIM Portal.
A very Happy Christmas and New Year to all associated with NSB and we look forward to welcoming students back to school on Tuesday, January 3rd.
Richard Bernard
Headmaster
Northampton School for Boys