Headmaster's Bulletin 1st April 2022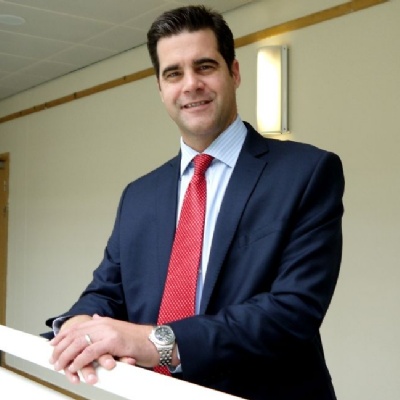 We have enjoyed an incredibly busy week to wrap up the term, however, today was also tinged with sadness as we said goodbye to three long serving members of staff who between them have clocked up over 50 years of excellent service to NSB:
Mr Haladij
(27 years of service as a DT Technician)
Miss Shaeffer
(16 years of service as a Careers Adviser)
Mr Thirlwell
(8 years of service as a Cover Supervisor)
The school is indebted to all three staff for their invaluable work to support the school and our students and they will all be sorely missed.
Many readers will be aware of the historical importance of the Mobbs Memorial Match which is coming up on April 13th between the Northampton Saints and the British Army - Edgar Mobbs was a Saints legend and a World Rugby Hall-of-Fame inductee as well as a World War One Hero, killed in 1917. To mark the occasion, 64 Year 7s enjoyed a fantastic morning of related activities:
Graham McKechnie from BBC Radio Northampton did an inspiring talk about Edgar Mobbs in the theatre, highlighting his rugby prowess for Northampton, the East Midlands and England and detailed his time in World War 1 as well as his death in 1917.
Liam Welch, from the Northampton Saints Education Department, did a fascinating history session relating to Mobbs and the men that followed him into war – 'Mobbs' Own' - on the computers. This was then followed by The British Army (Royal Anglian Regiment) leading rigorously challenging team-building exercises over at the Old Northamptonians.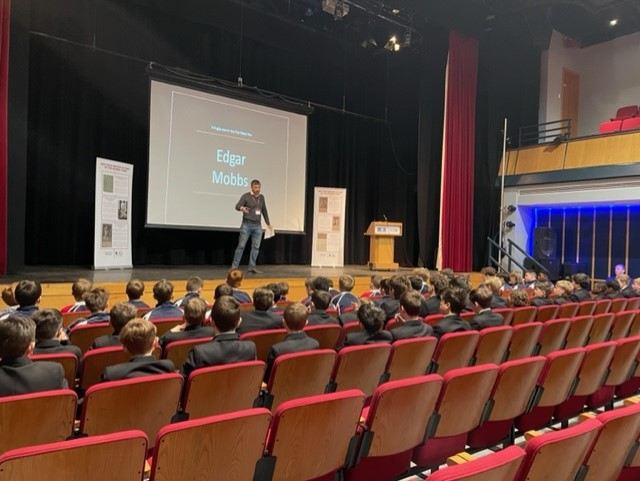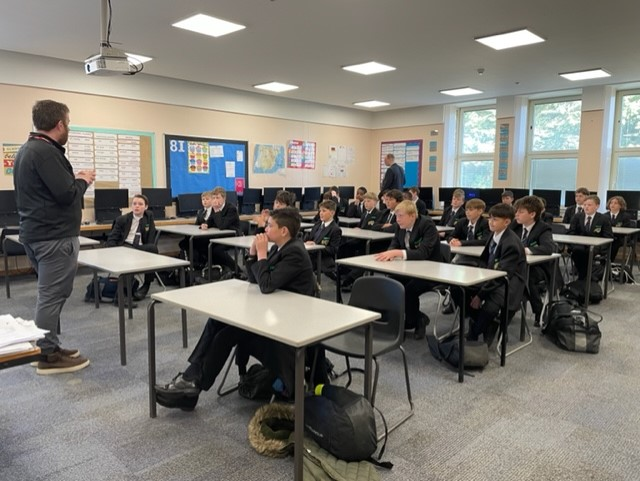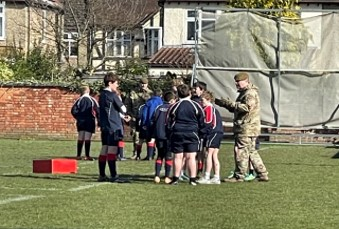 Our Under 14 Rugby Team were involved in a titanic National Cup Final v Epsom College this week - it was fiercely contested from start to finish with Epsom just shading the match at the final whistle by 15 points to 12. All the NSB players can hold their heads up with the utmost pride following the courage and fortitude that they have demonstrated over the course of a hugely successful season. Well done also to the U13 team who won the Saints Plate for 7s on Thursday and tough luck to the U12 B football team whose tremendous Cup Run came to an end when they lost a very tight National Semi-Final against Steven Gerrard's former school - Cardinal Heenan School, Liverpool.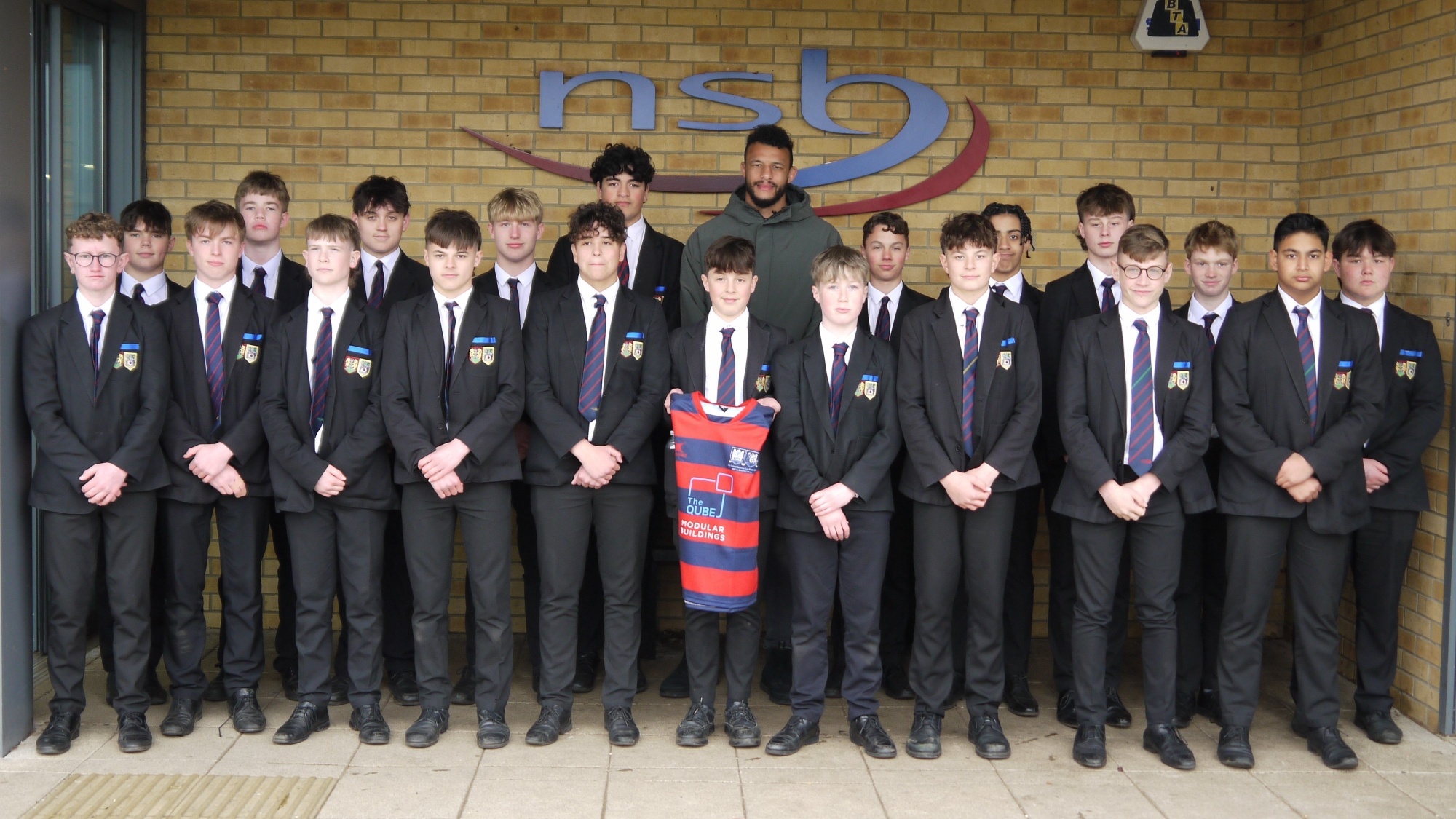 This year our NSB based Teacher Training Unit (the NTTP) reached the milestone of training over 400 people to be secondary school teachers since its inception 20 years ago. NTTP offers a one-year full-time secondary (11-16) teacher training course which leads to QTS and PGCE. Graded outstanding by Ofsted, the course is regularly praised for being "characterised by high-quality training" and having "outstanding coaching and pastoral support for the trainees". In the words of a previous trainee: "I recommend NTTP to anyone who wants to train to teach. The NTTP staff are fantastic! They are welcoming and approachable, as well as being incredibly knowledgeable." Most of our current trainees have secured jobs in Northamptonshire or are shortly on interview in the county.
Five Year 12 students; Ruth Abeam, Jesse Cooke, Tana Ericks, Ruvarashe Kumpane and Honey Yakubb, met with students from other local town schools this week for an initial meeting about Hate Crime; they discussed what Hate Crime is, the statistics and the rise of incidents especially after the pandemic and what can be done by young people to help improve negative attitudes, language and behaviour. An action plan has been drawn up with further joint meetings to follow.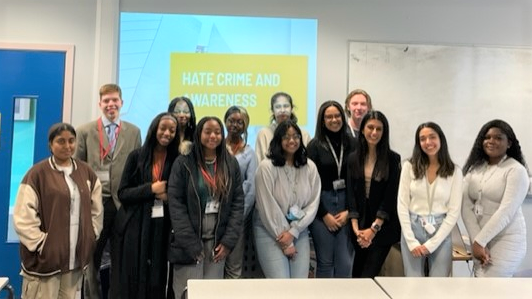 Art students from across the three Key Stages had a real treat today when they listened to a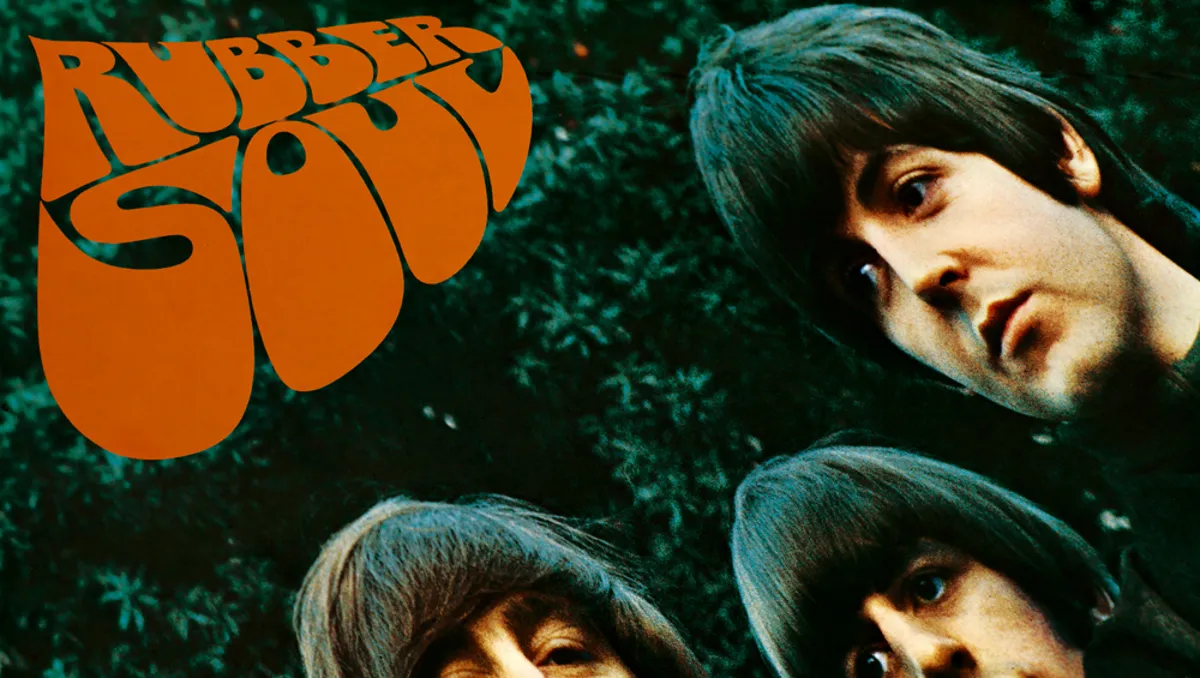 talk from Charles Front (artist, illustrator and calligrapher) who is most famous for designing the front cover and lettering of The Beatles album Rubber Soul - from which he has subsequently been heralded as the man who invented bubble writing! The talk was inspirational and the students were able to ask Charles about his life's work, technique for drawing and what it was like to design with both John Lennon and Paul McCartney!
In addition to the recreational KS3 Chess club that started in September, Year 7, 8 and 9 students have been battling it out in the Interhouse Chess Competition all this term. Not only did students have to play students in their own year group but also against students in other years and all the houses were represented too. This was organised and run by Abigail Rowe in Year 13 with the support of Mrs Bradley-Brophy. All students have received house points and prizes for participation. and the winners and runners up were awarded trophies.
We are now going to move forward to play other schools and to develop a competitive NSB Chess KS3 Team alongside the recreational group.
Year 7
Winner - Haolin Yu
Runner-up - Harry Bradley-Brophy
Year 8
Winner - Finley May
Runners-up - Sachin Panchal and Rishi Kotecha
Year 9
Winner - Harry Nash
Runner-up - Adam Kherry
Overall NSB KS3 Champion
House Results (from all games played)
1st Washington
2nd Manley
3rd Chipsey
4th Brightwell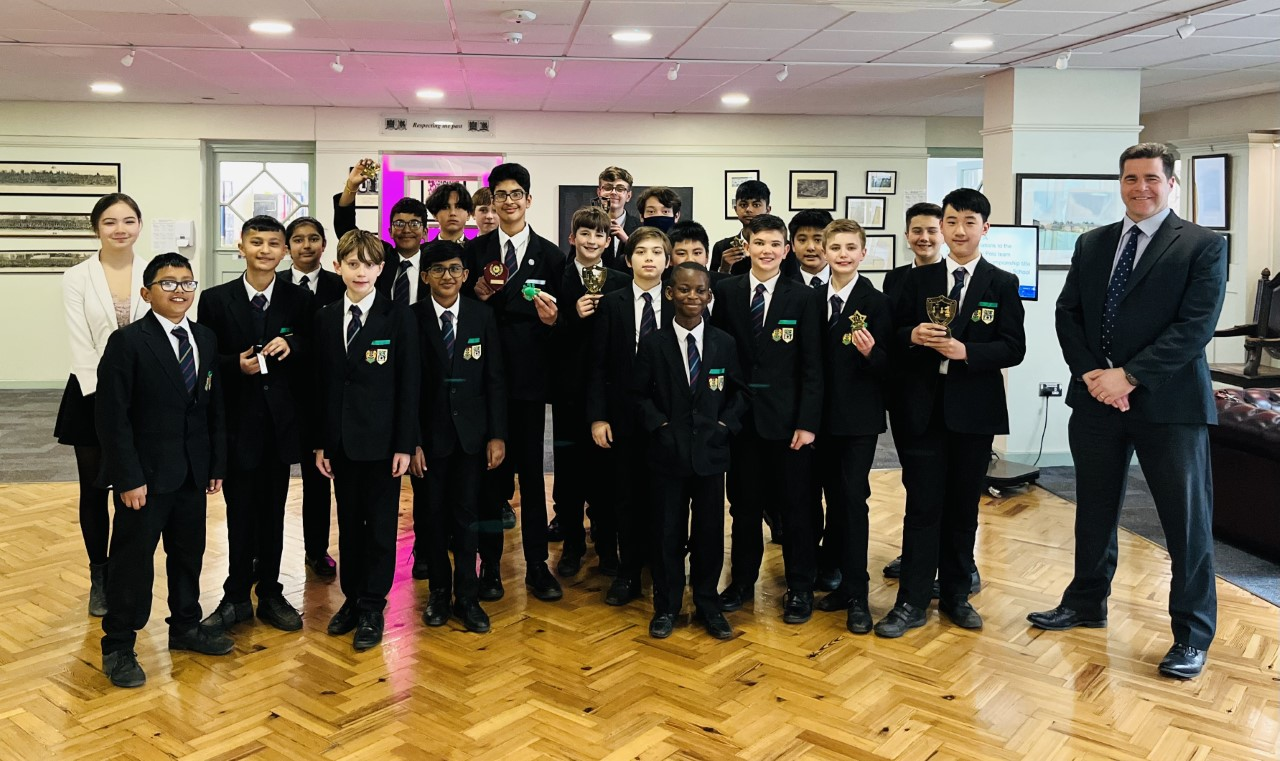 Many of our Year 13 students have secured outstanding offers from leading universities and this week a particularly special offer was sent to Tooni Debisi-Ajayi. Tooni has been offered a Scholarship to study Composition at Berklee College of Music in Boston. This is an exceptional achievement as Berklee College is one of the most prestigious Conservatoires in the world. The list of Berklee alumni is phenomenal including Oscar winning musicians and composers – names include Alan Silvestri (Back to the Future/Avengers) Howard Shore (Lord of the Rings), Esperanza Spalding, Alex Lacamoire, Steve Vai, Charlie Puth, John Mayer, Roy Hargrove!
There have been several important information emails sent out to parents / carers today. Mr Edwards has written to all parents regarding the opening of a new Uniform Shop which will sell 'nearly-new' uniform so that parents / carers have a cheaper alternative to purchasing new items and he has also updated parents / carers on the latest national Covid guidance publicised today. Term 4 Reports have been issued online through AIM today for Years 7/8/9/10/12. Year 11 / 13 Term 4 Reports will be issued on 6th May as the Term 4 assessments are still going through an extended moderation process - as directed by the Department for Education.
We hope all students have a fantastic Easter break and we look forward to their safe return on Wednesday 20th April.
Richard Bernard
Headmaster
Follow NSB on Twitter: @NSBSchool