Headmaster's Bulletin 11th March 2022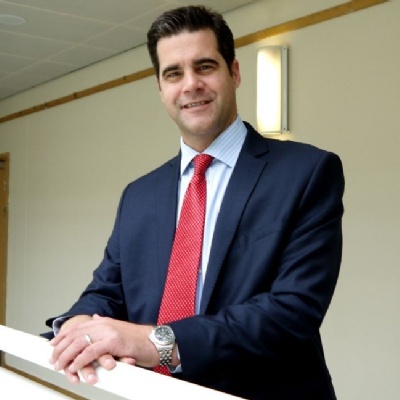 Our School Musical, 'Joseph and the Amazing Technicolor Dreamcoat' plays out its final show tonight to a packed Cripps Hall Theatre, following rave reviews for the opening two evenings. Josh Manz commands the stage in a sizzling lead role performance however, the whole cast excels and as Mrs Greenaway, puts it succinctly in her programme notes: "we are very lucky to have more talent than principal roles, so the chorus is of the highest calibre, which in turn complements the excellence of the main parts".
Our incredibly talented musicians also provide outstanding backing throughout. Ticket holders for the sold-out show tonight can look forward to a brilliant evening of toe-tapping tunes and great fun – just what the doctor ordered for the Theatre following such a bleak covid-hit period! See image below at rehearsal: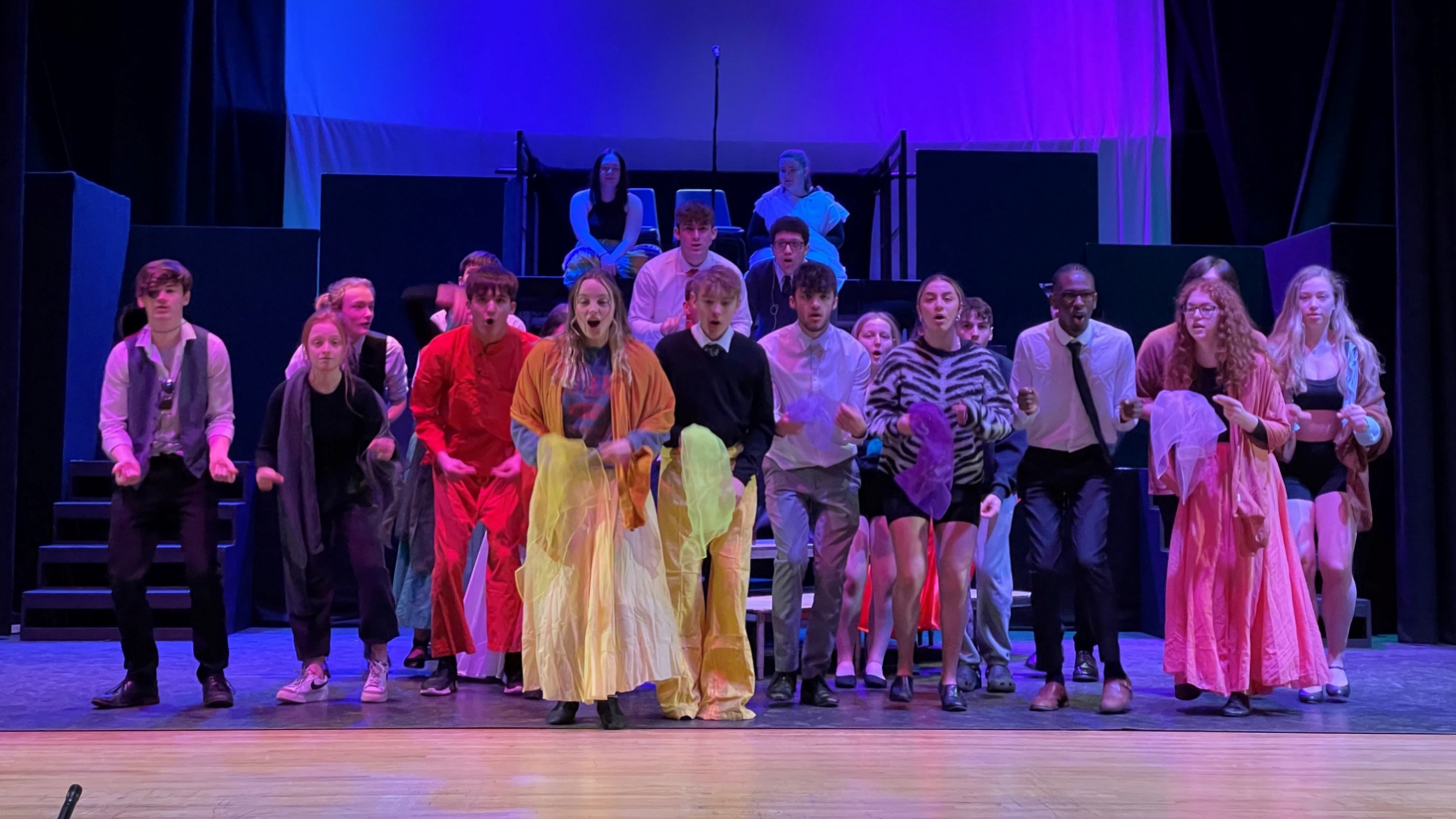 This week, students have been involved with a wide range of activities linked to National Careers Week. These have included within form time, the study of 'Careers of the Future', practical participation in a series of interactive careers-based tasks and exploration of the latest trends in the employment market. There have also been various curriculum themed activities focusing on the link between individual subjects and specific career routes. To round off Careers Week, selected students had the opportunity to meet virtually with leading journalist and former student, Julian Druker, who is currently reporting for the national news on the Ukraine border. We are very grateful to Julian for giving up his time, within such a horrendous war-torn context, to speak to the students and he was posed a series of searching questions about his career in media and journalism and the challenges of his role when reporting within war zones. Next week also sees the launch of Y10 Work Experience for October 2022 and the highly anticipated Y11/ Sixth Form Employment and Opportunities Evening on Wednesday 16th March.
To coincide with Careers Week, Michelle Donelan, Minister of State for Further and Higher Education, has written the letters below to students in Years 9-13 and their parents / carers / guardians to highlight the education, training and work choices available to young people after they finish their GCSEs and once they turn 18.
Michelle Donelan MP - Parent's Letter for National Careers Week 2022
Michelle Donelan MP - Student Letter for National Careers Week 2022
Sticking with the theme of careers, former student, Professor Peter Doris from the McGovern Medical School in Houston, USA, has very kindly agreed to do a bespoke virtual presentation to our MedSoc students this afternoon on the subject of Genomics: Health and Disease. This is a fantastic opportunity for our Sixth Form medical students to hear from a world leader in his field.
The school celebrated International Women's Day 2022 on Tuesday 8th March. Departmental areas have been adorned with posters celebrating the contributions and successes of many incredibly successful and influential women from our past and present global society; staff have also discussed with students why particular female role models, such as Frida Kahlo, Mary Shelley and Rosa Parks, have inspired them. Additionally, assemblies have been delivered throughout the week by our Personal Development Gender Equality lead Mr McAteer, on the theme of challenging our prejudices and unconscious bias and a display can be seen in the 1911 hall, which gives a history of the feminist movement. Under Mrs Morrison's supervision, several of our Sixth Form students participated in a webinar led by the 'Rights of Women Northamptonshire', which focused on gender-based inequalities and the issue of violence against women and girls in wider society. It has been excellent to see so many students of all year groups asking questions about the inspirational women featured in the displays around the school as well-being involved in rich debate over vitally important issues surrounding equality.
One of the perks of my job is being alerted to emerging student talent in each of the subject disciplines. This week, Miss Clark pointed me in the direction of Year 9 student, Kiyon Perera who is still aged just 13, yet is producing some quite extraordinary pieces of artwork, as evidenced by the wonderful hand drawn piece below! It is accompanied by a short report from Miss Clark to give the context of the drawing.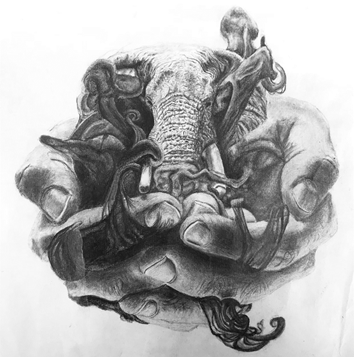 Kiyon Perera has spent hours of his own time working on the drawing shown, which is based on the artwork of Jono Dry, a South African artist who creates large-scale graphite drawings in a hyperreal and surrealist style.
As a hard-working and dedicated Year 9 student, Kiyon often asks what he can do to develop his skills in Art. He was set the challenge of creating a copy of one of Dry's artworks to develop his use of tone, shading, attention to detail and ability to draw in a realistic manner. The artwork that Kiyon recreated depicts an elephant cradled in the hands of man; a direct link to the impact humans have on the environment.
Kiyon has worked exceptionally well on his drawing, demonstrating a truly fantastic skillset and excellent commitment to the subject.
There has been so much recent outstanding sporting success to celebrate that there is a danger that some quite brilliant student achievements are overlooked. Following Ed Baker's Bronze medal in the World indoor U19 Championships, NSB students brought back a trove of medals from the National Junior Indoor Rowing Championships held this week with 3 Gold, 4 silver and 4 Bronze medals – congratulations to the following students who are new National Champions – Michael Graham Y7 Boys Individual, George Tonga'uiha, Mario Vasconcellos-Blanch, Cameron McKenzie, Oliver Vasconcellos-Blanch – Junior Boys Relay and Ed Baker, Josh Manz (see the musical paragraph above!), Ben Evans and Henry Field for the Senior Boys Relay. Well done also to the U18 Water Polo Team who qualified through to their National Cup Final and to all the Basketball teams who are still going strong in their National Cups with a good win for the U14s this week. Year 8 had a particularly good week, running out as regional winners of the Northampton Saints County U13 Rugby Sevens and we were also crowned Y8 Dodgeball Champions for good measure! Next week we are looking forward to the National Cup Semi-Final for U14 Rugby on Wednesday at home – kick off 3.00pm against King's School Macclesfield, two National Cup Football Quarter-Finals for the U12 and U16B Teams, a Basketball National Cup U17 Quarter-Final at home on Tuesday, the U13 Boys and the U18 National Girls National Cup Water Polo Semi-Finals and to top a fantastic week of school sport off, the U16 Boys are playing in the prestigious London League Water Polo Final at Whitgift School on Thursday.
Richard Bernard
Headmaster
Follow NSB on Twitter: @NSBSchool