Headmaster's Bulletin 4th March 2022
Thursday saw the nationwide celebration of World Book Day with some fantastic pictures in the media of children across the country dressed up as their favourite book characters – I myself, shared Thursday breakfast with Dave the Cat and the Diary of a Wimpy Kid! At NSB, we were delighted to welcome award winning children's author and former student Mitch Johnson to the school to work throughout the day with our Key Stage 3 students. Curriculum Team Leader for English, Mrs Morrell reports:
In the morning, small groups of Year 7 and Year 9 pupils attended creative writing workshops with Mitch, learning how to effectively craft the opening of a story and how to hook the reader's attention with a sparkling opening line.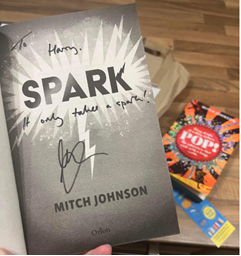 At lunchtime, Mitch joined Mrs Rutherford and Miss Kings in the library to meet and talk informally with students. Years 7, 8 and 9 were invited to buy copies of his most recent books - 'Pop!' and 'Spark' - and Mitch kindly signed their copies. Thank you to Harry Bradley-Brophy Y7 for sharing a photo of his signed copy of 'Spark' with us.
In the afternoon, Year 8 pupils filled the Old Gym for an assembly with Mitch. They were treated to the contextual relevance of his novel 'Pop'; the dangers of plastic pollution and high sugar intake; a glimpse of the life of Queenie and her adventures, and an exploration of the process of writing. Our Year 8 students will be studying Mitch's novel 'Kick' later this year; this was the perfect opportunity for pupils to meet, understand, and get to know Mitch and his writing.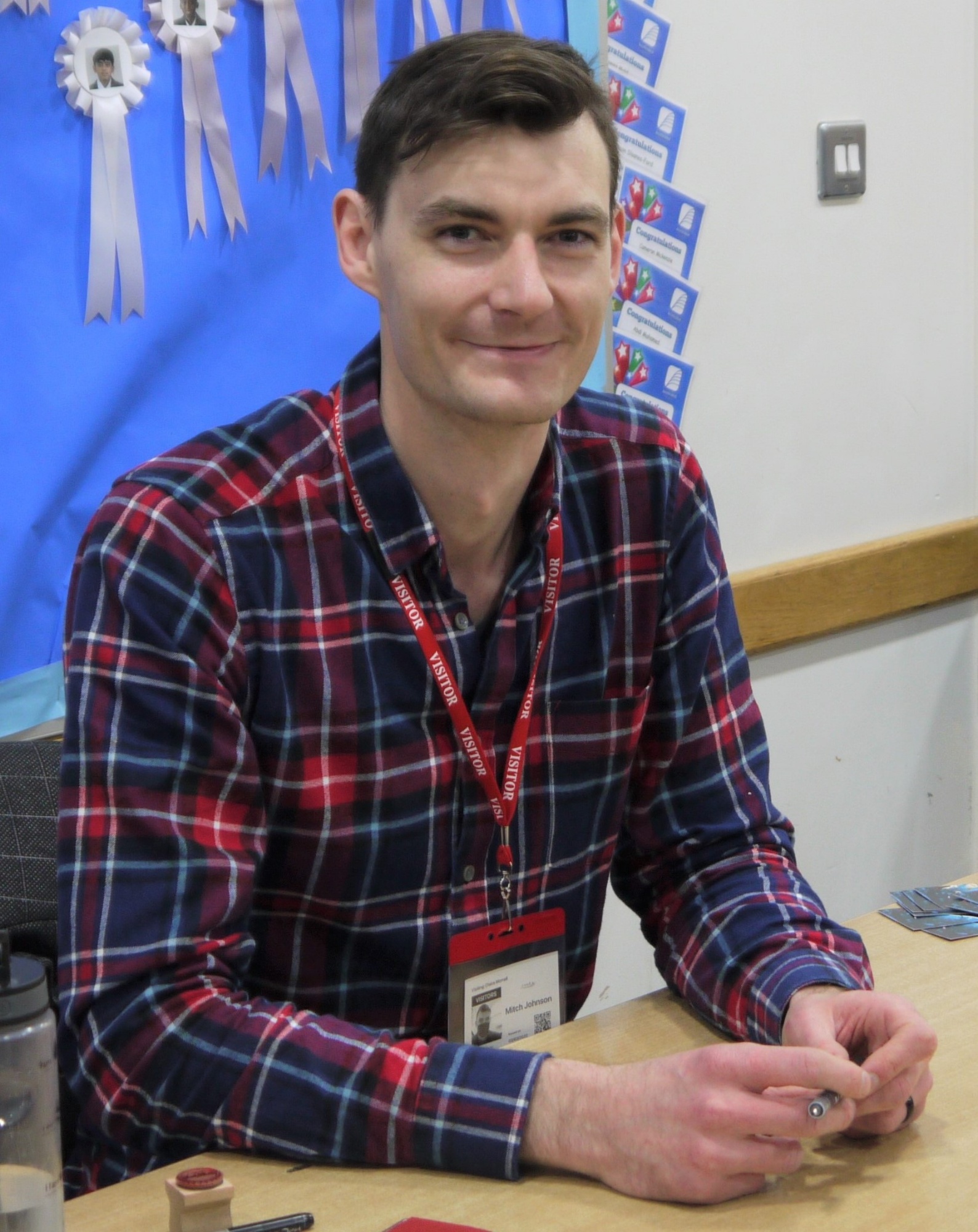 Mitch brought to life 'Pop!' by exploring the issues in the world which inspired him. He explained to the boys the years it takes for plastic household items to degrade. Most shocking were the plastic toothbrush and nappies that can take 500 years to degrade! If disposable nappies had been invented in the Jacobean era, Shakespeare's nappies could still be hanging around today! This was a very powerful point for pupils as they navigate our world and the need for reduction in plastic usage and waste.
Pupils were then guided through the sugar content of pop drinks, and the shocking levels of sugar in some of their favourite drinks. By playing a game of 'Play your Carbs Right' (a Mitch pun), boys considered the sugar content in a range of fizzy drinks and had to engage through shouts of higher and lower... much excitement ensued! Ending on Coca-Cola, a key feature in 'Pop', Mitch then poured the corresponding grams of sugar into a glass. Pupils' shock was palpable.
With a little extract from 'Pop', Mitch then closed the assembly with questions from pupils which included: how long does it take to write a book? When did you write your first book? Which book is your favourite out of 'Kick', 'Pop', and 'Spark'?
This was a wonderful day of literary learning, and all pupils and staff would like to extend their thanks to Mitch for his time and talents on this World Book Day!
On the theme of literacy, there have been some outstanding reading achievements by students in Year 7 and 8 through our Accelerated Reader Scheme, which is expertly overseen by Mrs Rutherford and Miss Kings. The main headlines can be seen here: Click Here, with a special mention to the three boys currently occupying the podium places, who have read well over 15 million words since the start of the year between them – Yi Xuan Chen, Lucas Hu and Ethan Gellangarin.
It's been a busy week in our Food Technology classroom with the Year 11 boys completing the practical assessments for their GCSE, producing two dishes in 3 hours. Teacher, Mrs Roberts reports, 'The boys all did a fantastic job. I'm sure they are relieved that this part of the course is over (as, no doubt are some of their families who have been eating the same dishes repeatedly whilst they practised at home!)'
Jay Dhir in Year 13 has been undertaking a pivotal role for West Northants Council in their drive to involve members of the Northampton public in the council's "Big Conversation" project. Jay has played a key role in editing and creating sound bites which will form part of a town-wide drive to encourage people to talk to council officials about perceived local areas of strengths and points for development which will hopefully help inform council decisions going forward. Throughout this work, Jay has been an exceptional role model for the school.
Last week, I mentioned in the Bulletin that Ed Baker Y13 had just won a Bronze Medal in the World U19 Rowing Championships which was an incredible feat. What we were unaware of at the time of writing, was that in securing a medal, Ed also broke the British Record with a time of sub 80 seconds for the 500m.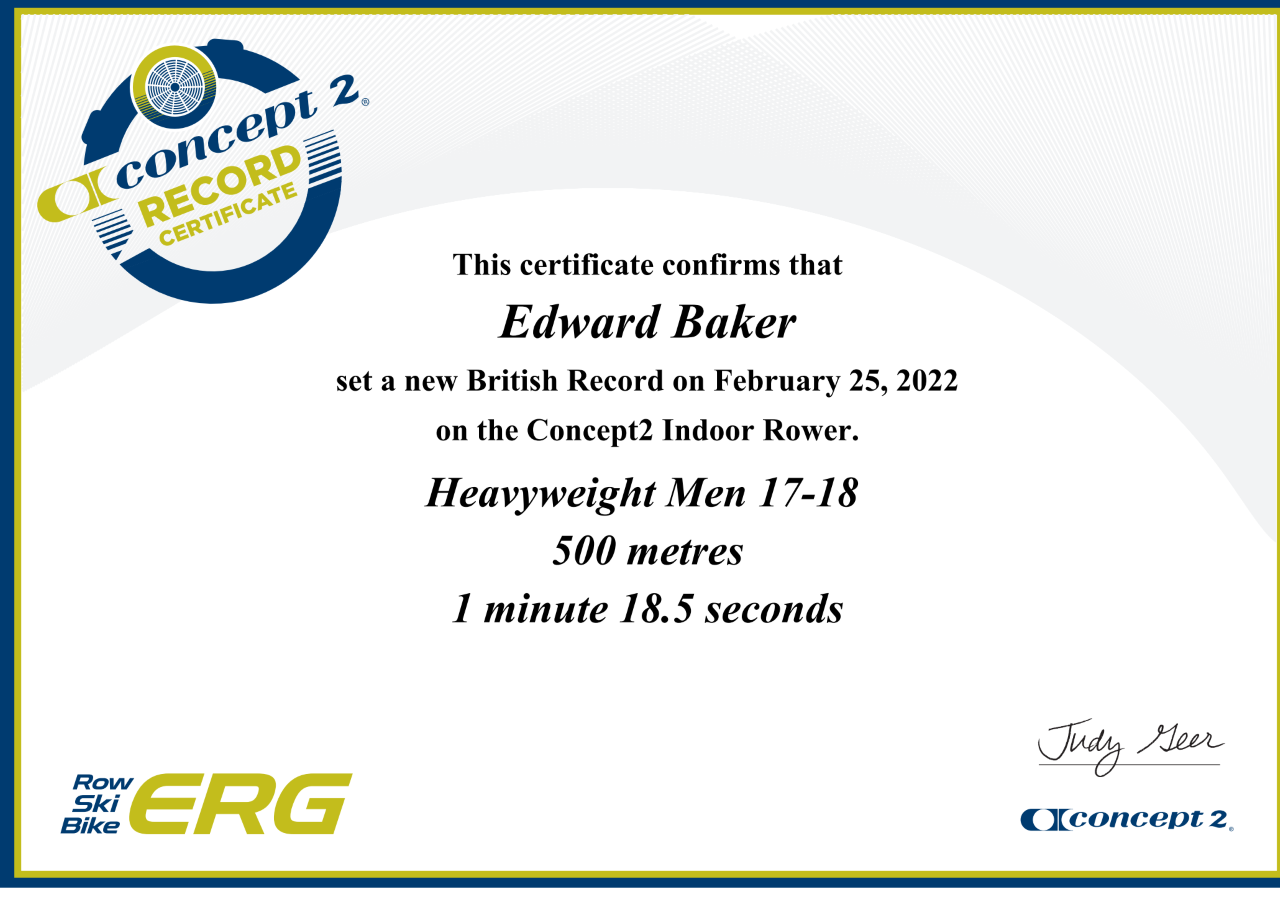 In the same Bulletin, I also mentioned that the Year 7 Football A team were playing their National Cup Semi-Final later that Friday afternoon against Shenfield High School from Essex. The game was of a fantastically high standard with NSB dominating the second half to secure a place in the National Cup U12 Elite Final in May. The 3-1 win reflected an outstanding team performance which included a twenty-yard thunderbolt from Travis Frost and an excellent brace of goals from Cian Morrow. Continuing with the theme of sporting success, Scarlett Humphrey Y12 is celebrating a wonderful call up to June's World Para Swimming Championships where she will swim for Great Britain alongside her twin sister: Click Here
There will be minor disruption to the Billing Road traffic, outside the school, next week between 9.00am - 3.00pm and 4.00pm – 6.00pm whilst tree specialists undertake surgery to the lime trees at the front of the school. This is precautionary surgery following the incident last week, where a tree on the NSB site, fell during a storm.
Finally, a reminder that tickets are on sale at the Box Office for our Musical, 'Joseph and the Amazing Technicolor Dreamcoat' which plays out in The Cripps Hall Theatre next Wednesday, Thursday and Friday evening. See below for link to the Box Office.

Richard Bernard
Headmaster
Follow NSB on Twitter: @NSBSchool