Headmaster's Bulletin 5th March 2021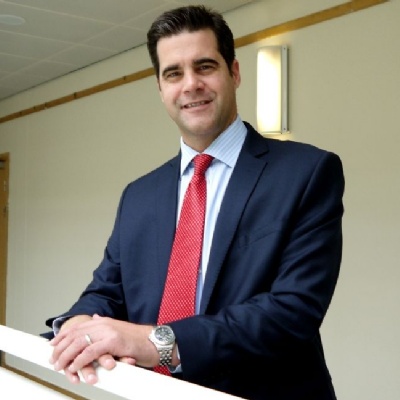 The school is eagerly awaiting its students next Tuesday and the mass testing preceding their return has gone smoothly to date. Many thanks to all staff, governors and volunteers involved and particularly to Mr Edwards, Mr Kneeshaw and Mr Murphy who have overseen the process so effectively.
The school was greatly saddened to hear of the recent passing of former student, Professor John Mallard (1927-2021) who invented two of the world's most important medical scanning technologies – MRI and PET scans. This technology is used globally for body scans with hundreds and thousands of patients benefiting from Professor Mallard's vision for medical imaging and countless lives saved. Please find a link to a suitably glowing tribute posted by the BBC: Please Click Here
Over the lockdown period, Mrs Bradley-Brophy set the entire Sixth Form a non-screen challenge of choice and the take up was magnificent. We are extremely proud of all the entries and there were so many worthy applicants that we undertook a random prize draw to select the prize winners, whom Mrs Bradley-Brophy details below: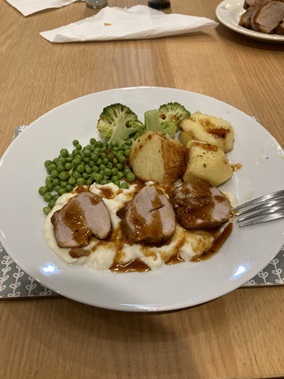 Year 12
Harry Bennett - Harry has learnt to cook during the recent months and recently attempted a Sunday Roast. The picture is of a Pork tenderloin with a honey and garlic sauce, with roast potatoes, fresh green vegetables, and a cauliflower mash that he made the whole family.
Eleanor Seymour - Eleanor took a whole day off and made some blueberry cupcakes, played cards with her dad and sorted through a gigantic box of old photos, in which they found a book from 1867. She did some flower arranging with her mum, went for a long walk around the reservoir in the evening and then went on to make a vegetarian lasagne for the family. In the evening they played a board game. After all this she went on to say how she found the day really relaxing and life slowed down a bit which they all enjoyed.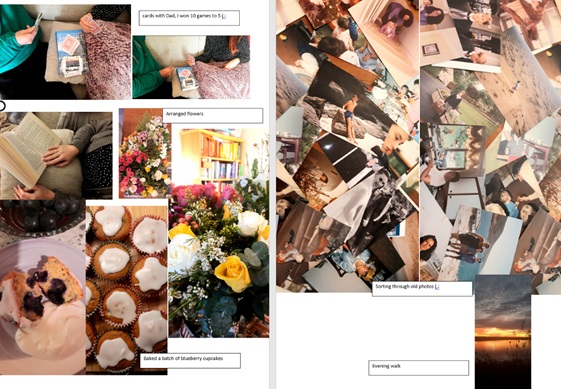 Year 13
Kane Burgess
Kane, a scientist by nature, has spent time reading and has managed to read Great Gatsby, Romeo and Juliet and Jekyll and Hyde in the last few weeks and has just started Wuthering Heights too.
Harmony Hart
Harmony has spent some screen free time trying to be more eco friendly and self sufficient. So, she made a top, bag and hat out of old clothes and fabrics destined for the bin. She has also started to experiment with clay and made some jewellery and pots. She baked some cinnamon rolls and in her own words 'these are probably the only edible things I've made EVER because I'm so bad at baking, but I keep doing it anyway because it's fun'. Finally, she's been doing a bit of crocheting and her first project was a little shoulder bag.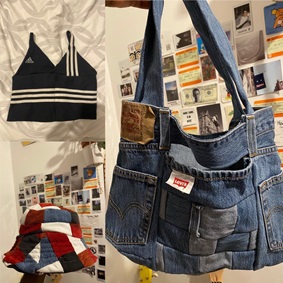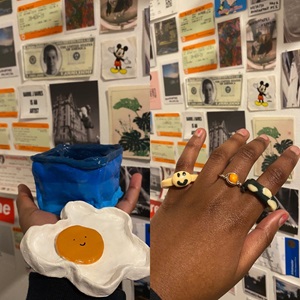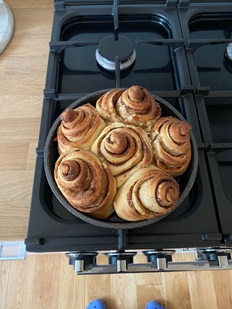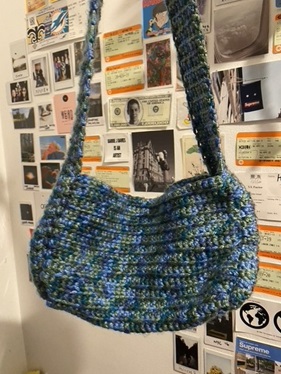 In an extension of the cycling theme of last week's bulletin, one of our Year 13 students, Matthew Broughton has supplemented his A Level studies by undertaking an amazing challenge to raise well over £4,000 for the Alzheimer's Society. Matthew and his father are taking part in the formidable John o' Groats to Land's End Cycle Challenge in September and they have both been regularly hitting 60 miles plus a day in training in preparation for this gruelling but hugely inspirational event which demands participants to cover over 100 miles a day for nine days. You can find about more about Matthew's challenge and the fundraising here: Click Here
Finally, an important email has been sent to all parents / carers today regarding an updated risk assessment for the reopening of the school next week as well as an information message from the Department for Education regarding free twice weekly home testing kits for COVID-19. These tests are now available to all adults living in a household with primary and secondary school aged students.
Richard Bernard
Headmaster
Follow NSB on Twitter: @NSBSchool