Year 7 Admissions for September 2020 Entry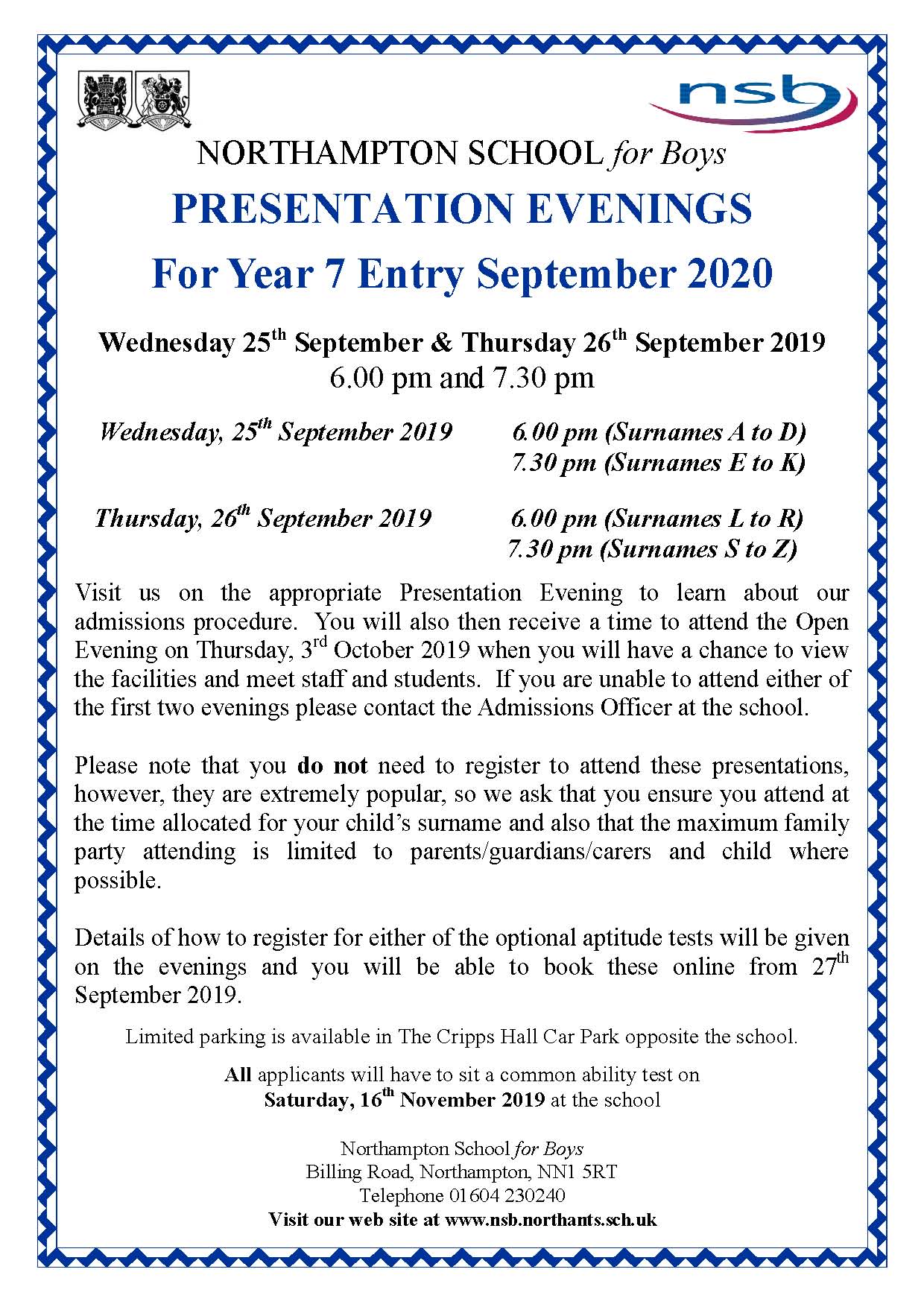 The process for application for a place in Year 7 at Northampton School for Boys in September 2020 begins with our Presentation Evenings on Wednesday 25th September and Thursday 26th September 2019.
Our Open Evening is on Thursday 3rd October 2019.
It is advised to apply after hearing full details of our admissions process at the Presentation Evenings, and after viewing the school on 3rd October 2019, however, our application form goes live from 10th September 2019.
General Information
Year 7 Presentation Evening Flyer Sept 2020 Entry
Year 7 Presentation Evening Information
Year 7 Admissions Timelines Sept 2020 Entry
Information Booklet for Applicants
Presentation Evening Content
Senior Deputy Headmaster's Presentation
Presentation evening powerpoint
Admissions Policy and Application Form
Year 7 Determined Admissions Policy 2019/20
APPLY HERE - This will be a late application.
Supplementary Information Application Form
Please find below a link to the Northampton County Council (NCC) admissions pages and their application form.
Northampton County Council Year 7 2020 Entry Application Form
Please note that you must complete both the NSB and NCC application forms by the deadline of 5.00pm on Thursday 31st October.
Aptitude Tests
Please find below links to the EVENTBRITE website
TECHNOLOGY APTITUDE TEST APPLY HERE
The closing date for the Technology Aptitude Test is Thursday 10th October at 9:00am
MUSIC APTITUDE TEST APPLY HERE
The closing date for the Music Aptitude Test is Thursday 17th October at 9:00am