School Performance
Northampton School for Boys had much to celebrate from the summer with a fantastic set of GCSE exam results supported by grades at A Level which have enabled virtually all of our leavers to go to their university or employment destination of choice.
NSB is once again celebrating an exceptional set of GCSE grades which improve even further on last year's excellent performance and which buck the national decline in grades.
The Headmaster, Richard Bernard stated, 'I am absolutely delighted for all the students and staff that they have been rewarded with such a fantastic set of grades which maintain the upward trajectory of GCSE outcomes at the school in recent years.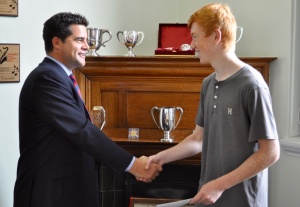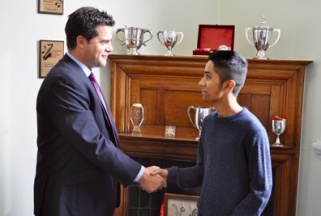 Last year we were recognised by a letter from the Minister of State for Schools as one of the top performing schools for GCSE in the country and this year our results are even better. With academic outcomes well above national expectations, national and international excellence in school representative Sport and the Arts as well as a thriving extra-curricular and residential programme the educational package at NSB is truly stand-out provision for our students.'
'The percentage of students gaining an A*-C in both English and Maths GCSEs has risen to 83% with the Maths A*-C rate at 93% and Maths A*-A rate at 43.4%. The percentage of all entries gaining A*-A, A*-B and A*-C have each risen from last year and are way above national averages for boys and girls and boys only. Progress and attainment levels are strong across virtually all subjects in the curriculum. The school expects to achieve a highly positive Progress 8 score, both for the whole cohort and as a separate measure for students who receive Pupil Premium funding support.'
An incredible 129 students achieved at least 1 A*/A grade or more, 60 students achieved a minimum of 5 A*/ A grades and 16 students managed to achieve an A* or A grade in nine or more GCSE subjects.
Attainment wise, the percentage of A2 students achieving each of grades A, B and C is very similar to last year and in regard to AS significantly up. Highlights include twenty students achieving an A or A* grade average over at least three A2 subjects in Year 13 and the highest Average Points Score per AS entry for Year 12 when compared to the last three NSB cohorts by a phenomenal 13 points."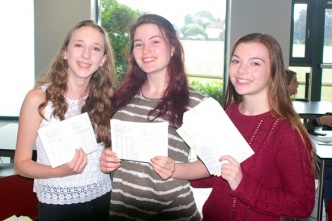 Deirdre Kennedy - Assistant Head and Director of 6th Form, said: "Once again our extensive advice and guidance programme is paying dividends. Over 135 Year 13 students received university offers – over 50% of which to the very best 'Russell Group' universities including Oxbridge - and all but a handful have been accepted at their university of choice. Those who just missed by a grade or two are now in 'clearing' and will get a place in the coming days. Our students work so hard and I am truly delighted for them."