Sixth Form Employment and Opportunities Evening 2019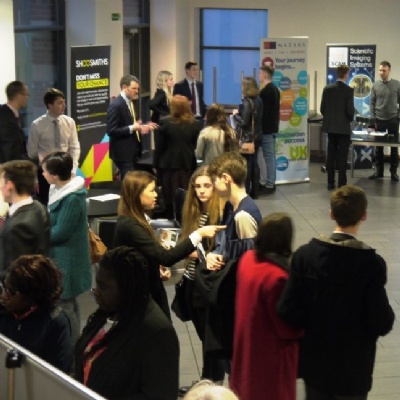 On Wednesday 20th March 2019 Northampton School for Boys will be hosting its annual Sixth Form Employment and Opportunities Evening 6.00-8.00pm in the concourse.
This is an ideal opportunity for the students to meet a range of different organisations that all have something to offer young people.
The main focus of the event will be upon apprenticeships. However there will also be an emphasis on Graduate programmes, part time/holiday work, gap years, work experience, personal development and more.
The dress code for the evening is smart office dress. Bring your CV and make a great impression.
Parents are encouraged to attend and we look forward to welcoming you.
The current list of participating organisations:
Army Careers - Find out about the different careers available in the Army and the recruitment process.

Church's - Find out about the company and their long established apprenticeship schemes. Meet an ex-student who is currently on their Management Trainee Programme.

Create Consulting Engineers - Create is a group of specialist consulting engineers and sustainability consultants providing a wide range of technical services to the construction and property industry.

CWR Consultancy Ltd - An agency based in Towcester. They specialise in temporary work but also offer students the opportunity to work during a gap year.

Europa – A logistics company keen to welcome young talent in to the business.
Event People - Offering temporary work at local events.

Northants Fire Service - Will be providing advice and information on how best to prepare for application.

Frontier – Volunteering & internships abroad, Gap Years and Adventure Travel.

Haines Watts (HWCA) - Offering A level school leaver programmes leading to high level accountancy qualifications.

JBC Skills Training Ltd - specialist training and apprenticeship provider for Technical IT, Software Development, Cyber Security and associated areas.

JPP Civil Engineers - A civil and structural engineering company based in Northampton, Manchester and Milton Keynes.
M.V. Kelly - A civil engineering and building company with opportunities for higher level apprenticeships.

MAHLE Powertrain - Design, development, testing and manufacture of internal combustion engines offering a work experience programme.

Mazars - specialising in audit, accountancy, tax, legal and advisory services offering A level school leaver programmes leading to high level accountancy qualifications.

Microsoft – Meet an ex-student who is now an apprentice with Microsoft and find out about their training programme and more.

Moulton College – Information on their range of foundation degrees.

Navy – Find out about professions in the Navy and the recruitment process.

NCS/UFA – A personal development programme for young people, recognised by UCAS.

NHS Local Medical Committee - Learn about careers in the NHS and also about opportunities for work experience.

Northampton College – Information on their range of their range of HND's.

Northampton University - Our local university has an impressive employability rate. Come and find out what they offer including their HND's and foundation degree courses.

Oxford Brookes University - A member of their outreach team will be on hand to answer questions about what they have to offer.

Peter Brett Associates – Apprenticeship opportunities across a variety of disciplines including Civil/Structural Engineering, Transport Planning and Building Services.

Projects Abroad – A gap year company that provides opportunities abroad through their volunteering and internship programmes.

Prospects - Our local support agency for young people will be on hand to advise on current apprenticeship vacancies and will also be providing a CV checking service.

Renal Chronic Baxter Healthcare Ltd – One of the largest suppliers of goods and services to the healthcare industry offering Undergraduate and Graduate programmes. Find out about their offer for work experience.

Santander Cybersecurity – Find out about their degree apprenticeship programme.

Shoosmiths – Firm of solicitors based at The Lakes Northampton. Get expert information about how to get in to Law.

Soccer Assist - Providing Local footballers with opportunities in the USA.

Starting Off - A local training provider specialising in apprenticeships for school leavers and graduates.

The Graduate – An agency based on Cheyne Walk helping new graduates to find their first job.

UCFB - This university based at Wembley Stadium provides a range of very different and exciting courses linked to the football industry.

Unilever – One of the leading manufacturers of household, food and personal care products. They offer school leaver and graduate programmes.

University for the Creative Arts – Find out about the range of creative degree courses on offer.

University of Bedford – Find out their courses and financial incentives for students.