Sixth Form Employment and Opportunities Evening 2018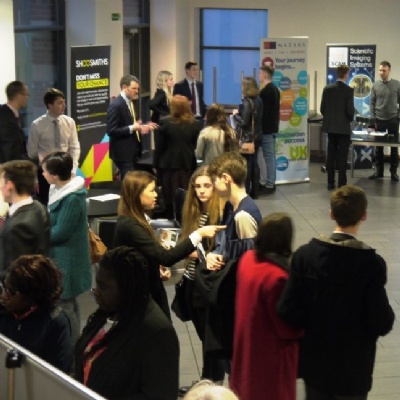 On Wednesday 21st March Northampton School for Boys will be hosting its annual Sixth Form Employment and Opportunities Evening 6.00-8.00pm in the concourse.
This is an ideal opportunity for the students to meet a range of different organisations that all have something to offer young people.
The main focus of the event will be upon apprenticeships. However there will also be an emphasis on part time/holiday work, gap years, work experience and personal development.
The dress code for the evening is smart office dress. Bring your CV and make a great impression.
Parents are encouraged to attend and we look forward to welcoming you.
The current list of participating organisations is:
Prospects: The local careers service will be available for careers advice and will provide a CV checking service.
NCS: A personal development programme for young people, recognised by UCAS.
Frontier and Projects abroad: Two gap year companies that provide excellent opportunities for students.
3AAA: A local training provider that specialises in apprenticeships in technology.
Church's: Find out about the company and their long established footwear apprenticeship.
CWR Consultancy Ltd: Previously known as Sykes and Co, CWR are an agency based in Towcester specialising in temporary work but also offering students the opportunity to work during a gap year.
The Management Academy: Promoting courses in management studies.
Event People: Offering temporary work at local events.
Northamptonshire fire service and Northamptonshire Police: Will be coming to provide advice and information on how best to prepare for application.
XPO Logistics: One of the world's 10 largest providers of logistics and transportation will be available to talk about their apprenticeship programme.
Freeths Solicitors: Will be promoting their legal scholarship programme.
Haines Watts, Mac Intyre Hudson and Mazars: Offer A level school leaver programmes leading to high level accountancy qualifications.
Starting Off: A local training provider specialising in apprenticeships for school leavers and also graduates.
Mahle Powertrain: A global leader in the design, development, testing and manufacture of internal combustion engines. They offer work experience and also have an apprenticeship programme.
Scania Truck East: Learn about opportunities in HGV engineering.
JPP Civil Engineers: Come and find out more about the company and the opportunity for work experience.
MV Kelly: A Civil Engineering and Building company with opportunities for higher level apprenticeships.
Engie: A French multinational electric utility company offering an apprenticeship programme.
Army and Navy recruitment: Find out how to access different professions within the armed forces.
Northampton and Moulton College: Both institutions offer a range of University courses.
Northampton University: Our local university has an impressive employability rate. Come and find out what they offer including their HND's and foundation degree courses.
The University of Football and Business Wembley: This University based at Wembley stadium provides a range of very different and exciting courses linked to the sports industry.
For more information: Please Click Here